Former Maine governor to address 'green' leadership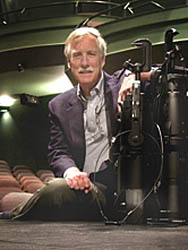 Former Maine Gov. Angus King Jr. visits Bates College to address the theme "Protecting the Environment: Reflections on the Role of Leadership" at 7 p.m. Wednesday, March 25, at the Edmund S. Muskie Archives, 70 Campus Ave.
Co-sponsored by the Muskie Archives and Special Collections Library and the Natural Resources Council of Maine, the the annual Edmund S. Muskie Environmental Lecture is open to the public at no cost. For more information, please call 207-786-6272.
King's speech will link the environmental leadership of the late U.S. Sen. Edmund S. Muskie, a member of Bates class of 1936 and the creator of such landmark legislation as the Clean Air and Clean Water acts, with the prospects for environmentalism under President Barack Obama.
King is a principal in Independence Wind LLC, which has proposed a wind power development in the Oxford County town of Roxbury. He is of counsel to the Portland law firm of Bernstein, Shur, teaches at Bowdoin College, and serves on the boards of, and advises, several Maine-based and international organizations, including the Public Broadcasting Service.
King served two four-year terms as Maine's 71st chief executive, taking office in 1995 as the nation's only independent governor. His administration revamped the state's mental health and corrections systems, effected major improvements in the state's service capability, and presided over the largest increase of lands in conservation in Maine history.
A particularly well-known King achievement was the creation of a nationally recognized program to provide laptop computers to every seventh- and eighth-grade student in the state. King was re-elected to the Blaine House by one of the largest margins of victory in Maine's history.
Upon leaving office in 2003, King, his wife, Mary Herman, and their two children spent five and a half months driving around the U.S. in a 40-foot Dutch Star RV. Driving coast to coast and reaching the four corners of the Lower 48, the family covered some 15,000 miles.
King graduated from Dartmouth College in 1966 and earned a law degree at the University of Virginia Law School in 1969. He began his career as a staff attorney for Pine Tree Legal Assistance in Skowhegan. In 1972, he became chief counsel to the U.S. Senate Subcommittee on Alcoholism and Narcotics in the Washington, D.C., office of Sen. William D. Hathaway.
In 1975, he returned to Maine to practice law with the firm of Smith, Loyd & King in Brunswick, and began his nearly two-decade stint as host of the television show "Maine Watch" on Maine public television.
In 1983 King became vice president and general counsel of Swift River-Hafslund Company, an alternative energy development company based in Portland and Boston. In 1989 he founded Northeast Energy Management, Inc., a Brunswick-based company specializing in the development of large-scale energy conservation projects at commercial and industrial facilities in Maine. He served five years as the company's president.
View Comments