World Food Prize recipient to discuss global poverty, food crisis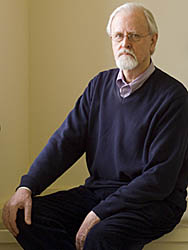 A talk by Cornell University professor Per Pinstrup-Andersen takes place at 7:30 p.m. Tuesday, March 24, in the Keck Classroom (G52), Pettengill Hall, 4 Andrews Road (Alumni Walk). Titled "The Global Food Crisis and World Poverty," Pinstrup-Andersen's talk is sponsored by the economics department.
Pinstrup-Andersen is J. Thomas Clark Professor of Entrepreneurship, H.E. Babcock Professor of Food, Nutrition and Public Policy, and nutritional sciences professor in applied economics and management at Cornell. He received the 2001 World Food Prize for his contribution to agricultural research, food policy and dedication to the interests of the world's poor and hungry. In 1993, he launched the 2020 Vision Initiative, dedicated to solving global challenges where international security, energy and the environment come together.
An agricultural economist by training, Pinstrup-Andersen has studied such issues as the effects of European Union policies on agriculture and nutrition in Ghana, and how China's membership in the World Trade Organization affects the nation's nutrition. He has elevated the role of sound policy research and exchange in ensuring food security.
View Comments