Modern Dance Company features work by student choreographers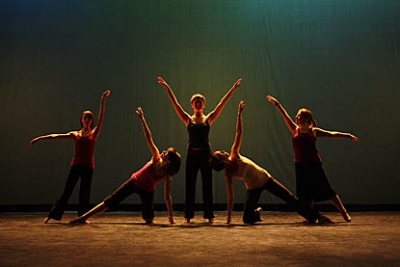 The Bates College Modern Dance Company offers "Departure Point," its annual spring concert of new works, in four performances from April 3 through April 6. The Friday performance follows the Mount David Summit, Bates' annual showcase of student achievement in academics, creative work and community-based research.
Totaling 13 dances in two programs, the concert is the culmination of two dance composition courses. All the pieces were choreographed by students and the lighting designs were also created by students, participants in "The Aesthetics of Light" theater techniques course. More than 65 students are involved in the production including choreographers, designers, dancers and crew.
Admission for each performance is $6 for the general public and $3 for seniors and non-Bates students.
Friday, April 3, at 7:30 p.m.; Saturday, April 4, at 5 p.m.; Sunday, April 5, at 2 p.m.; Monday, April 6, at 7:30 p.m.
Schaeffer Theater, 305 College St. FMI: 207-786-6161 or  www.batestickets.com.
View Comments