Catherine Elliott '12 worked so that local kids could play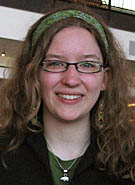 On the lid of a yogurt cup in Commons, Catherine Elliott '12 of Edina, Minn., read about a contest that would fund playground upgrades for the organization that collected enough specially marked lids.
"Wow! We have a lot of yogurt lids here," Elliott thought. "This opportunity exists — what can we do with it?"
What she did was gather 4,500-plus lids, enough to win the $50,000 "Double Play" grant from organic yogurt maker Stonyfield Farm and KaBOOM!, a nonprofit dedicated to bringing play into children's lives.
Elliott posted fliers and placed collection boxes around campus. Dining Services workers pitched in, collecting lids that came back to the dish room on trays.
Elliott then cleaned the thousands of lids in her dorm. She developed an elaborate system in her room to dry them, involving trash containers in which she layered the washed lids with paper towels to soak up moisture.
"I had a fan that I clipped to my desk and had running 24 hours a day to help air them out," Elliott says.
The contest actually provided grants for two deserving organizations. Elliott's partner, the Boys & Girls Club of Auburn-Lewiston, won first prize, $50,000 worth of play-related improvements to the Clubhouse, including renovation of a gym floor. The first-place winners also got to choose a second $50,000 grant recipient: Elliott and Boys & Girls Club unit director Andie Hannon awarded this prize to the PTA at Laurel Elementary School in Laurel, Md.
Elliott, who is organizing her studies around social-justice issues, came to Bates with a track record of community organizing. Giving back, she believes, "is all about the unseen consequences of your actions. You don't know how far they'll reach."
View Comments