Bobcat of the week: Ben Stein '09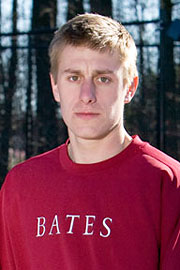 Few athletes in Bates College history have ever reached the degree of achievement Ben Stein did May 22-24, 2009, when he won eight matches and lost only one, the NCAA Division III Men's Tennis Singles Championship, and headed home as a national champion.
Stein was unseeded in the 32-player singles field at the tournament, as were he and teammate Amrit Rupasinghe in the 16-team doubles field. Yet he and Rupasinghe won four straight matches to claim Bates' first NCAA doubles title, even as Stein won four straight singles matches to advance to Sunday's final, falling in three sets to Emory's Michael Goodwin 7-5, 5-7, 6-1.
After Stein was finally finished with his run for the singles championship, he and Rupasinghe competed in the semifinals of the doubles championship, outlasting the same pair they defeated last year at the NCAA Championships at Bates in the quarterfinals, Charlie Cutler and Chris Hoeland of Washington University in St. Louis, by a 7-6 (2), 3-6, 6-4 score.
Improbably, with the NCAA title on the line, the Bates pair matched up against Oscar Pena and Jamie Neely of rival Bowdoin. The match was excellently played by all four players. Rupasinghe had dominant moments in different spots during the match, particularly the first set. But it was Stein who played "like a beast," in the words of online broadcaster Ken Thomas, in the decisive third set, as the Bobcats won 6-4, 5-7, 6-4 in a moment for the ages in Bates athletics lore.
View Comments