Sports Notes: Repeat success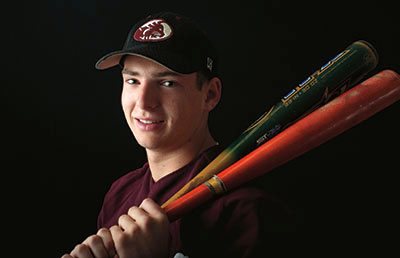 In high school, Chris Burke '11 didn't attract much attention from college baseball coaches, and his freshman year statistics at Bates were typical for an unballyhooed player. He played in nine games and made seven plate appearances, good for a single, a double, and a walk.
Still, the experience made him feel like a legitimate Division III player. Sort of."I hit well in high school," says Burke, who earned All-Catholic Central League honors as an outfielder at Austin Prep in Reading, Mass. "But you never know when you're going to stop being one of the better players, or when you'll get to that point when you're in over your head."
After a breakthrough 2009 performance at the plate, Burke is now head and shoulders above the competition.
In preseason last winter, Burke impressed rookie head coach Edwin Thompson enough that he was named the Bobcats' starting right fielder for their opening game versus Alma (Mich.) College, which was played in Myrtle Beach, S.C., on Feb. 20. Against the Scots, Burke went 1 for 3, walked twice, scored once, and drove in a run. In fact, he hit safely in 18 straight games to open the season — believed to be a Bates record.
"He has a great presence," says the 29-year-old Thompson. "It was the way he practiced: He did all the little things right. Those qualities really translate well to baseball."
For the season, Burke hit safely in 29 of the 33 games he played in, batting .406. He hit some long balls (two homers) and a bunch of short ones (he bunted himself on "seven or eight" times, says Thompson). His 52 hits are a Bates record, and his 33 runs batted in are the most since Andy Carman '85 had 41 in 1984. At season's end Burke was named All-NESCAC, baseball's first since 2005.
He had a pair of two-hit games versus Trinity, the defending NCAA champion, and went 3 for 4 against the University of Southern Maine, which at the time was ranked No. 1 by D3Baseball.com. "You have to believe that you can hit anybody in the league," Burke says. "I tried to be confident going in to face everybody."
Burke, who also plays football, entered the 2009 baseball season something of a known quantity because Thompson served as the football team's running-backs coach last fall. Although Burke is a defensive back and special-teams player, he nevertheless caught Thompson's attention. "He has a great presence," says the 29-year-old Thompson. "It was the way he practiced: He did all the little things right. Those qualities really translate well to baseball."
And because baseball is a game of little things done right, the best way to get better is through repetition. "With baseball, no matter who you are, you have to put your time in to hone your craft," says Thompson, a former Division I player at Maryland and Howard. Even before he saw his players last winter, Thompson made his coaching presence felt by arranging for his players to compete in various summer collegiate wooden-bat leagues — the much-celebrated Cape Cod League being the premier version.
Eight Bates players are now playing summer ball in these leagues; seven more are competing in local town leagues. Thompson says that playing 35 to 50 summer games "is an important part of how we're going to get somewhere. If last summer you faced a guy from Tennessee or Tulane, whether you did bad or good you're going to feel more comfortable playing against NESCAC teams."
To that end, catcher Jacob Simon '11 of Waterford, Conn., and pitcher Ryan Heide '11 of Medfield, Mass., are playing for the D.C. Grays of the Clark Griffith League, where stars like Jonathan Papelbon and Mark Teixeira once played.
Pitcher Paul Chiampa '11 of Bryantville, Mass., and outfielder Pat Murphy '11 of Cape Elizabeth, Maine, are with the Marion (Ky.) Bobcats in the Kentucky-Illinois-Tennessee League, second baseman Luke Wamboldt '11 of Sunderland, Mass., is with the Iowa Snappers in the Mississippi River Valley League, and Karl Alexander '12 of Cambridge, Mass., is pitching for Stockyard in the venerable Boston Park League.
Burke and pitcher/first baseman Noah Lynd '11 of Meriden, N.H., are with the Maryland Orioles of the Maryland Collegiate League, now in its third year. They're living with Burke's aunt and uncle in Olney, Md., near their games.
Burke got off to a hot start, batting .440 in his first 25 at-bats, though he will have cut short his season in mid-July for another Bates priority: academics, which take him to the University of Perth, Australia, for the fall semester. That means no Bates football for the son of former football team captain Terry Burke '79 and Melissa McCabe Burke '79. Instead, he'll wrestle with biology Down Under and, in the spring, return to help Bates baseball toward its goal: a first-ever spot in the NESCAC playoffs.
For Thompson, having his players pursue summer ball is a neat way to establish a new conference standard — not many NESCAC players choose to play in collegiate summer leagues — while moving his team up the conference ladder. "This is how it will be from here on out," he says. "Bates baseball will be doing a lot of things differently from other teams in the conference."
By Andy Walter, Photograph By Phyllis Graber Jensen
View Comments