Bates, region's arts presenters seek your input regarding cultural events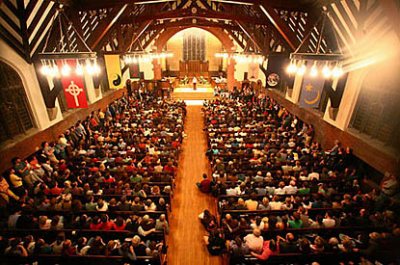 Would it be the newspaper? Radio or TV? E-mail, Twitter or Facebook?
If you had your druthers, what would be your favorite way to learn about arts and entertainment events in the Lewiston-Auburn region?
That's what Bates and a number of local organizations would like to know. And we're hoping you'll tell us.
Through a survey launched today on SurveyMonkey.com, Bates and such organizations as L/A Arts hope to assess audience preferences for cultural events — the types of events you most enjoy, how you hear about them now and, most important, how you would like to hear about them.
"The earthquake in mass communications is shaking up arts presenters, too," says Bates staff writer Doug Hubley, who publicizes cultural events for the college. "As we try to spread the word about happenings at Bates, or at the Public Theatre or L/A Arts, we can't assume that the old methods are still effective.
"The question is, what methods will be effective? And we're hoping our audiences will use this survey to tell us." The 8-minute survey is titled "The Arts in L/A: Getting the Word Out."
Currently, Bates follows a fairly traditional path in publicizing events — press releases to the media, a printed monthly calendar mailed to subscribers and the same calendar online. The information gathered through the survey, the sponsors hope, will have a two-birds, one-stone effect, Hubley says.
"If it turns out our print pieces are going straight to the recycling bin, we may be able to save money on printing and mailing. And at the same time, we'll learn how to give information to people the way they want to get it," whether it's through e-mail or even a Facebook site, he says.
Partnering with Bates in the survey project are the Androscoggin County Chamber of Commerce, the Auburn Community Band, the Bates Dance Festival, the Franco-American Heritage Center, Gleason Media Group, L/A Arts, the Lewiston Public Library and the Sun Journal.
– Doug Hubley, Office of Communications and Media Relations
View Comments