Abroad Experience
The six photographs in this slide show were selected from this year's Barlow Off-Campus Study Photo Exhibition of more than 60 images.
Watch the slide show
Click on thumbnails, above, to view the slide show.
Featured image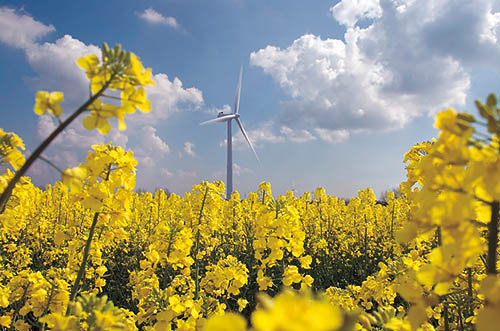 "I spent a week documenting sustainable energies in Denmark and came across a series of wind turbines scattered throughout a farm of canola flowers. The seeds are used to create biofuel." — David Al-Ibrahim '09, Fyn, Denmark
We chose them for mostly subjective reasons, like the sweet spectrum of yellow seen in the first two photographs — canola flowers seen here and saffron dye in the second image.
Another reason came from Mark Andrews '09, whose photograph from Equatorial Guinea is in this slide show, taken while armed military personnel were escorting him and his friends from their camping area.
Mark was asked what he was thinking at that moment. About contradiction, he said, between the beautiful place and the peril of the moment.
French professor Alex Dauge-Roth, who led students to Rwanda in May to conduct oral histories with orphans of the genocide, recently showed me a student's journal entry after a visit to the Murambi memorial.
She wrote about trying to reconcile the gorgeous Rwandan countryside with the horror of what had occurred at that spot. Dauge-Roth shared the text while describing the spaces between what we know and what others have experienced.
The photos hint at those spaces, large and small, and a sense of them closing.
H. Jay Burns