Bates College presents pop duo Matt and Kim
The Brooklyn-based electronic pop duo Matt and Kim performs at Bates College at 9:30 p.m. Friday, Sept. 18, in Chase Hall, 56 Campus Ave.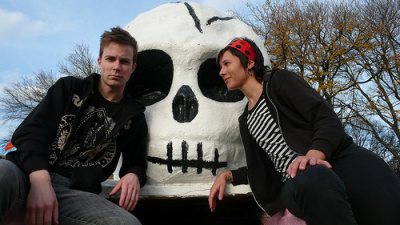 The concert is sponsored by two Bates student organizations, the college radio station WRBC-FM and the Chase Hall Committee, the principal campus programming board.
Tickets cost $8 plus tax and service charge and are available at www.batestickets.com and all Bull Moose Music stores in Maine and New Hampshire. Only 200 tickets will be available to the general public. For more information, visit www.wrbcadio.com.
Matt Johnson and Kim Schifino, noted for their straightforward dance melodies, have performed at festivals such as the Siren Music Festival in Brooklyn, Pitchfork Music Festival in Chicago and the KahBang Indie Music and Art Festival in Bangor.
Their most recent release, Grand, reached No. 170 on the Billboard Top 100 and includes the singles "Daylight," recently featured in a commercial for Bacardi, and "Lessons Learned," whose video has been nominated for an MTV Video Music Award.
Established in 1958, Bates College Radio, WRBC 91.5 FM, is a leader in college radio nationally. WRBC plays music from all genres and eras. Shows are hosted by students and members of the Lewiston-Auburn community. Find the station at www.wrbcradio.com or at 91.5 FM in the Lewiston-Auburn area.
View Comments