Alumnus Cumming, composition by Bates professor featured in piano-violin concert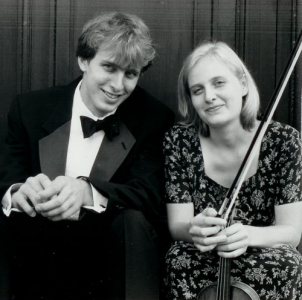 Pianist Duncan Cumming '93 returns to his alma mater with violinist Hilary Cumming, his wife, to perform works of Schubert, Brahms and Dvorák at 7:30 p.m. Friday, Oct. 2, in the Olin Arts Center Concert Hall, 75 Russell St.
The program also includes Duo, a composition by William Matthews, Alice Swanson Esty Professor of Music at Bates. Admission is free, but tickets are required. For ticket reservations or more information, please contact 207-786-6135 or this olinarts@bates.edu.
Cumming is a Maine native, born in Presque Isle and raised in Wiscasset. He graduated with highest honors from Bates in 1993. His playing has been described by the Portland Press Herald as "technically flawless, thoughtful, deliberate and balanced." Cumming has performed in some of the most prestigious concert halls in the United States and Europe including the Kennedy Center in Washington, D.C.; Merkin Hall and Carnegie Recital Hall in New York City; and the Wallenstein Palace in Prague, Czech Republic. In 2009, he received a grant to record music of Mozart and Weber on Weber's own 1812 Brodmann fortepiano.
Also this year, Cumming's book, The Fountain of Youth: The Artistry of Frank Glazer (Tower Books) was published. This book is a portrait of the Bates artist in residence, an internationally renowned pianist, who taught Cumming.
Cumming received a master's degree in 1996 from the New England Conservatory, and in 2003 earned a doctorate from Boston University. He is a member of the faculties of Boston University's Tanglewood Institute and the University at Albany.
Hilary Cumming studied at the Royal Conservatory of Music in Copenhagen, Denmark, and has performed around the world. An adjunct professor of violin at the University at Albany, her most recent CD recording was made in August 2008 with the Musicians of the Old Post Road and is available from Meridien Records.
Along with the cellist Sölen Dikener, the Cummings constitute the Capital Piano Trio, the ensemble in residence at the University at Albany. The Cummings have two daughters and a son.
View Comments