Brooks Quimby season off to strong start
Bates College debaters started their season in style the weekend of Sept. 25-27 with a tournament win in Vermont and a strong showing at Boston University.
Representing Bates' Brooks Quimby Debate Council, sophomores Colin Etnire of San Francisco and Ian Mahmud of Duxbury, Mass., finished first out of 76 teams in the Robert Huber Memorial Debating Championship at the University of Vermont on Sept. 27. (Debate teams comprise two people.)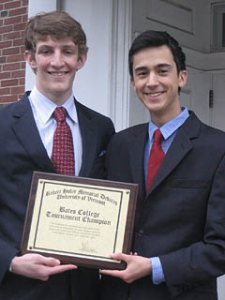 Advancing to the quarterfinals in the Sept. 26-27 competition were Yoon Loong Wong, a sophomore from Ipoh, Malaysia, and Mircea Lupu, a junior from Northville, Mich.
The tournament was held in the British Parliamentary style, as opposed to the American Parliamentary format, which is the Brooks Quimby Debate Council's specialty.
Beginning debaters — those who have attended three or fewer formal competitions — acquitted themselves well that same weekend. Two Bates teams won three out of four rounds in the American Parliamentary Debate Association Novice Tournament at Boston University Sept. 25-26.
"The team is tremendously excited about the great start to this year," said Ariela Silberstein, Quimby's public relations and alumni affairs officer. "While there may be other schools on the circuit that debate as well as we do, few have the same kind of team dynamic and support system for members."
"For some, it was the first time debating, but everyone rose to the challenge," added Rachel Kurzius, a senior from Ridgewood, N.J., who works with the team's novices. "I had one conversation with a novice who lost a round, but still felt really fulfilled — and that's what is most important, enjoying the act of debating more than win or loss records."
In the British style, two teams of debaters work each side of the argument and the emphasis is on rhetorical style and an extended line of argument. The topics are decided by the tournament directors of the host school, are announced 20 minutes before debating is to begin and differ for each round.
In the American style, one team argues each side of the resolution, and the style is more legalistic, emphasizing line-by-line breakdowns of an argument. Topics are brought by the individual teams, but only one side knows the topic before a given round.
At UVM, the resolutions were revealed to competitors only 20 minutes prior to performance, restricting time allowed for preparation. Topics included whether it is legal to support surrogate mothers, whether Iran should be allowed to have nuclear weapons and whether Gordon Brown should be ousted as Britain's prime minister.
Last March, Etnire and Mahmud defeated a team from Yale University to win the novice division of the 2009 Stanford University Parliamentary Debate Tournament. Also last year, Brooks Quimby dominated novice divisions at tournaments at Providence College and MIT.
"This year we aim to further Bates' standing on circuits both domestic and international, and to showcase the effectiveness of our debating program to the Bates community through on-campus events," commented Silberstein.
Three teams will travel to Antalya, Turkey, to compete at the World Universities Debating Championship. Colloquially known as Worlds, this is the largest annual debating tournament for international students. Quimby debaters will also visit England to attend tournaments at Oxford and Cambridge universities in November.
The Brooks Quimby Debate Council was founded in the 1800s when completing a public debate was a graduation requirement at Bates. The team was one of the first in the nation to go co-ed and to include African American students. Bates, too, was the first American institution to debate with foreign universities.
— Kelly Cox '11, Editorial Assistant, and Doug Hubley, Staff Writer
View Comments