Civil rights leader and mathematician offers annual Sampson Lecture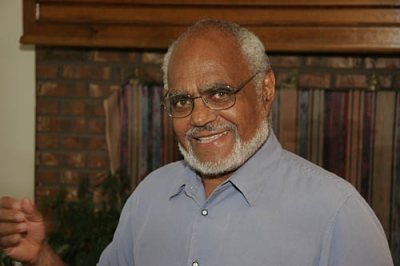 Civil rights activist and noted mathematician Robert Moses offers two lectures at Bates College on Wednesday, Dec. 2.
Sponsored by the mathematics department in conjunction for the second year with the Multicultural Center, and with other offices at Bates, both lectures are open to the public at no cost. However, an RSVP is required because of limited seating. Please RSVP to Heidi Howard at 207-753-6993 or this hhoward@bates.edu by Monday, Nov. 30.
Moses first offers an informal lecture titled Quine, Elementary School Algebra, The Regimentation or Ordinary Discourse at 4:30 p.m. Dec. 2 in Hathorn Hall, Room 104, 3 Andrews Road (Alumni Walk). Refreshments precede the talk at 4 p.m. in Hathorn's Room 209.
At 7:30 p.m., Moses gives the college's annual Richard W. Sampson Lecture in Pettengill Hall's Keck Classroom, Room G52, 4 Andrews Road. The talk is titled Quality Public School Education as a Constitutional Right.
Born in Harlem, Moses has been active in the civil rights effort since the 1960s. He traveled the South as a Freedom Rider and was a key organizer with the Student Nonviolent Coordinating Committee, registering African American voters. It was an experience so dangerous that he and other organizers had to request federal protection.
Moses also served as co-director of the Council of Federated Organizations, which comprised all the major civil rights organizations working in Mississippi at the time. In that capacity, he was a driving force behind the 1964 Mississippi Summer Project and the Mississippi Freedom Democratic Party, which challenged the legitimacy of the then all-white Mississippi Democratic Party.
Moses' civil rights work is intrinsically linked to his educational philosophy. Believing that minority students deserve an opportunity to achieve math literacy in an increasingly analytical society, Moses has devoted many years of his life to bridging this educational gap.
In 1982, Moses received a MacArthur Fellowship and used the money to form The Algebra Project, a foundation devoted to ensuring minority math literacy in the rural South and inner cities. Moses developed an innovative curriculum to help middle school students transition from arithmetic to algebra, a curriculum central to The Algebra Project's teaching approach. The project's reach has spread from a single school in Cambridge, Mass., to today's involvement with more than 200 institutions across the nation.
The author of Radical Equations: Civil Rights from Mississippi to The Algebra Project (Beacon Press, 2001), Moses has taught in Mississippi and Miami. In 2005, he was selected as an Alphonse Fletcher Senior Fellow by the Fletcher Foundation, a fellowship that recognizes scholars and activists working on civil rights issues. He is currently the Frank H.T. Rhodes Class of 1956 Visiting Professor at Cornell University.
"I think there operates a belief at a deep level in this country in the idea that if kids can do it, they should be given an opportunity to do it," Moses told Smithsonian Magazine in November 2005. "That belief keeps one optimistic. So I don't become too distracted by the pace. You can live a good life in this country, but struggle is also a necessary part of it. That's how I see my life." Learn more.
The annual Richard W. Sampson Lecture at Bates honors the memory of Sampson, professor emeritus of mathematics, who served on the faculty from 1952 until his retirement as professor of mathematics in 1990. He was known for inspiring his students through passionate and creative teaching. Learn more.