King Day focus: 'Faith and Ethics in the Public Sphere'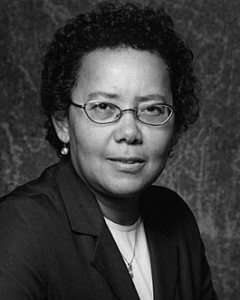 An expert in African American political and religious history gives the Martin Luther King Jr. Day keynote address at Bates at 10:45 a.m. Monday, Jan. 18, in the Olin Arts Center Concert Hall, 75 Russell St.
The college traditionally cancels classes and offers special programming for King Day. This year's theme is Faith and Ethics in the Public Sphere: What is the Dream?

Events are open to the public at no cost. For a complete schedule and list of all workshops or to learn more about Martin Luther King Jr. Day at Bates, please visit the Web site or call 207-786-6400.
Barbara Savage, Geraldine R. Segal Professor of American Thought at the University of Pennsylvania, offers both Monday's keynote and, the evening before, a sermon for the annual Martin Luther King Jr. Day Memorial Service of Worship. The service is held at 7 p.m. Sunday, Jan. 17, in the College Chapel. Sponsored by the Multifaith Chaplaincy, the event features music by Bates students and a reception at 8:30 p.m. For more information, contact 207-786-8272.
---
Text continues below the video!

---
Student debaters from Bates and Morehouse colleges and from local high schools begin King Day events with an oratorical event at 9:30 a.m., Monday, Jan. 18, in the Benjamin Mays Center, 95 Russell St. They will debate the topic Religion is a necessary element of a just social change. A reception precedes the event at 9 a.m.
Students from Morehouse, King's alma mater, have long been a part of the Bates King Day observances. Benjamin Mays, a 1920 Bates graduate and debater, was a longtime Morehouse president and lifelong adviser to King.
Mays is the topic of Savage's keynote address, titled Benjamin Mays and the Politics of Black Religion in the Age of Desegregation. He was an ordained Baptist minister and one of the most outspoken critics of segregation during the civil rights movement. His belief in the fundamental dignity of all human beings drove both his religious and political philosophies. Savage will address Mays' religious history and lessons he imparted to future generations.
Beginning at 1:20 p.m. and continuing throughout the afternoon in four concurrent sessions per time slot (times and rooms TBA), students, staff, guests and faculty will lead readings, presentations and discussions reflecting the King Day theme in Pettengill Hall, 4 Andrews Road (Alumni Walk). See a complete list of workshops.
Workshops include Somethin' Sanctified: How Church Music Influenced Jazz, sponsored by Ladd Library and the program in classical and medieval studies; Thinking about "Good Hair," which will use comedian Chris Rock's recent documentary about African American hair culture as a basis for discussion; and student poetry readings in various languages.
Among afternoon programs is a video exhibition in Pettengill's Perry Atrium curated by filmmaker Craig Saddlemire, a member of the class of 2005, and an art project presented by the 2010 Eco Rep Team and sustainability coordinator Julie Rosenbach called What's on Your Green Conscience? The project offers participants a chance to see what's on others' green consciences and express their own.
King Day concludes with a performance by Bates students at 7:30 p.m. in the Olin Arts Center Concert Hall. Students commissioned to create cultural work for the day's events will present music, dance and spoken pieces. Performers include Bates College Step Team; the Robinson Players, a campus theater group; the Bates Gospelaires, a gospel choir; Justified; Hans Johnson and the Hybrid Sun; Lindsey Reuter; and Clyde Bango.
Savage researches 20th-century African American political and religious history and the intersections between race, media and politics. She is the author of Your Spirits Walk Beside Us: The Politics of Black Religion (Harvard University Press, 2008), an examination of the role of religion in racial leadership; and Broadcasting Freedom: Radio, War and the Politics of Race, 1938-1948 (University of North Carolina Press, 1999), which won the Herbert Hoover Presidential Library Award.
Savage is the interim director of the University of Pennsylvania's Center for Africana Studies. She received her doctorate in history from Yale, also holds a doctorate in law from Georgetown University and earned her bachelor's degree at the University of Virginia.
View Comments