Ask Me Another: Two Deans, One Goal
Call them "swing deans," but McCoy and Scott help new students hold steady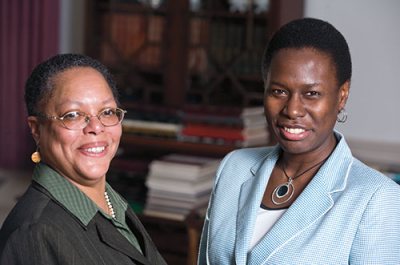 If "swing dean" sounds like a job at a jazz college, Marylyn Scott and Carmita McCoy work at a rhythm counted in years, not beats. They trade places annually: As one works in Admissions, recruiting students from groups underrepresented in higher ed, the other heads to the Dean of Students office to support the 100 or so multicultural and first-generation-to-college students she helped recruit in the previous cycle.
This extra measure of guidance, continuity, and reassurance can be decisive in retaining students transitioning to college. Now in its third year, this distinctive approach to promoting academic success is drawing national notice.
Staff writer Doug Hubley spoke with swing deans Scott, who this year is director of multicultural recruitment, and McCoy, associate dean for student transition.
Why is it important for the same person who recruited a student to be in the Dean of Students office the next year?

McCoy: In Admissions we may work with students and their families for years to encourage them to come to Bates. But once they arrive, our familiar faces are not there because we're out recruiting the next class.
Scott: With this system, the person who read their application and got to know them quite intimately is now walking with them their entire first year.
McCoy: It makes for the continuity that's so critical and important for students. It's a joy, too, to go from seeing them as worried and nervous high school seniors to seeing them later in the year, confident and assured that they've made a good choice.
You're involved with the Summer Scholars Program, which appeals to students interested in math and science. Give me some examples of what else you do.

Scott: We have a program called Preview. The majority of participants in AESOP, the Annual Entering Student Outdoor Program, are white or students who were not first-generation. And so we offer a pre-orientation program to the students who are not joining AESOP, so they too have an opportunity to bond with each other the way that the AESOP students did, and meet faculty members and administrators.
McCoy: We work closely with the faculty who teach the students for the first time and serve as their faculty advisor. If they see issues in the classroom or while advising those students, they have someone that they can refer the studentto, or let us know what's going on.
Does the program help in recruitment?

Scott: When I go to schools, I say, "You know, I'm the person who's recruiting you, but when you come to campus next year, I'm going to be with you for the entire year." You get all these wonderful responses. Many colleges are not doing this type of thing, and so for students, it's one of the many factors that would cause them to consider Bates.
McCoy: If the parents themselves haven't attended college, they want to know that their student is going to be taken care of, their baby, if you will. And it's a win-win program for guidance counselors who feel comfortable sending their students to a school like Bates.
Do other schools run similar programs?

Scott: Carmita and I spent months on the road talking about this program, and one of the things that we heard was, "I've never heard of this before." Other colleges are asking us for information so they can try to implement something similar. So, go Bates!
McCoy: Some schools do things that are somewhat similar to our program, but not in its entirety, where the dean is switching roles year in and year out.
The program's roots lie in the Campus Climate initiative of the mid-2000s.

McCoy: We explored reasons why multicultural students might leave. The environment is so radically different for some students. Some of it is that the number of students of color on campus is disappointing. And just acclimation to college, and the reception they receive on campus, may play a part.
Scott: Our positions developed as a result of students talking through the Campus Climate project and saying what they weren't happy with and what Bates could do. And Bates didn't merely listen to the students, but actually took action and our positions resulted from that.

What are the program's long-term implications?

Scott: When I arrived in 2006, many of the multicultural seniors in that class were very bitter towards Bates. But when you talk with multicultural students now, and the first-generation Caucasian students, their experience sounds vastly different from the Class of 2006. It's not utopia yet, but we're definitely working toward that.
I think the satisfaction of the current students is helping us to recruit the next class. They're saying, "We want to help you recruit more students of color and more first-generation students," because they have been so happy here.
Aside from the discombobulation of changing offices each year, how do you like the job?

McCoy: It's immensely rewarding. Particularly with the cohorts that we work with, a college education is a dream come true for them and their families.
Scott: There's no doubt in my mind, now that I'm back in Admissions, that I can call one of our current students, someone I helped recruit and know very well, and say, "James, I need you to meet with so-and-so from D.C." And he'll say, "Sure, Dean Scott." These kids will do just about anything you ask of them. Their commitment to the College is great and their commitment to recruiting a more diverse body is phenomenal.
View Comments