2010 Martin Luther King Jr. Day Workshops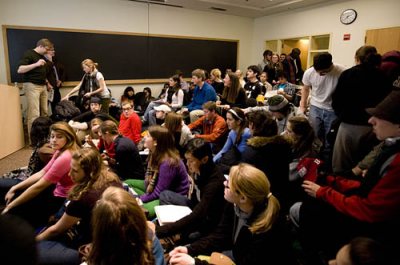 The following workshops will be held in Pettengill Hall (unless otherwise noted), Monday, Jan. 18:
Session I, 1 to 2 p.m.
1. Filling the Public Sphere: Sounds of Pain and Hope as Insistent Rhythms of the Dream
Pettengill G65
Convened by: Robert Strong, lecturer in English; Chad Frisbie '10; Amelia Harman '10; Mollie Kervick '13; Charlotte Simpson '12; and poets from The Verse House
2. Finding Holy Ground in Portland: Grace Street Ministry Uses Presence, Prayer and Advocacy to Support the Homeless
Pettengill G10
A discussion of the Grace Street Ministry's efforts to support the homeless, led by the Rev. Mair Honan, an ordained UCC pastor and the ministry's co-founder.
Convened by: Michelle Pavitt and Pat Hater of the Writing Workshop
3. Students Civil Rights Work in Maine Schools
Pettengill G21
A discussion with Thomas Harnett and Brandon Baldwin, Civil Rights Tam Project, Office of the Attorney General; and students representing the civil rights teams of Hall-Dale Elementary School, Lewiston Middle School, Carrie Ricker Middle School and Gardiner High School
Convened by: The Harward Center for Community Partnerships
4. Community Organizing in the Public Sphere: Neighbor by Neighbor
Olin Arts Center 104 (This workshop spans Sessions I and II)
A screening of the documentary film Neighbor by Neighbor: Mobilizing an Invisible Community in Lewiston, followed by a discussion with director Craig Saddlemire '05 and members of the Visible Community. The film documents a significant period in Lewiston's history, depicting how the town dealt with urban revitalization during a depressed economy. It provides not only a record of the work of the Visible Community, but also a visual chronicle of changes in the neighborhood through the past five years.
Convened by: Willam Corlett, professor of politics
5. Race Matters, Religion Matters: Diverse Religious Facets of the Struggle for Racial Justice
Pettengill G52
A discussion with Susan Schomburg, assistant professor of religious studies; Cynthia Baker, associate professor of religious studies; Sagaree Sengupta, lecturer in Asian studies; Richard Wagner, professor emeritus of psychology; and Val Carnegie, professor of anthropology.
Convened by: Asian studies, religious studies, psychology, anthropology and African American studies
Session II, 2:10 to 3:10 p.m.
6. Aliens, Townies and Terrorists: The Politics of Representation on Halloween
Pettengill G65
A discussion of context, dressing as self or other, intention vs. reception, power, language, costume, garb and clothes — presented by Julia Caffrey '10, Emily Chin '10, Nori Down '10, Katie Mack '10, Caitlin McKitrick '10, Lily Sullivan '10 and Natalie Woolworth '10.
Convened by: Anthropology department
7. Somethin' Sanctified: How Church Music Influenced Jazz
Pettengill G10
Convened by: Tom Hayward, humanities reference librarian, Ladd Library, and lecturer in classical and medieval studies
8. Building a True Democracy: Illuminating the Interaction of Spirituality, Ethics, Structural Racialization and Social Justice
Pettengill G162
A discussion with John A. Powell, J.D., executive director, Kirwan Institute for the Study of Race and Ethnicity, Ohio University.
Convened by: the Office of Multicultural Affairs/Multicultural Center
9. The Work of Martin Luther King through the lens of his mentor Benjamin Mays '20
Pettengill G52
Sponsored by the Mays Men of Bates College, this workshop examines the work of the Rev. Martin Luther King Jr. through the lens of his mentor Benjamin E. Mays, Bates Class of 1920. Another one of "Benny's Boys," Charles W. Willie, the Charles William Eliot Professor of Education at Harvard University, will reflect on the underlying philosophy taught to King by Mays and will further explain how these theories can be applied today. Mays Men Jourdan Fanning, '13 Daniel Garcia-McGuire  '11, Ben Hughes '12 and Cristian Ruiz '12 will participate.
Convened by: Roland Davis '92, assistant dean of students
10. A screening of Brother to Brother, written, directed and produced by Rodney Evans
Pettengill G21 (This workshop spans Sessions II and III)
This feature-length narrative film follows the emotional and psychological journey of a young Black gay artist as he discovers the hidden legacies of the gay and lesbian subcultures within the Harlem Renaissance.  The director will lead a discussion after screening the film.
Convened by: Charles Nero, associate professor of rhetoric and African American and American cultural studies
Session III, 3:20 to 4:20 p.m.
11. Faith in an Ethical Future in Rwanda
Pettengill G52
In the 2009 Short Term course "Learning with Orphans of the Genocide in Rwanda," each Bates student was paired with a French-speaking Rwandan student to learn with, not from, orphan survivors of the 1994 genocide in Rwanda. The students and their professor discuss their experiences and findings. Workshop participants are Associate Professor of French Alex Dauge-Roth, Alexandria Alberto '11, Amy DeStafanis '11, Abigail King '12, Emma Scott '10, Simone Pathe '11 and Kiely Barnard-Webster '12.
Convened by: French and romance languages and literatures
12. Thinking About "Good Hair," a discussion with Professor of Art and Visual Culture Erica Rand, Naima Murphy '10, Sammy Rothkopf '10 and Annie Connell '10, which will use comedian Chris Rock's recent documentary film about African American hair culture as a basis for exploration.
Olin Arts Center 104 (This workshop spans Sessions II and IV)
Convened by:  Women and Gender Studies
13. Reading Poems of Faith and Ethics in Various Languages
Pettengill G65
Students will read poetry in French, Russian, Japanese, Spanish, Chinese and German.
Convened by: departments of French and Russian
14. Mays, Morehouse and the World
Pettengill G10
Morehouse College students Tyler Bell '11, Anthony Miller '10 and Renaldo Pearson '11 make connections between their college, Bates graduate and Morehouse president Benjamin Mays '20 and the world.
Convened by Morehouse College
Session IV, 4:30 to 5:30 p.m.

15. African Diaspora in Latin America: Religion and Political Identity in the Pacific Coast of Colombia
Pettengill G52
Daniel Mosquera, professor of Latin American Studies, Union College, will present the 48-minute long documentary film Sanpachando-San Pancho for the Revelers (2009), which he co-authored. The film explores the intertwined cultural, religious, political afro-ethnic meanings of a vibrant festival honoring St. Francis of Assisi in Quibidó, Chocó, on the northwest Pacific coast of Colombia.
Convened by: Baltasar Fra-Molinero, associate professor of Spanish, and Mercedes Ortiz, visiting assistant professor of Spanish
16. 21st Century African American Leadership
Pettengill G21
A discussion with students from Amandla!, the Bates College organization that cultivates solidarity among students of African descent.
Convened by : Amandla!
17. Flannery O'Connor and the Matter of Race: The Continuing Conversation
Pettengill G65
A conversation with Multifaith Chaplain William Blaine-Wallace and Assistant Professor of English Eden Osucha
Convened by: Office of the Multifaith Chaplain and the Department of English
View Comments