'Vagina Monologues' to benefit women's advocacy effort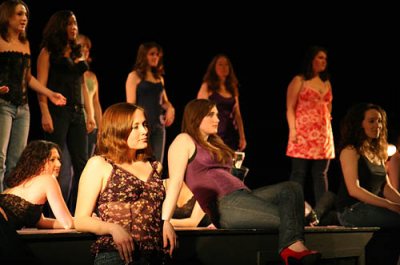 Michelle Schloss, a sophomore from Farmington, Conn., directs the 10th annual Bates College production of Eve Ensler's "The Vagina Monologues" in performances at 8:30 p.m. Friday, Saturday and Sunday, Feb. 5-7, in Gannett Theater, Pettigrew Hall, 305 College St.
The production is sponsored by the Robinson Players, a student theater group at Bates. Admission is $5, with proceeds supporting the Auburn-based Abused Women's Advocacy Project. Seating is general admission. For more information, please call 207-786-6135.
Ensler based "The Vagina Monologues" on interviews that she conducted with more than 200 women about their sexuality, their bodies and their stories of violence and sexual abuse. The result is a collection of women's stories that are personal yet universal, comic and poignant, brazen and mysterious.
"The Vagina Monologues is so popular because it acknowledges a body part we rarely speak about," says Schloss. "The monologues are arranged such that they're raw and honest in a way that women rarely are about such personal matters, except maybe to our closest friends.
"And that's the great thing about The Vagina Monologues: Instantly, the audience and the cast become the best of friends, as we're able to share some extremely personal stories and secrets. This everyday wall of common decency and the social custom to refrain from over-sharing is broken down right when the show begins. That's incredibly freeing for both the cast and the audience."
The play premiered 14 years ago and has since enlightened, shocked and entertained audiences all over the world. In 1998, Ensler founded the organization V-Day as a means to parlay the play's success into an effective force for social and political change. (For more information, see the V-Day Web site.)
The first Bates production took place in 2001, directed by Ariana Margolis '02, who directed the piece again the following year.
Ensler's play has received worldwide acclaim since its Obie-winning premiere. Productions have featured such top actors as Glenn Close, Cate Blanchett, Susan Sarandon, Marisa Tomei, Rosie Perez, Lily Tomlin, Kate Winslett, Melanie Griffith and Calista Flockhart.
View Comments