'Arts Crawl' to reveal the best of the arts at Bates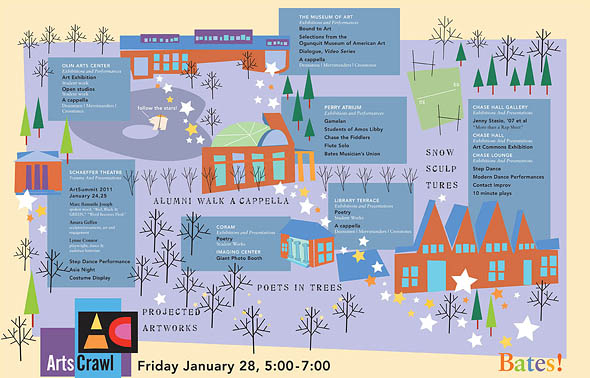 Click here for a full-screen view of the Arts Crawl map.
In a smorgasbord of the performing and visual arts at Bates, the college presents its first-ever "Arts Crawl" starting at 5 p.m. Friday, Jan. 28.
Modeled on downtown programs, such as the First Friday Arts Walks in Portland, that present diverse simultaneous attractions in myriad locations, the Bates Arts Crawl will offer music, dance, theater, literature and visual art all around campus. Among the presentations by students and faculty:
Poetry and fiction readings
Dance from step to modern to contact improvisation
Theatrical monologues and short plays
Music from a cappella to folk fiddling to jazz to gamelan
Art exhibitions at the Bates College Museum of Art and in Chase Hall.
A map and schedule will be available. The Arts Crawl will be followed at 7 p.m. by the annual Asia Night of student performances, food and fashions in Schaeffer Theatre (which takes place again at 7 p.m. Saturday, and is also open to the public at no cost). For more information about the Arts Summit, please contact 207-786-6381 or nsalmon@bates.edu.
The Arts Crawl follows the college's first Arts Summit, held earlier in the week, which brought visiting artists to campus to explore ways of enhancing the role of the arts and community involvement in the arts. Both events were organized by the Bates Arts Collaborative, a staff-faculty group furthering the arts at Bates.
View Comments