Bates named to presidential honor roll for community service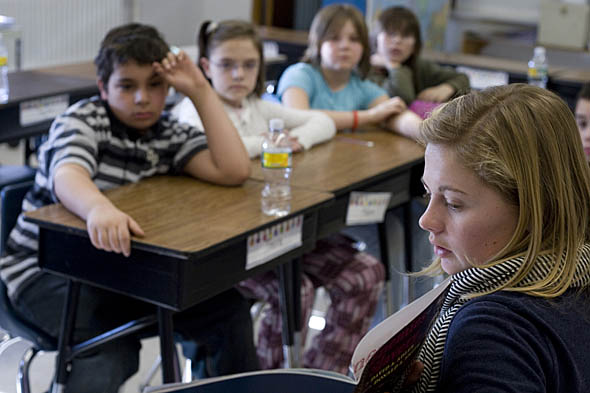 Bates College has been named to the 2009 President's Higher Education Community Service Honor Roll with Distinction. This is the highest federal recognition available to a college for its commitment to volunteerism, service-learning and civic engagement.
This honor recognizes Bates for a multitude of effective programs that seek to sustain relationships between the college and the Lewiston-Auburn community.Bates is one of 115 colleges and universities named to the Distinction List and 621 schools named as honor roll members. Honorees are chosen based on, in part, the scope and innovation of service projects, percentage of student participation in service activities, incentives for service and the extent to which the school offers academic service-learning courses.
The Corporation for National and Community Service oversees the honor roll in collaboration with the federal departments of Education and Housing and Urban Development, as well as the Campus Compact and the American Council on Education.
"I'm not surprised that Bates has been named to the President's Higher Education Community Service Honor Roll, but I am delighted that our work has been recognized," says Georgia Nigro, a psychology professor at Bates and interim director of the Harward Center for Community Partnerships, which coordinates college-community initiatives.
"Bates students, staff and faculty at the Harward Center work collaboratively and creatively with many local and global community partners. I see Bates people tackling pressing social needs every day."
The center partners with more than 125 community organizations, from schools and cultural institutions to nonprofit organizations. Students may apply for short- and long-term grants to pursue community-based research and work-study.
Each year one-third of Bates students take community-based learning courses that integrate community projects with academic learning. Each year, two-thirds of Bates students work in the community, mentoring schoolchildren, planting community gardens, supporting seniors in assisted living or monitoring invasive species.
"I have always been a strong believer in community service and giving back in order to learn about one's surroundings," says senior Krystina Zaykowski of Brooklyn, N.Y., coordinator of the Longley School Mentoring initiative. "There is more to the world than college, and you can learn about that through community service."
During the past three academic years, the number of students participating in community-based learning increased by more than 26 percent, and the number of community partners increased by 40 percent.
Bates' Community Volunteerism and Student Leadership Development Program helps students find volunteer opportunities at public schools and social service agencies. A group of students called Student Volunteer Fellows fill key leadership roles, organizing volunteer programs with each fellow responsible for a different initiative.
For example, in-school mentoring programs allow Bates students to work with children in the Lewiston-Auburn public school system. Mentors annually contribute roughly 2,300 hours of service, visiting their mentees weekly throughout the academic year at the child's school for an hour at a time.
The Corporation for National and Community Service is a federal agency that leads President Obama's national call-to-service initiative, United We Serve, and engages more than 5 million Americans in service through its Senior Corps, AmeriCorps and Learn and Serve America programs.
View Comments