Campus Construction Update: Week of June 7, 2010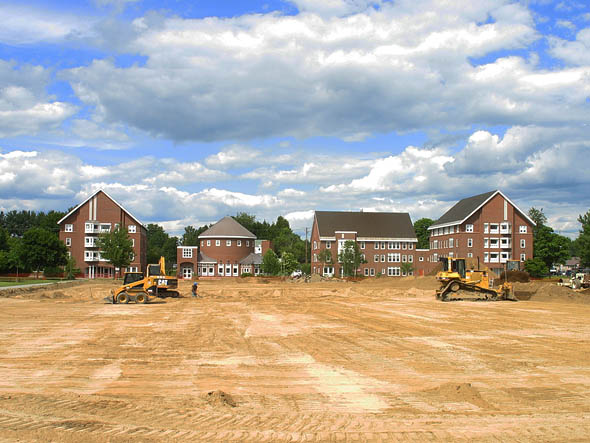 Note to readers: Attending Reunion? Don't miss the groundbreaking ceremony for the Garcelon Field renovation at 4 p.m. Saturday, June 12. President Elaine Tuttle Hansen, trustees, Athletic Director Kevin McHugh and key benefactors of the project will be on hand for this celebratory occasion.
An hour earlier, you'll have the chance to learn more about the Hedge-Roger Williams renovations. Come to Pettengill Hall's Keck Classroom (Room G52) at 3 p.m. June 12 as project manager Paul Farnsworth is joined by project designer Michael Tague of the architecture firm JSA to talk about the project.
Even forewarned, it was shocking to arrive at work on June 3 to find the Garcelon Field grandstand succumbing to the force of machines. Read more about the Garcelon Field renovation project . . .
At Hedge Hall these days, what's up is down — in the basement. And you'll get a lift out of it. As we described last time, workers have undermined a load-bearing concrete wall in the process of making an elevator pit. So what's holding up the building? Read more about the renovation of Hedge and Roger Williams halls . . .
---
* View the slide show below by clicking the thumbnails:
---
See live video from Garcelon Field:
---
See video from the first day of the Garcelon Field renovation:
Can we talk? Campus Construction Update welcomes your questions, reminiscences and comments about campus improvements. Please e-mail staff writer Doug Hubley at this E-mail, stating "Construction Update" in the subject line.
View Comments