COCo Dance Theatre brings Caribbean flavors to Bates Dance Festival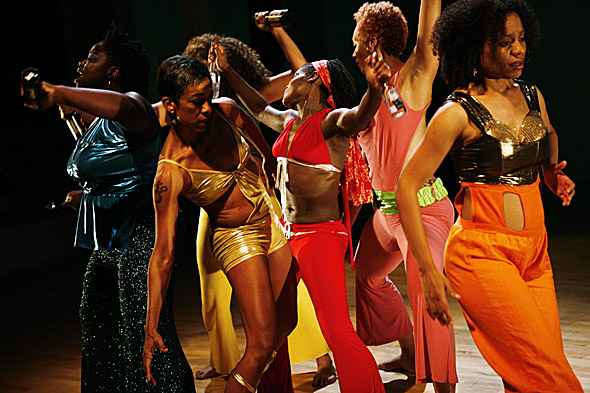 Incorporating the textures of Caribbean performance with African and American sensibilities, Cynthia Oliver's COCo Dance Theatre performs its current evening-length work at this summer's Bates Dance Festival.
Performances take place at 8 p.m. Friday and Saturday, July 23 and 24, in Bates College's Schaeffer Theatre, 305 College St. Tickets are $24 for the general public and $12 for students and seniors. For more ticket information and performance details, visit the festival website.
A discussion with the artists immediately follows the Friday concert. At 7:30 p.m. Saturday, also in Schaeffer, dance writer Debra Cash offers Inside Dance: Understanding Contemporary Performance, a pre-performance talk about COCo Dance Theatre.
---
Read about the festival's Young Dancers Workshop.
---
In other festival events, a presentation titled Dance and Media is slated for 7:30 p.m. Thursday, July 22, in 301 Pettigrew. Dawn Stoppiello, co-founder of Troika Ranch, a dance-theater company committed to creating hybrid, media-intensive performances, offers a video lecture about her groundbreaking work. The event are open to the public at no cost.
In her festival performances, Oliver presents her newest work, Rigidigidim De Bamba De: Ruptured Calypso, a multidisciplinary work that takes calypso in and out of the carnival context and layers it with mythology.
A meditation on transnationalism, Rigidigidim features six women from the Caribbean diaspora. In Oliver's signature repeating, overlapping style, Rigidigidim forces the performers to navigate their individual identities through their voices, stories, and bodies. They cut through calypso's melodious innuendo to reveal its politically subversive truth-telling, delivered in raucous, downright unrespectable intensity.
Cynthia Oliver is a Bessie Award-winning choreographer whose work is a melange of dance, theater and the spoken word. She has presented work in New York at The Joseph Papp Public Theatre's Haphazard Cabaret, the Pauline Oliveros Foundation's Live Letters Festival, the 92nd Street Y, University Settlement, The Kitchen, Performance Space 122 and Dance Theater Workshop.
She was named Outstanding Young Choreographer by reviewer Frank Werner of the German magazine Ballet Tanz and had her film AfroSocialiteLifeDiva aired on European television. Oliver has received numerous awards and commissions from the Franklin Furnace, The Puffin Foundation, the Jerome Foundation, the Edward and Sally Van Lier Fund for Minority Artists, the New York State Council on the Arts, the National Performance Network, the University of Illinois, the Illinois Arts Council and many others.
She holds a doctorate in performance studies from New York University and is an associate professor in the dance department at the University of Illinois at Urbana-Champaign. Learn more.
View Comments