Campus Construction Update: Aug. 20, 2010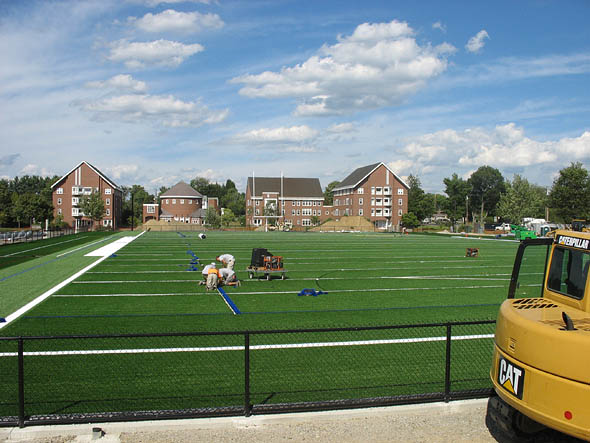 A 19th-century house is Bates' newest student residence, the green carpet is rolled out at Garcelon Field and Campus Construction Update is beaming as the steelwork continues at Hedge and Roger Williams halls:
This fall, 23 Bates students will find themselves studying, socializing and sleeping inside a lesson in local architectural history. Acquired by Bates in 2009, the large brick house at 10 Frye St. is the latest addition to the college's stock of student residences. But it's one of the older buildings in the fleet, dating to 1873. Read more about 10 Frye St.
The big news in the Garcelon Field renovation these days, of course, is the installation of the FieldTurf playing surface. Read more about the renovation of Garcelon Field.
As this was written, on Aug. 20, Hedge Hall was something to watch as a crane swung long steel beams across the blue sky toward the building. There's plenty of new steel in Hedge already, but the creation of the building's framework will become more of a spectator sport as it increasingly happens outside the building's shell. Read more about the renovation of Hedge and Roger Williams halls.
---
View the slide show below by clicking the thumbnails:
---
Can we talk
? Campus Construction Update welcomes your questions, reminiscences and comments about campus improvements. Please e-mail staff writer Doug Hubley at this
E-mail
, stating "Construction Update" in the subject line.
View Comments