Your Page: Reunion Redemption for 'Gladys'
On the 16th green, David Greaves '80 stood 6 feet from shedding a college nickname
By Dave Trull '80
It was just another practice round at Martindale for four Bates juniors in the fall of 1978. John Gillespie and Brad Smith were playing David Greaves and me in our usual dollar Nassau.
The match was even on the ninth hole, with Greaves needing to make a 6-foot par putt to win the front side and give us a one-hole lead heading to the back nine.
Greaves settled over his ball and hit it ever so gently. The ball rolled 3 feet and stopped woefully short of the hole.
My exclamation was instant: "Nice putt, Gladys!" I could've used a more common insult of the day, such as "Alice," similarly implying a geriatric putting stroke, but "Gladys" just rolled off my tongue.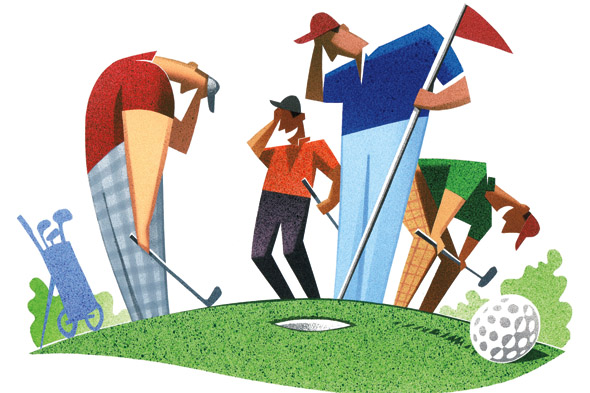 Greaves wasn't amused but Gillespie and Smith thought it hilarious. Predictably, the story of the missed putt made its way back to campus. Unpredictably, the name "Gladys" stuck to Greaves, and not just among our golf group. Males and females, close friends and mere acquaintances alike all used this new moniker. Even our legendary golf coach, the late Bob Hatch, began to call the moppy-haired Greaves "Gladys."
Greaves, who recently confided that he "had hoped to get through four years of college without a nickname," now had one. The harder he tried to shake it, the more it stuck. He even tried to transform it into something cool, like "Glad" or "Gladness," but no one was buying it.
But early in 2010, he made a plan to exit Gladys purgatory.
The name would stick for 32 years, into fatherhood (he and Lizette '81 have two boys), career (he's a successful sales executive), and service to Bates (he helped to found the Boston Bates Business Network). Through the decades, his Bates friends always knew they could count on Gladys in good times and bad.
But early in 2010, he circled June 12 — our 30th Reunion — and made a plan to exit Gladys purgatory.
He bought a new Cleveland putter. He played a bit more golf. Then he invited Gillespie, Smith, and me for a round of golf at Reunion. His goal was as transparent as it was audacious: make a winning putt and forever be free of the albatross named Gladys.
The day before Reunion, he even played at Willowdale in Scarborough, a course known for its slow greens, to hone his firm putting stroke.
The rematch took place at Prouts Neck Country Club, Gillespie's home course. Greaves and I were again partners but the stakes would be doubled to a $2 Nassau. The new price point hardly fazed Greaves; he was seeking salvation.
The match started with fog and mist shrouding Prouts Neck. Greaves carried our team early, as I was finding lot of seaside pine. Smith, meanwhile, showed command rarely seen at Bates, and Gillespie was rolling in putts with the confidence of a home-course golfer.
By the 16th the sun was out, and we were all playing well, with Gillespie and Smith two up. If we won the hole, we had a chance to win the match. If we halved the hole, we had a chance to tie. Fate complied by giving Greaves a 6-footer to halve the hole and allow the match to continue.
Redemption was finally in the house.
"You got a good feeling about this one, partner?" I asked. Greaves merely nodded as he lined up his putt. He radiated confidence; his look said, "This one is going firmly into the hole."
With little delay, Greaves made a bold stroke. The putt zoomed 3 feet past the hole like an Apollo spacecraft bypassing the moon and heading into deep space.
Greaves' mission had misfired; there would be no Hollywood ending like Robin Williams catching the touchdown pass from Kurt Russell in The Best of Times, though we did salvage a side bet over the last two holes.
Back on campus, as was the case 32 years ago, word got around that Greaves had missed the 6-footer. And like 1978, what happened next was unexpected. There was no teasing; on the contrary, he was treated as the day's heroic Everyman.
Christine Tegeler Beneman '80, a friend since freshman year, expressed how we all felt. "He'll always be Gladys to us, and we love him just that way," she said.
Really, who needs redemption when you have love going for you?
Dave Trull '80 lives in Groveland, Mass.
View Comments