11 new CatFacts: the 2023 Bates football edition
This edition of CatFacts — our occasional collection of fun tidbits about Bates, then and now, here and there — gives a nod to the gridiron, as Bates football opens its season tonight (Friday, Sept. 15) vs. Wesleyan University, in a game moved from Saturday due to impending effects of Hurricane Lee.

1. The First Game: 'Gracious Juggernaut!'
This inscribed stone rests near the southern entrance to Garcelon Field, commemorating Maine's first college football game, played on bygone Rand Field on Nov. 6, 1875, between Tufts and Bates. The stone was installed in 1975 on the 100th anniversary of the game.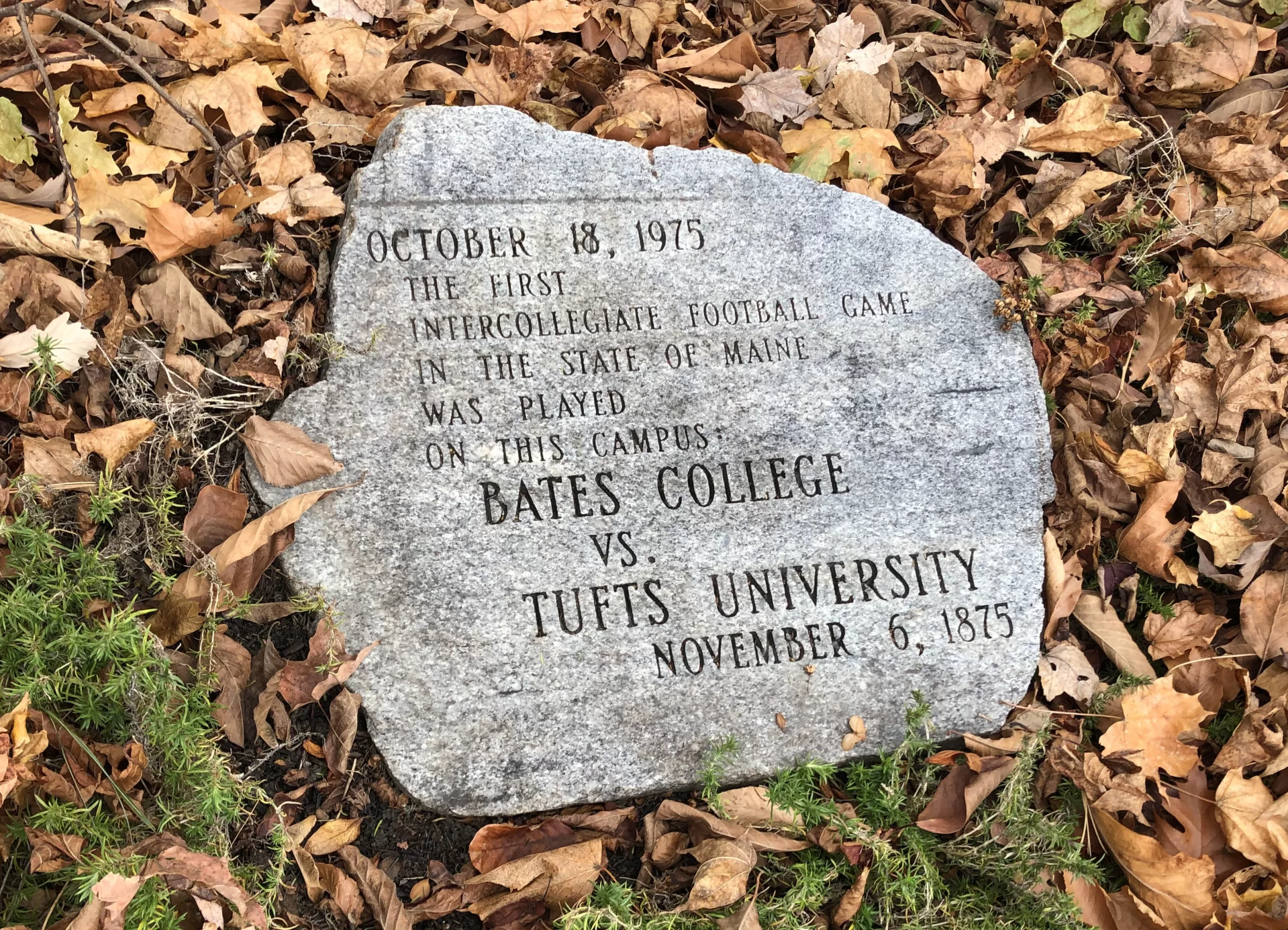 "Occasionally 10 or 12 men got into a promiscuous scramble for the possession of the ball," the bemused Lewiston Evening Journal reported in its game story, "and came forth rubbing their shins and using such phrases as, 'Gracious juggernaut.'"
2. The Bates 'Marriners" of World War II
The official records say that Bates fielded no varsity football team during the World War II years of 1943 to 1945. But that doesn't mean there was no football played on Garcelon Field.
Enter the Bates "Marriners."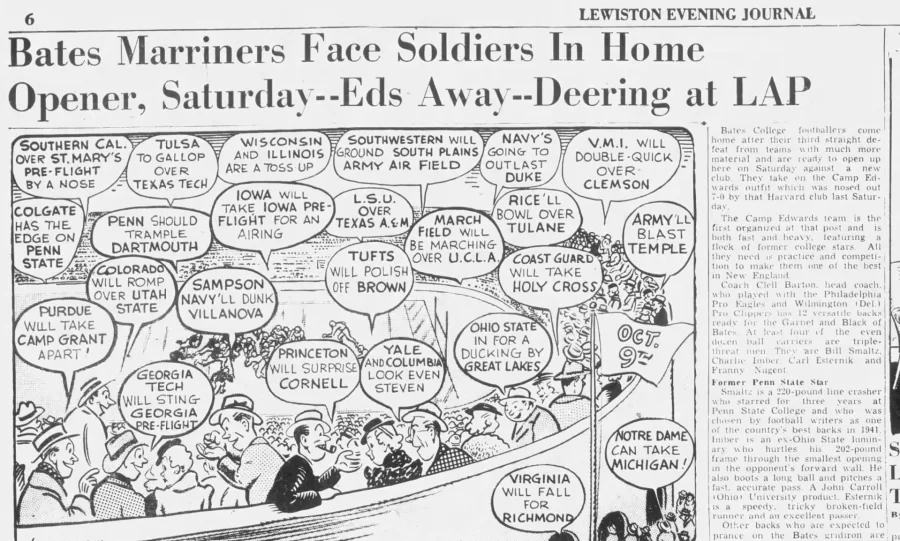 By summer 1943, Bates had welcomed the Navy to campus, in the form of an officer-training program known as V-12. These sailors mostly came from the ranks of other colleges, including Bowdoin, Colby, and the University of Maine.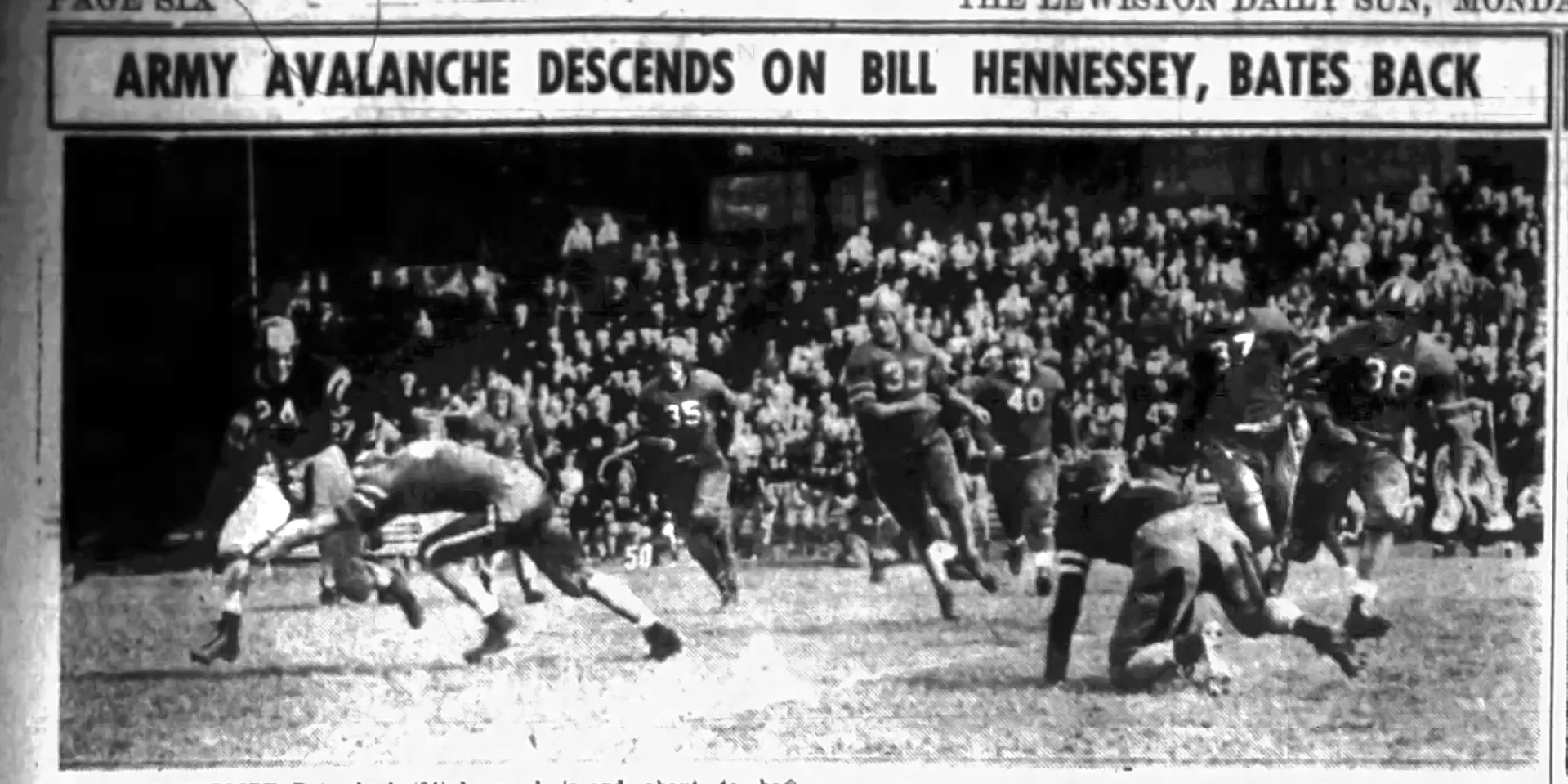 So in fall 1943, Bates (or the Navy, more correctly) was able to fill a football roster and the team, dubbed the Marriners by the local press, played a limited schedule of games, including one vs. a much heavier and favored U.S. Army team from Camp Edwards, a bygone Army base on Cape Cod. Bates won that game, 13–7. 
3. Bates in Sports Illustrated
Taken four years before Garcelon was fitted with artificial turf, this iconic image from the Bates-Colby football game on Oct. 28, 2006, appeared across two pages in Sports Illustrated's special issue, "Football America" (Dec. 4, 2006).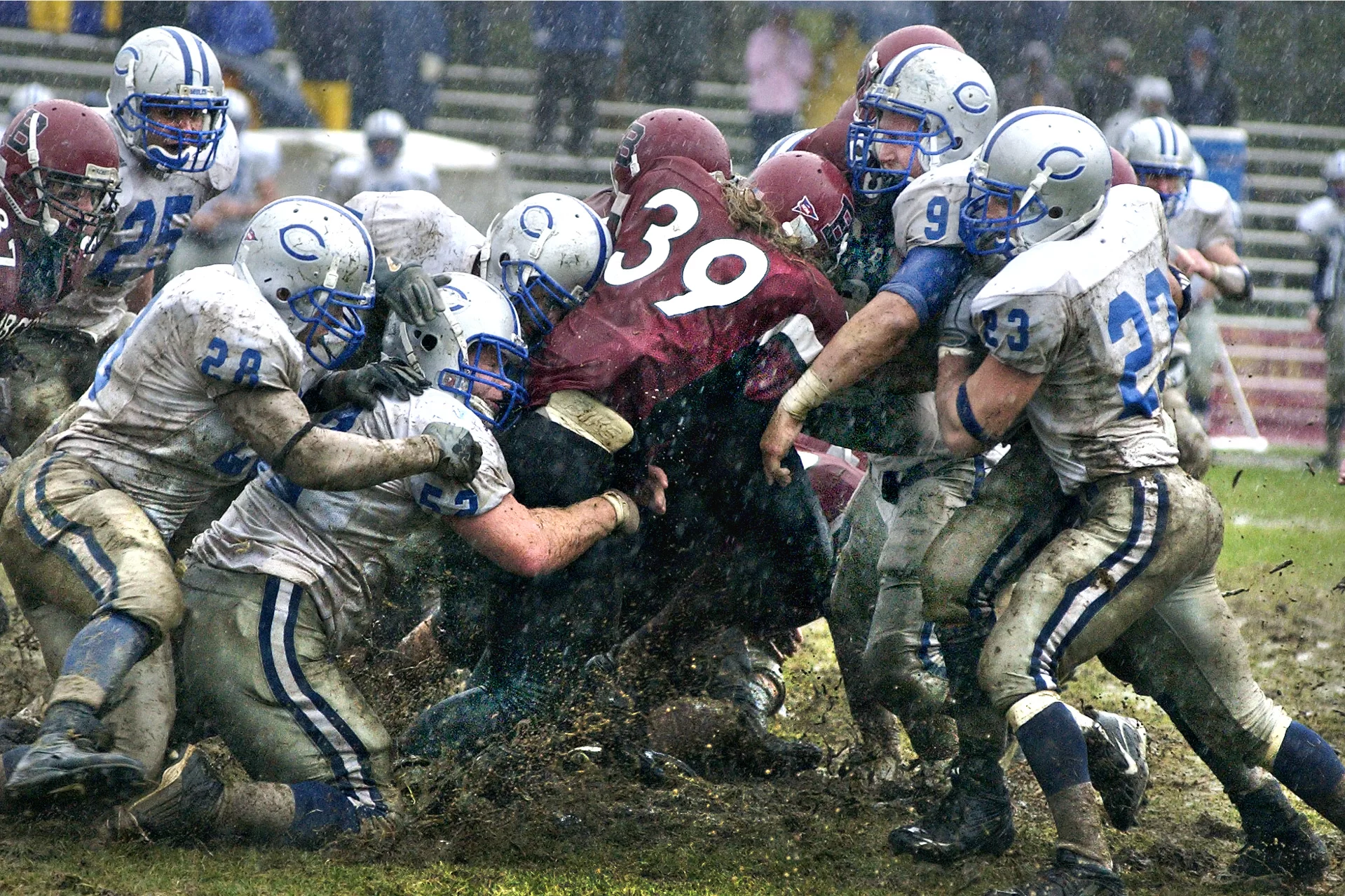 The photograph shows Jamie Walker '07 of Needham, Mass., moving a pile of Mule defenders, one of his 43 carries on the day. Some 4.62 inches of rain fell on Garcelon Field that day. Daryn Slover, a staff photographer for the Sun Journal newspaper on freelance assignment for Bates, took the photo, persevering in his work despite the wind and rain, only calling it quits after several lenses became too wet to work.
4. Garcelon's First Touchdown
On Oct. 14, 1899, the first touchdown was scored on new Garcelon Field by Frederick Harold Stinchfield, Class of 1900.
He graduated and attended Harvard Law School, became president of the 30,000-member American Bar Association, and from there helped defeat President Franklin Roosevelt's controversial "court packing" scheme.
5. Bates' First and Only Bowl Game
Following an undefeated 7–0 regular season in 1946, Bates accepted a bid to face the University of Toledo in the first Glass Bowl, believed to be the only bowl game for a NESCAC team.
As part of half-time festivities, an 18-pound Maine lobster was presented to Ohio Gov. Frank J. Lausche, and a Bates Manufacturing bedspread was presented to his wife.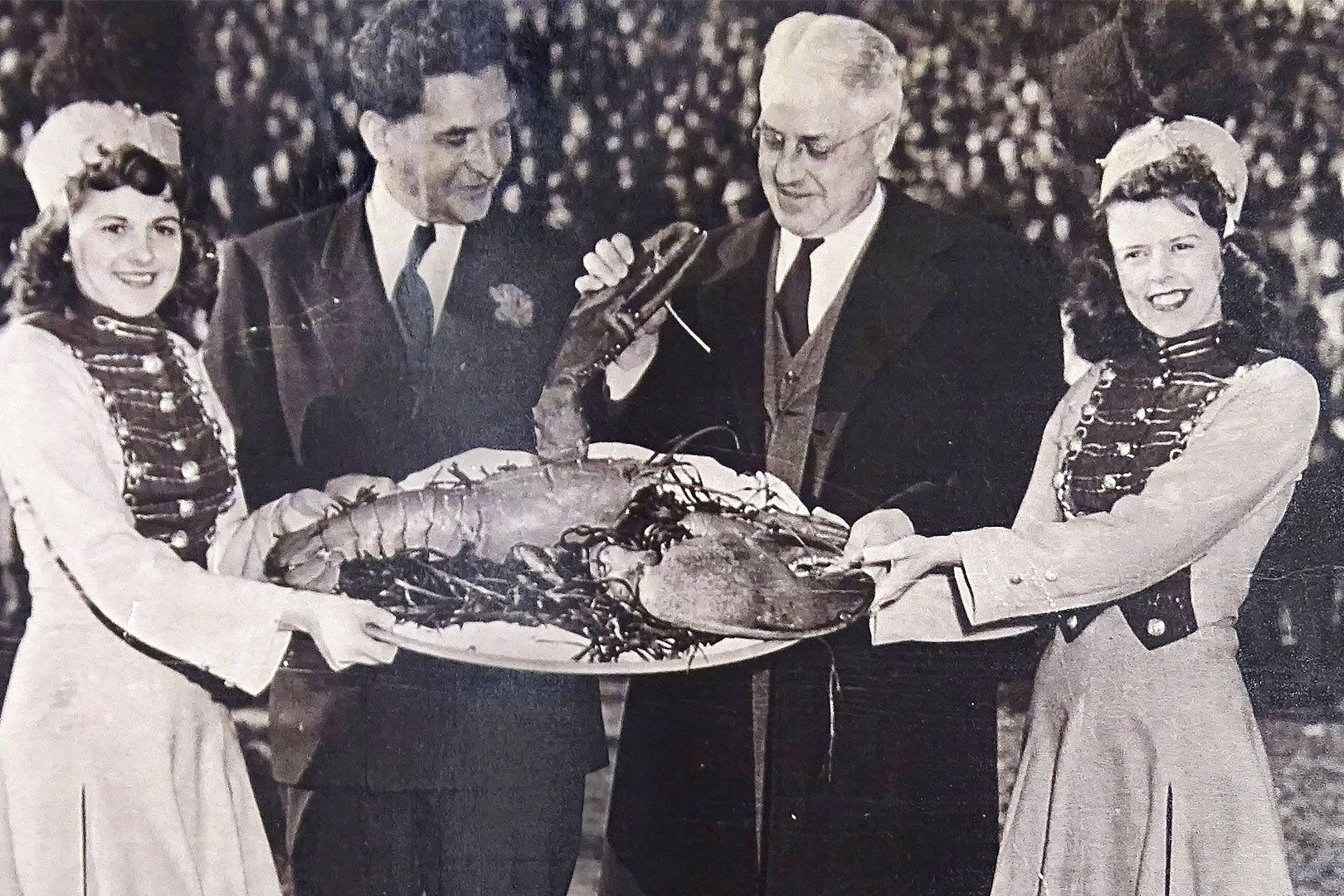 Held on Dec. 7, 1946, the game was won by Toledo, 21–12, in a game attended by "12,000 fans, five bands, a host of flags — traditional trimmings of a post-season football extravaganza," the Associated Press reported.
6. The Famous 0-0 Tie with Yale
Then as now, larger schools schedule smaller schools early in the season, looking for an easy win. Such was the case in the early 1900s, when Ivy League teams often hosted Bates and other Maine schools, and the result was often lopsided loss for Bates.
But not in 1932, the year Bates held Yale to a scoreless tie, in New Haven on Oct. 1, making national news.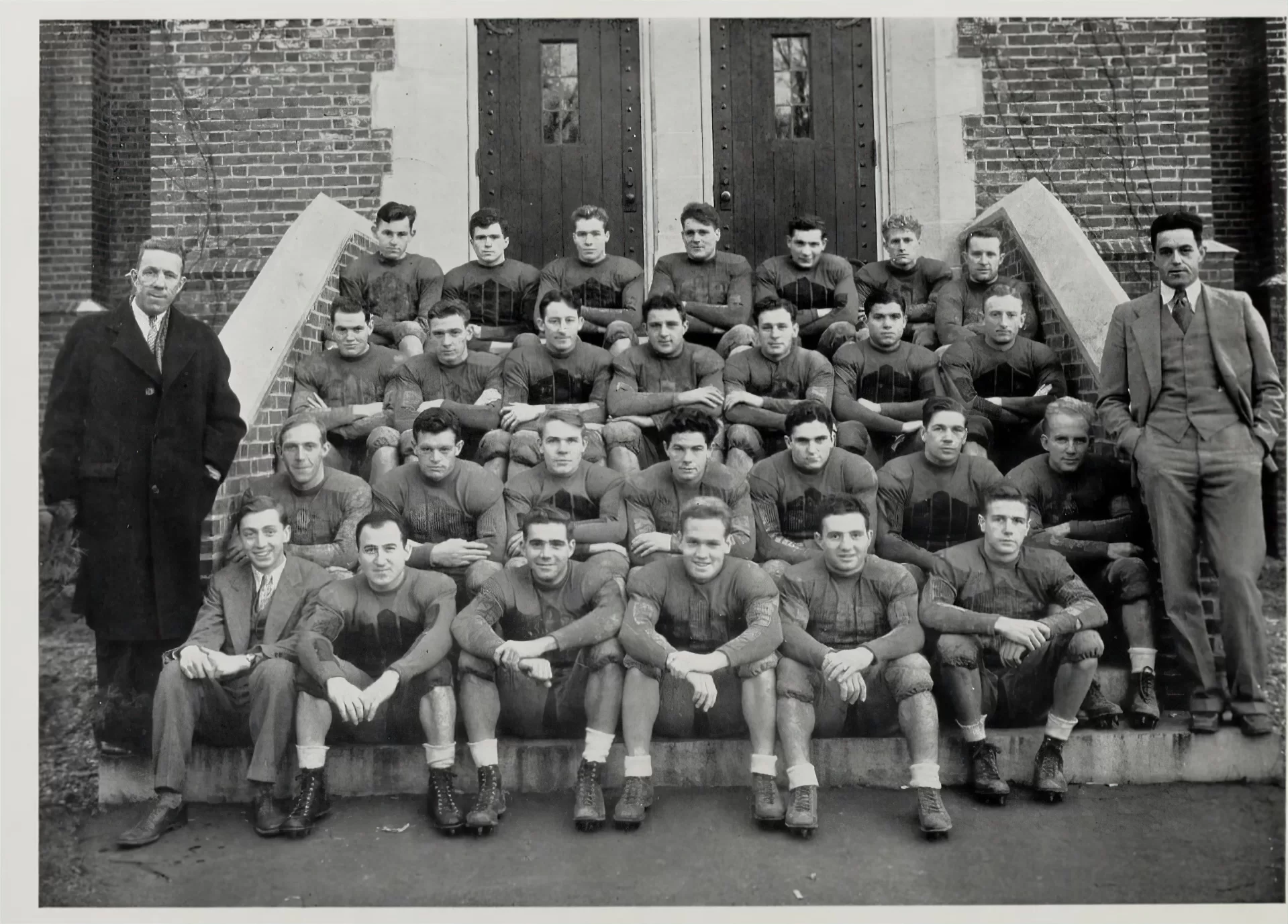 "Scarlet-clad gridiron warriors from Bates College, Lewiston, Maine, furnished one of the early football surprises of the season here Saturday in holding Yale to a nothing to nothing tie in the opening game of the season for the Elis," reported a wire story that appeared in newspapers as far away as Miami, Fla.
7. When Training Camp Was at a Camp
In the late 1930s, Bates football held its training camp at real camp: Camp Wonalancet, a now-bygone boys camp in Eaton Center, N.H. Classes didn't begin until late September, so the month was open for teams to get away for practice.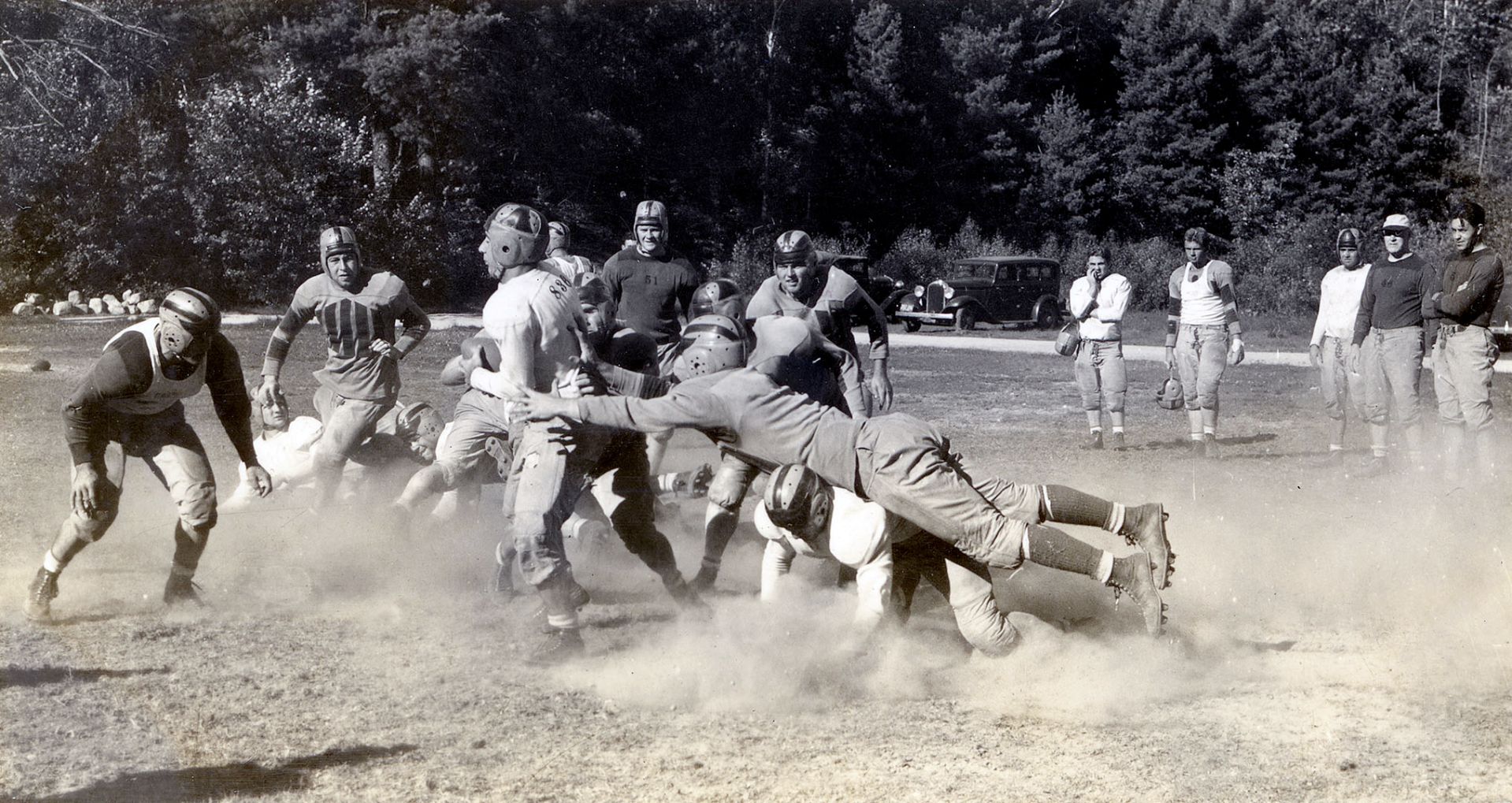 When the Hurricane of 1938 swept through New England that September, the Bates team was at Camp Wonalancet.  The cabins had tin roofs, and as the wind blew and branches rained down on the cabins, "it sounded like mortar rounds," the late Al Topham '41 recalled a few years ago. He would have known, having served as a Marine in the Pacific during the war.
After the hurricane, practice the next morning was postponed because "there were big timbers on the fields," he says. "We had to move all that trash off the fields before we could practice."
8. When the 'Popular Halfback' Fooled Maine
In 1961, head football coach Bob Hatch surprised the heavily favored University of Maine with an innovative spread formation that made national news.
Dubbed the "Popular Halfback" formation, it had speedy running back Paul Planchon '64 line up as if a wide receiver, but not alone. With him went an armada of four other players. Quarterback "Swift" Hathaway took the hike, pitched to Planchon, who headed downfield with his escort.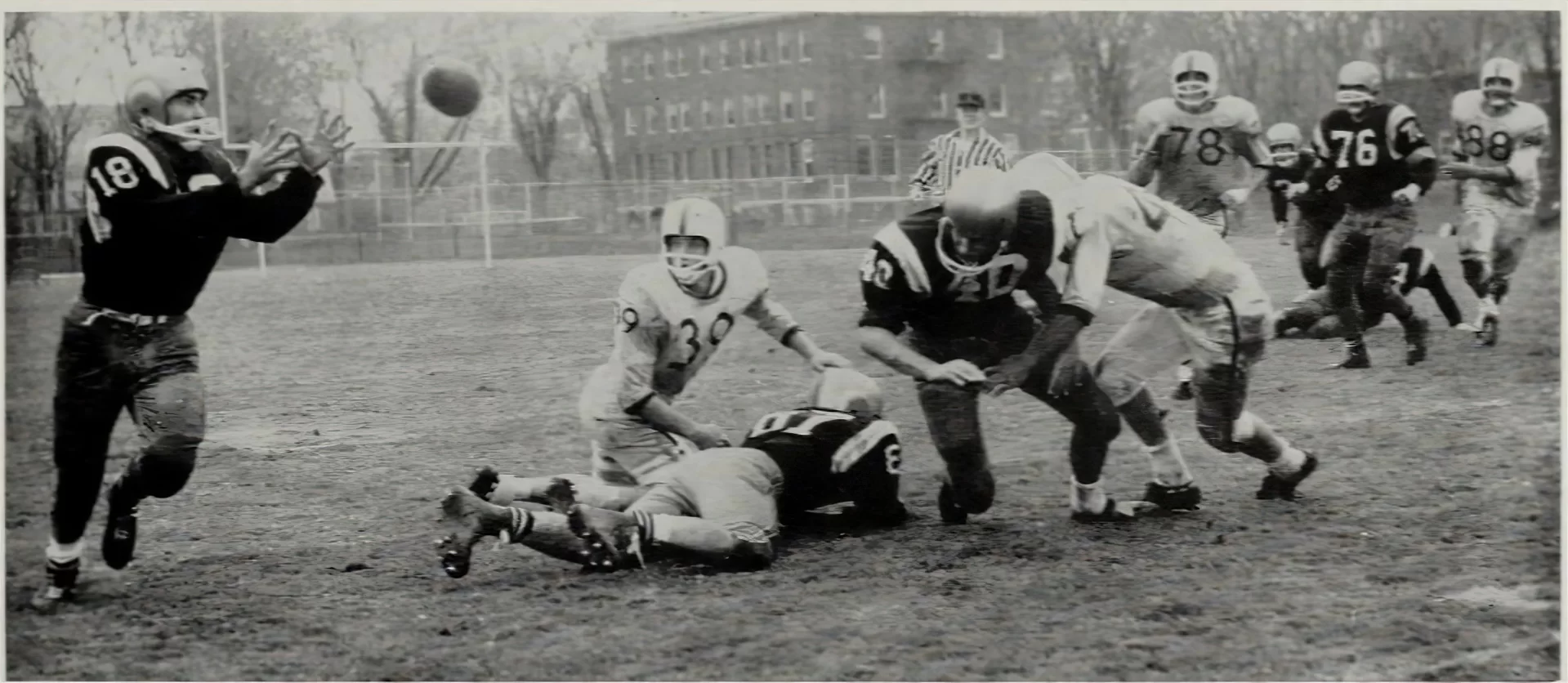 The play worked well, helping Bates to a surprise 15–15 tie. The name "Popular Halfback" was a reference to Army's "Lonesome End," Bill Carpenter, who always lined up near a far sideline and never even came into the huddle.
"We didn't think we could beat Maine with an orthodox offense," Hatch told the newspapers. It was an era when Maine, getting bigger every year, still competed against Bowdoin, Colby, and Bates in the State Series.
"We hoped this way to provoke some defensive miscues and also to 'psych' our own kids into believing they had something extra going for them."
9. When a Circus Grounds Was Home Field
Before Garcelon opened in 1899, Bates played its football games at Lee Park, a combination athletic and circus grounds close to campus, near what is now the Armory. (Buffalo Bill's Wild West show appeared there in June 1900.)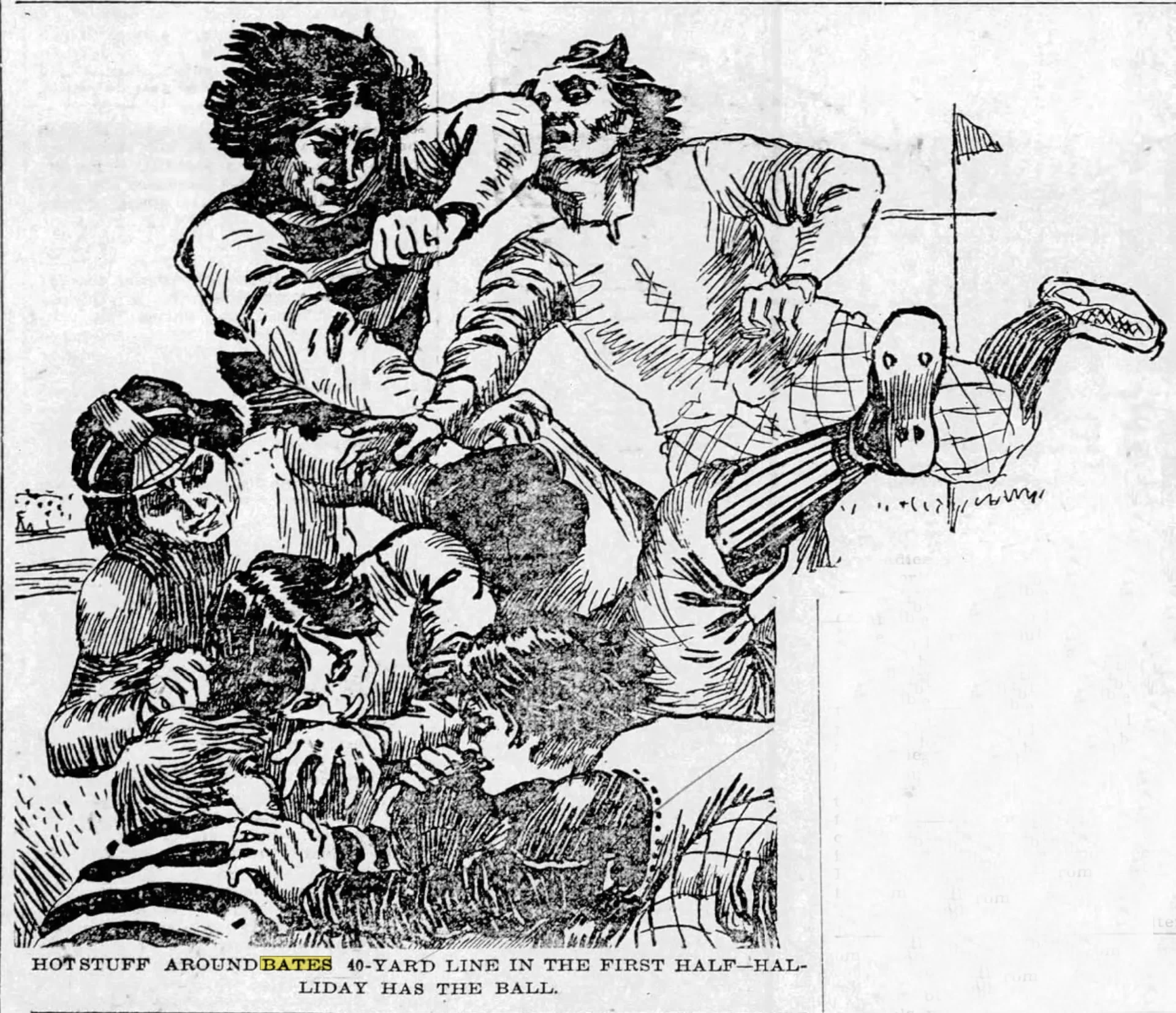 10. Charles Ray, Class of 1927, First Black Captain
In 1926, the election of a Black player, Charles B. Ray, Class of 1927, of West Chester, Pa., as captain of the Bates team was reported in newspapers around the country, as far away as California.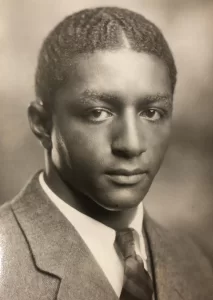 "Without a powerful build or great weight — he stands 5 feet, 7 inches tall and weighs only 150 pounds — Ray has qualified as a triple threat through his kicking, forward passing, and carrying of the ball," The Boston Globe reported. "Likewise he has distinguished himself on the defensive, particularly through his ability to break up forward passes."
At Bates, he was the first Black sports captain, of the football team, in 1926. Later an educator, he integrated the all-white faculty at Freehold (N.J.) High School in the 1950s, becoming a beloved mentor and coach.
11. Tom Carr '66, Patriot Draft Pick
Bruising fullback Tom Carr '66 is the only Bobcat football player to get drafted by a professional team, by the then-Boston Patriots in the 13th round of the 1966 draft.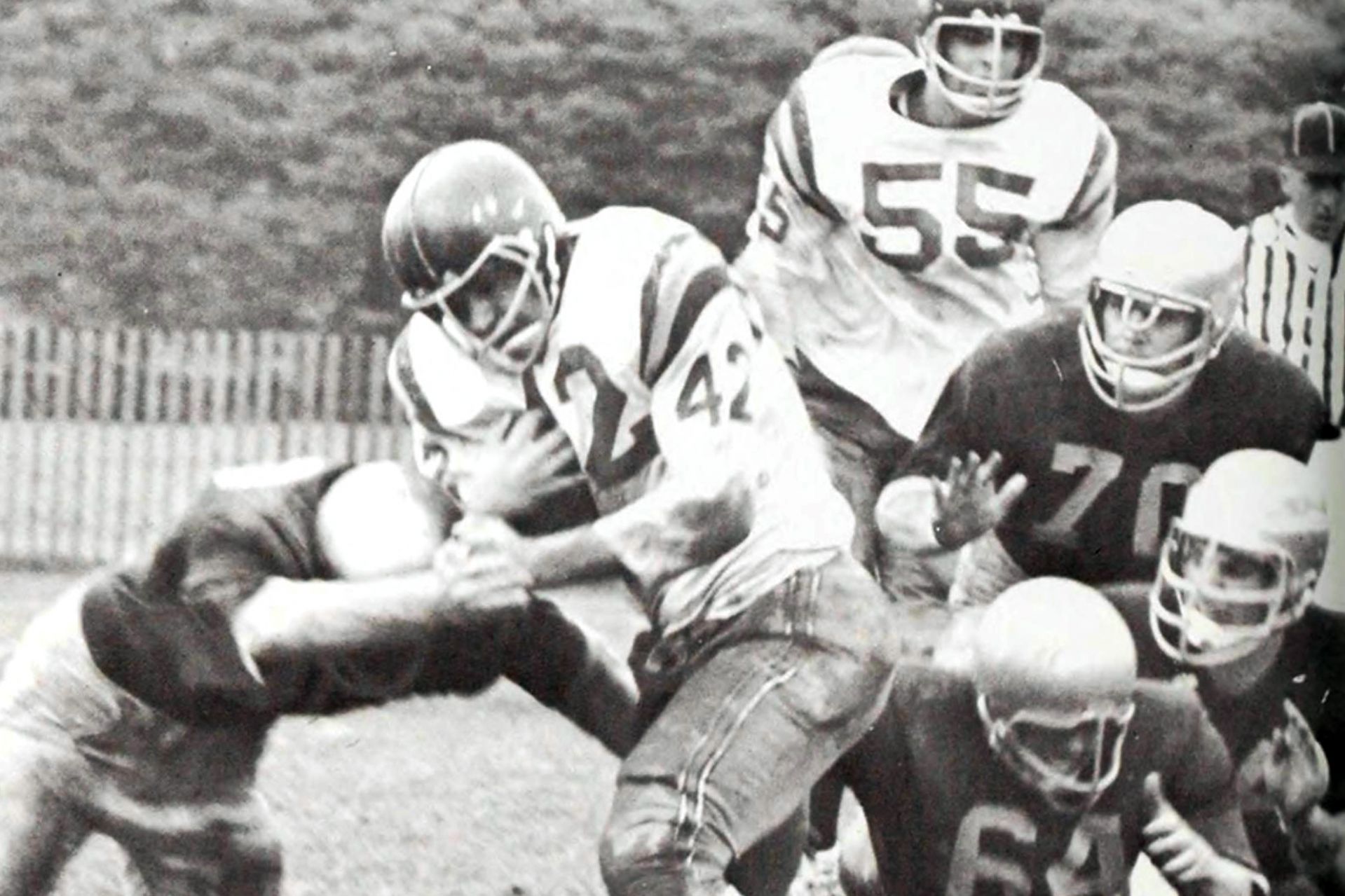 That summer he competed for a spot on Boston's roster, playing in exhibition games, including one in Quincy, Mass., against the New York Jets. The team put Carr on what was then known as the "taxi squad," the equivalent of today's practice squad. He didn't get a call to the Patriots that season. He suffered an injury during the 1967 training camp and pivoted away from pro football.