Global Lens series continues with Peruvian film 'Gods'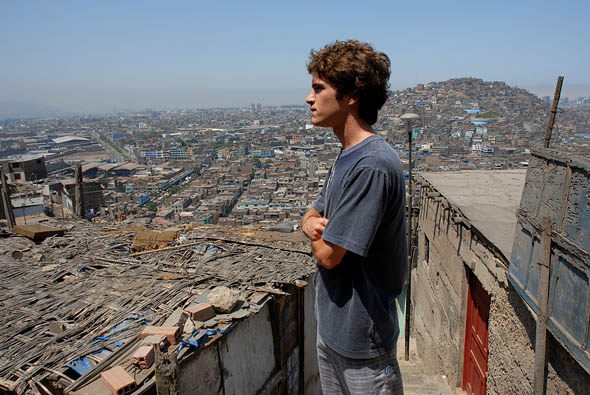 The Global Lens series of films from around the world continues at Bates College with Gods by Peruvian director Josué Méndez, showing at 8 p.m. Friday, Oct. 1, and 6 p.m. Monday, Oct. 4, in the Ronj, Bates' student-run coffeehouse, 32 Frye St.
Hosted by the Bates College Museum of Art, the series continues on Fridays and Mondays throughout the fall. Admission is $5. Made in 2008, Gods is in Spanish with English subtitles (91 min.). For more information, please contact 207-786-6135 or this olinarts@bates.edu.
The Global Film Initiative produces the series in an effort to promote cross-cultural understanding through the medium of cinema by showing little-known, skillfully made independent films to American audiences. The initiative believes that "a powerful, authentic narrative can foster trust and respect between disparate cultures and mitigate the social and psychological impact of cultural prejudice."
In Méndez's stylishly composed second feature, Elisa, soon to be the wife of a wealthy industrialist, is eager to shed her working-class background in favor of the opulence of her fiancé's elite lifestyle.
To her disappointment, she soon realizes her hopes to live a life of domestic splendor must also include her future stepchildren: Diego, who is hounded by his overbearing father and Andrea, Diego's party-girl sister and the object of both his desire and disgust.
As Elisa embraces her new life of lavish parties and beachfront estates, Diego and Andrea rebel against their upper-class upbringing, setting the stage for an ironic contrast of fate and ambition in this biting satire on upper-crust wealth and privilege.
Méndez was born in Lima, Peru, in 1976. He graduated with a degree in Film studies and Latin American Studies from Yale University in 1998. His first film, Días de Santiago, won more than 35 international awards. In addition to his work as executive producer and editor for films, he has written and directed for Peruvian television, advertising and theater.
View Comments