Museum of Art exhibitions explore Roman mythology, women in Islamic societies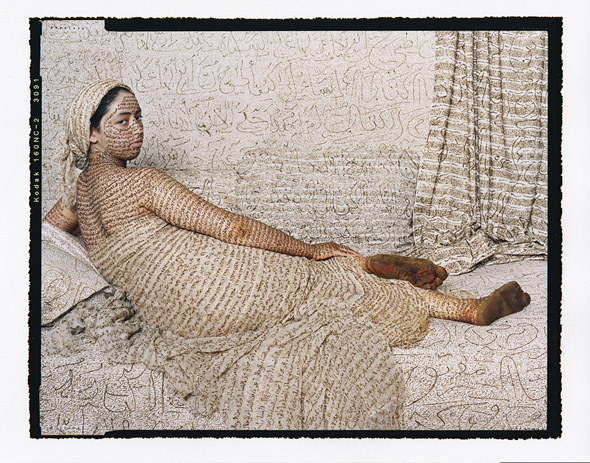 Two exhibitions that view cultural touchstones of centuries past through a contemporary lens open Oct. 8 at the Bates College Museum of Art, Olin Arts Center, 75 Russell St.
On display through Dec. 18 are the exhibits Les Femmes du Maroc: An Exhibition by Lalla Essaydi, featuring photographs based on 19th-century Orientalist paintings; and Metamorphoses: A Collaboration with Ovid by Wally Reinhardt, a collection of gouache paintings interpreting writings of the Roman poet.
Nick Capasso, curator of the Essaydi show and senior curator at the DeCordova Museum and Sculpture Park of Lincoln, Mass., presents a gallery talk about Essaydi's work at 3:30 p.m. Saturday, Oct. 9, in the museum. A reception follows.
Reinhardt discusses "Metamorphoses" at 6 p.m. Wednesday, Oct. 13, Olin's Room 104. Essaydi visits Bates to talk about her work at 7 p.m. Monday, Nov. 29, also in Room 104.
The museum is open 10 a.m. to 5 p.m. Tuesdays through Saturdays. For more information, please call 207-786-6158 or visit the website.
"Both exhibitions will interest the public," says museum curator William Low. "But they also link with the curriculum and interdisciplinary teaching at Bates in important ways — Essaydi due to the political and cultural elements in her artwork, and Reinhardt because of his reinterpretations of classical mythology."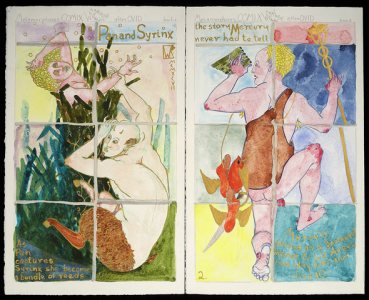 Born in Morocco and now living in New York, Essaydi has gained international prominence through timely and beautiful work exploring the condition of women in Islamic society, cross-cultural identity, and the history of art, particularly Orientalism — a popular 19th-century Western school of art that interpreted the cultures of North African and Western Asia.
"Essaydi's striking, large-scale photographs subvert long held misconceptions of women's roles and identities in the Arab world that were popularized by the romantic and exotic depictions by Western artists," says Low. Depicting Moroccan women in staged narratives borrowed from Orientalist paintings, she retains the basic forms of the originals — but strips them of their color, removes male figures, erases cues to social status and covers all nudity.
Most distinctively, she incorporates her signature calligraphy throughout the images, writing directly on her models' bodies, apparel and surroundings. "Her use of calligraphy, traditionally a male art form for the transcription of sacred texts, and henna, which is traditionally a women's decorative and ritual art form, also raises the cultural distinctions between men and women within the Arab and Muslim world," says Low.
Where Essaydi's striking visual vocabulary serves to challenge longstanding traditions of cultural and gender imperialism, Reinhardt since the 1980s has brought a lively, colorful and playful spirit to his retelling of Ovid's Metamorphoses. This literary masterpiece combines history and myth to tell the story of the world from creation until Julius Caesar's deification.
Painting in gouache, a water-based medium that combines the luminescence of watercolor with a saturation of color that resembles oil paint, Reinhardt has used Ovid as the inspiration for his vivid depictions of favorite characters from classical mythology.
"Reinhardt's vivid, very contemporary pictures bring to life subjects now thousands of years old, making them fresh and vibrant in a way that defies their age," says Anthony Shostak, education curator at the museum.
"The classical stories retold by Ovid and interpreted visually by Reinhardt are fundamental to Western culture, and are taught at Bates and in our local public schools, making the exhibition as relevant as it is enjoyable. This is a show for everyone, young and old, who loves these stories and wants to reconnect with them in an exciting and fun way."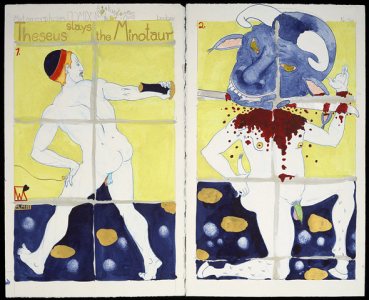 Reinhardt's work has been shown at such museums as the Carnegie Mellon Art Gallery, Boston's Institute of Contemporary Art, the Cleveland Museum of Art, the James A. Michener Art Museum and the Philadelphia Museum of Art.
Les Femmes du Maroc is made possible by generous grants from the Lois and Richard England Family Foundation and the Davis Family Foundation. Reinhardt's exhibition and visit to the Bates College campus are offered in co-sponsorship with the programs in classical and medieval studies and in interdisciplinary studies, and by the Division of Humanities.
View Comments