Bates students reflect on research abroad, from Africa to Indonesia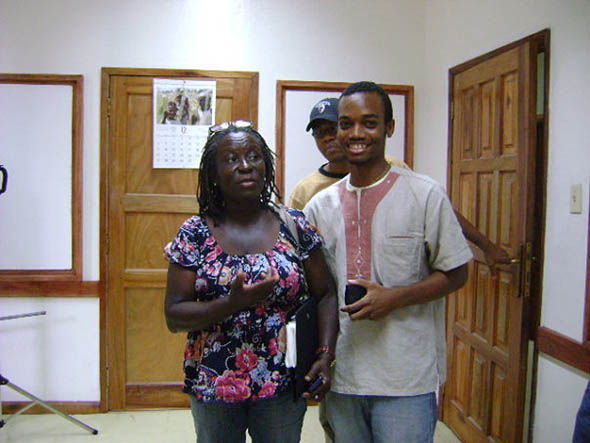 The fate of the orangutan and its rainforest home, the provision of eye care to underserved African communities and the aftermath of Liberia's brutal civil wars are topics that Bates College students will discuss in public presentations during October.
The three students are recipients of Phillips Student Fellowships, Bates grants that supported their research abroad.
Robert Little, a junior from Auburn, offers the presentation Helping People and Orangutans Through Video at 4:30 p.m. Monday, Oct. 11. Two more presentations take place at 4:30 p.m. Wednesday, Oct. 13: Emily Howe, a senior from Carlisle, Mass., delivers Unite for Sight and Theodore Sutherland, a senior from Accra, Ghana, offers Beyond the Culture of War. Both events take place in Chase Hall Lounge, 56 Campus Ave.
Phillips Student Fellowships provide cross-cultural experiences focused on research, service or the arts. The fellowships are much sought after at Bates and are awarded through a competitive process.
Little did his research in Borneo, Indonesia, where he investigated the status of orangutans and the destruction of the rainforest. He did video interviews with residents on both sides of the rainforest issue, both those involved in clearing the forests and those working to protect them.
---
See Robert Little's video. Text continues below.

http://vimeo.com/15099996
---
As Little explains, his research project "involved searching through the forest, living as a local, interviewing slash-and-burn farmers and illegal loggers, filming oil palm plantations and profiling a local NGO working to stop the destruction." Little created a conservation documentary from the footage he captured in Borneo.
Howe will detail her volunteer service in Ghana with the organization Unite for Sight, which brings ophthalmological care to communities with the goal of eliminating preventable blindness. A pre-med student, Howe helped provide free eye screenings and observed surgeries.
Because of her interest in public health, Howe says she found it especially interesting to "learn about different barriers to health — especially cultural barriers," and observe Unite for Sight's strategies for overcoming these barriers.
Sutherland worked in Monrovia, the capital of Liberia, to observe how the country is rebuilding — culturally, socially, politically and economically — five years after a devastating 14-year civil war.
Working in the office of the Monrovia's mayor, Mary Broh, he gained a unique perspective on how public policy is used in an African context to negotiate the cultural, economic and social tensions that arise from the mayhem of wars. With an ultimate goal of "learning about how conflicts change the culture of countries," Sutherland will contrast his Liberian experiences with his perceptions of Ghana and America.
The Phillips Student Fellowships honor Charles F. Phillips, the fourth president of Bates College, and his wife, Evelyn M. Phillips. Grants provide students with an experience of immersion in another culture, opportunities for extensive research, service-learning, volunteer work or career exploration, as well as unique opportunities for intellectual and personal growth.
View Comments