Kaluba '10 returns to discuss development projects in Zambia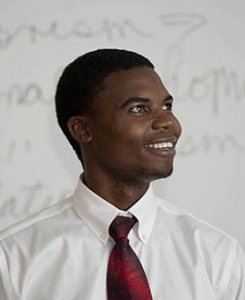 Chomba Kaluba '10 gives the presentation Literacy and Microfinance for Sustainable Development and Peace, explaining his work with a Zambian nonprofit organization that he founded and directs, in a Homecoming Weekend presentation at 7:30 p.m. Friday, Oct. 29, in the Keck Classroom (G52), Pettengill Hall, 4 Andrews Road (Alumni Walk).
Kaluba, of Mpika, Zambia, launched the Kachlite Foundation to empower communities to help themselves through sustainable microfinance projects involving livestock and agriculture. The foundation also promotes literacy as a tool to wipe out hardship and bring sustainable development and peace.
Growing up in Zambia, he was inspired by the work of Peace Corps volunteers from Maine. As a Bates student, he seized opportunities to make a difference in both Maine and struggling communities abroad.
At Bates, Kaluba twice received national Davis Projects for Peace awards. In 2008, he shared an award with other students to help establish a community garden in Mwanza, Tanzania, to fight the food-for-sex trade. A 2010 award enabled him to advance a microfinancing initiative and a literacy initiative for elderly widows in rural Zambia during the summer.
In his talk at Bates, Kaluba will discuss his experiences in Zambia and his plans for the foundation. Students interested in volunteering with the Kachlite Foundation can arrange a meeting with him at this chomba@kachlitefoundation.org.
Kaluba today is pursuing a master's degree in conflict and development at the School for International Training, and hopes to make his career in international and human rights law.
View Comments