Post-Gazette's David Shribman P'14 recalls Muskie's midterm speech 40 years ago
David Shribman P'14, executive editor of the Pittsburgh Post-Gazette, devotes his nationally syndicated column to the events leading up to the televised speech delivered by U.S. Sen. Ed Muskie '36 40 years ago today.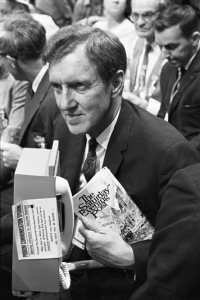 Muskie, who gave the speech just prior to the bitter 1970 midterm elections, was taking on President Nixon and Vice President Spiro Agnew, who were blaming Democrats for the era's urban violence and questioning their patriotism for opposing the Vietnam war. But Muskie "was appealing for more than votes," Shribman writes. He was appealing for "a less pugilistic politics, and though he would have a distinguished Senate career and later serve as secretary of state, this may have been his finest hour."
Said Muskie, "Our country is wounded and confused — but it is also charged with greatness and with the possibility of greatness. We cannot realize that possibility if we are afraid … or if we consume our energies in hostility and accusation."
Shribman, who gathered material for the column during the Muskie Archives' 25th anniversary program during Parents & Family Weekend, writes  that "though this speech today is hardly remembered outside the Muskie Archives here at Bates College, his alma mater, we need to hear and heed it today." View Shribman's column from the Post-Gazette. View a transcript of Muskie's 1970 speech.
View Comments