Cool it: Heating curtailment plan will save money, carbon emissions during break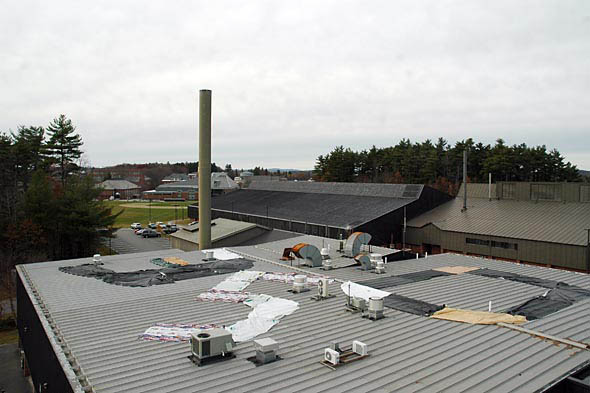 In an effort to reduce energy consumption on campus, Bates will be turning down the heat in buildings across campus during the winter break. The adjustments are expected to save money and reduce the college's emissions of greenhouse gases.
With students away from Dec. 18 through Jan. 8, and many staff and faculty members also absent for much of that time, most campus facilities will be used minimally or not at all.  Heating and lighting unoccupied spaces beyond required safety levels is wasteful.
Bates will minimize such waste by reducing temperatures throughout campus where possible. Buildings that will have be occupied during the break, for example by international students who stay on campus through the break, will be maintained at an average of 65 degrees F.
Unoccupied buildings will be heated only to 55 degrees.
Staff members will monitor buildings to ensure that they don't fall below the designated temperatures.
Members of the Bates community have worked together over the last two years to identify and implement ways to reduce the waste of energy on campus, driven by concerns about cost and the college's our environmental footprint.
The college's Committee on Environmental Responsibility and Energy Task Force estimate that the curtailment program will save in excess of $50,000 over the break.
Setting back temperatures will require the cooperation and attention of all parties involved. Before you leave for the holidays please make sure your windows are closed and your thermostat is turned down (if applicable).
A table that identifies targeted temperature levels for each building over the upcoming break period and the dates for the curtailment can be found here.
As the table indicates, most academic and administrative buildings will experience normal temperatures except for the period when they are expected to be unoccupied (Dec. 24-Jan. 2).
As most employees aren't expected to work during this period,  those who will be on the job are asked to dress accordingly. Heating systems will not be adjusted on an individual basis. Please refrain from using space heaters if possible as they are extremely inefficient and greatly increase the risk of fire.
Students required to be on campus over break, as well as those with permission from the Dean of Students office, will be housed according to the plan.  The Housing Office has finalized these residences and will be in touch with each student who has permission to stay.  All other residential housing will be deemed unoccupied and temperatures will be reduced accordingly.
Facility Services plans to convert all buildings back to their normal temperatures one day prior to occupancy:  Jan. 2, 2011, for academic and administrative buildings, and Jan. 8 for all residential housing. If you have any questions or concerns, please contact a member of the Committee on Environmental Responsibility.
The Energy Task Force and the Committee on Environmental Responsibility have completed significant projects to improve energy efficiency and encourage conservation. In fiscal year 2010 the college was able to reduce consumption by 9 percent, resulting in more than $450,000 in energy savings.
In fiscal year 2011, utility expenses are budgeted at approximately $4 million, representing one of the single largest college expenditures both financially (roughly 4.3 percent of the total budget) and environmentally (more than 85 percent of Bates' greenhouse gas emissions).
View Comments