N.H. news media feature legendary holiday gingerbread houses by Brown '80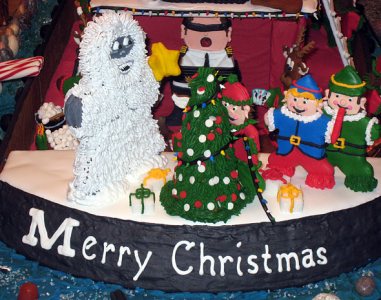 WMUR-TV's New Hampshire Chronicle and the Foster's Daily Democrat each recently featured Trudy Higgins Brown '80 of Durham, N.H., and her Christmas-themed gingerbread houses, deemed a "local legend" by the Daily Democrat.
Nineteen years ago, after seeing a friend's gingerbread house, Brown created her own, covered it with candy and was done. "Then," she says, "I got bored and started going a little crazy."
She now spends several weeks each year's creation, including lots of research. The year's theme has Santa and friends taking over a Portsmouth tugboat, so Brown photographed the tugboats, then created graph patterns for each part of the boat. "Here I can really play with the math," says Brown, a Bates math major and former math teacher.
Then she adds her signature details, decorations and characters. This year, that included "Bumble," from Rudolph, famously putting the star on a Christmas tree.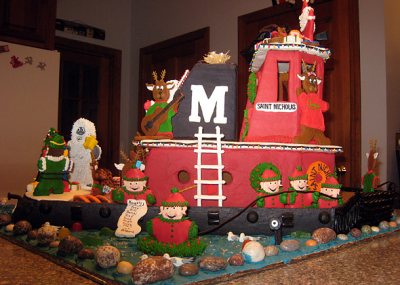 One year's theme featured a Monty Python's Holy Grail-style castle. Another year, one of her sons suggested a rock concert, so Brown featured the band Tool, a group that employs fanciful, detailed artwork on their CD covers.
"She a little obsessive about it," says son Camden Brown, "but you have to be to have it come out well."
View stories from the Foster's Daily Democrat, Dec. 16, 2010, and from WMUR-TV's New Hampshire Chronicle, Dec. 16, 2010
View Comments