Dialogue, a video series features contemporary artists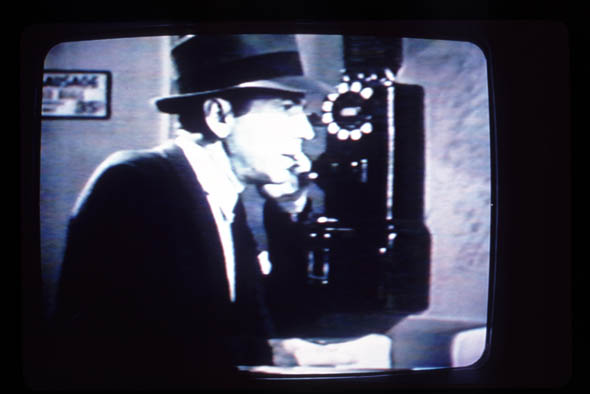 Curated by Dan Mills, director of the Bates College Museum of Art, the BCMA exhibition Dialogue, a video series features four prominent contemporary artists: Christian Marclay of New York, Roy Villevoye and Jan Dietvorst of Amsterdam and Rachel Perry Welty of Boston.
Reflecting Bates' dedication to good conversation and an open exchange of ideas and artistic expression, the artists explore dialogue and communication in videos that are profound, humorous and provocative. The exhibition opens with a 6 p.m. reception on Jan. 14 and runs through March 25.
Playing continuously in the museum's Synergy Seminar Gallery, each of the three videos will show for several weeks. Here's the schedule:
Jan. 14-Feb. 5: Marclay's "Telephones" (1995). "This short, intense video comprises footage from Hollywood films that foregrounds the telephone in image and sound, and constructs a captivating narrative from the actors' responses and clipped dialogue," says Mills.
Artist-composer Marclay is known for inventively exploring connections among disciplines. He transforms sound and music into visual forms through performance, collage, sculpture, large installations and photography, as well as video. His recent exhibition at the Whitney Museum of American Art, Christian Marclay: Festival, included daily concerts with musicians playing his scores and works serving as scores.
Feb. 7-March 3: Welty's "Karaoke Wrong Number" (2004). The piece depicts the artist lip-synching to wrong-number messages left on her answering machine, messages that, she told Sculpture Magazine, "got me thinking about issues of privacy and how technology both helps and impedes communication."
"Welty embodies a remarkable array of disembodied voices in this humorous and also poignant video," says Mills.
March 4-25: Villevoye and Dietvorst, "Owner of the Voyage" (2007). Since the early 1990s, Villevoye has made frequent and extended visits to Papua New Guinea, often joined by Dietvorst. They have made a body of work about the outside influences to which the Asmat people have been exposed since their first contact with Westerners in the 1950s.
" 'Owner of the Voyage' is a double-projection video presenting the story of the voyage to Amsterdam of two Asmat friends of Villevoye, as told by a mutual friend," Mills explains. "The Asmat friend, who has only traveled locally, reconstructs their travels from his understanding, and infuses his own agenda into the video."
View Comments