Connections: The intersection of careers and sexual orientation
Bates PRIDE, the College's LGBT alumni group, examines the intersection of careers and sexual orientation
By H. Jay Burns and Gabrielle Otto '11
Where, exactly, does a homosexual student put "I am gay" on the job resume?
Grappling with this figurative question, three alums who spoke during a Homecoming panel discussion on LGBT career issues urged students to integrate their sexual orientation into their job search. "I am always candid about who I am," said Larry Handerhan '05, a graduate student in the Woodrow Wilson School of Public and International Affairs at Princeton. Being forthright, he says, allows you to "call on every network and every 'affinity bucket' you have."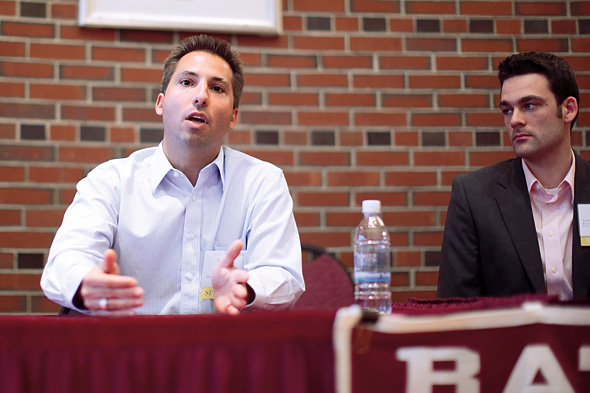 The Saturday afternoon Homecoming gathering at the Benjamin Mays Center was co-hosted by the student group OUTfront and the alumni group Bates PRIDE. The latter group, founded by Handerhan in 2010, seeks to be a forum and clearinghouse for LGBT alumni and their allies. It receives College support through the Office of Alumni and Parent Programs.
The panel also featured lawyer Jason Hall '97, a high-level official in Missouri Gov. Jay Nixon's administration, and LK Gagnon '88, information services manager for the Maine Association of Nonprofits. Nikki Rankine, a senior from Brooklyn, N.Y., and coordinator for OUTfront, moderated.
After graduation, Handerhan joined AmeriCorps and headed to the post-Katrina Gulf Coast, then moved to California. He worked for San Francisco Mayor Gavin Newsom ("We told each other our comingout stories, and he hired me on the spot"), then landed a job with the state Democratic Party "largely as a result of my LGBT political work."
When Gagnon urged job-seekers to "be clear about who you are," Hall responded, "I'm conflicted on this."
While each alum agreed that a successful job search means being "paid and comfortable," as Gagnon put it, Hall noted that such forthrightness wasn't always part of his presentation. When Gagnon urged job-seekers to "be clear about who you are," Hall responded, "I'm conflicted on this."
Hall did not come out until his late 20s, after he attended Vanderbilt, made Law Review, and began a law career clerking for a federal circuit court judge. Would the same doors, specifically Law Review, have swung open had he not been perceived as straight? "I just don't know," Hall says.
That said, Hall has built what he calls a "platform" around his orientation. The first bit of framing occurred around 2004, when he was a new associate with the prominent St. Louis firm Bryan Cave. At that time, Missouri was heading toward passage of a constitutional ban on gay marriage. Hall, quietly out at the time, began to do some networking around the vote, quickly discovering a robust gay law community.
By November 2005, Hall was leading the rollout of Lawyers for Equality, the first gay lawyers' association in St. Louis. The St. Louis Post-Dispatch published a news story on Nov. 16, and the next day Bryan Cave had posted the story on its website with a quote from the firm's partners: "We think it's great that Jason is taking a leadership role such as this one. Diversity is one of the firm's core values."
Gagnon offered the Mays Center audience some historical perspective, recalling Bates' Gay-Straight Alliance of the 1980s. Founded as Gay at Bates in 1979, the campus organization added "straight" in November 1980. The idea was "for straights to be comfortable with gays," she said, adding, with a laugh, that more than a few of those straight members later came out as gay.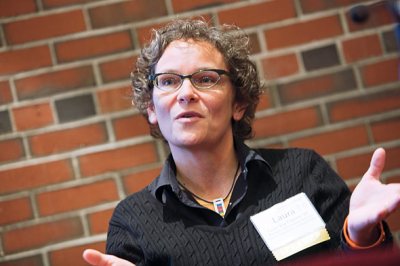 Hall, now executive director of the public- private Missouri Technology Corp., said that the mid-1990s at Bates seemed a quiet time around gay issues. "I would've stood out more by being blue collar and Midwestern," he quipped, quickly adding that "I give Bates a lot of credit for how it goes about seeking diversity."
In the early 2000s, Handerhan says the climate was OK for gay students, though he says he was cautious about expressing overtly his sexuality. "It kind of had to be put to the side."
Going back to tips for LGBT job-seekers, the panelists agreed that researching a firm's culture is important. Karen McRoberts, director of the Bates Career Development Center, notes that a firm might have a specific LGBT or other diversity program, in which case "acceptance is sort of stated."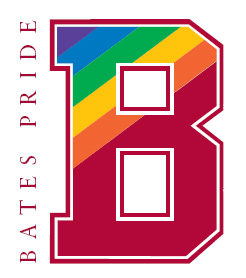 If a firm's culture is uncertain, says McRoberts, a LGBT jobseeker should use discretion during the interview. "An important part of the interview is being able to read what's happening in the interview room itself," McRoberts says. "In some situations it might be very appropriate to share that in the interview process. In others discretion might be better. Your orientation is something that should be handled case by case, based on the who, what, when, where, why, and how."
Of course, says Handerhan, students should be bold about reaching out to alumni, though he understands their hesitancy. "I realize that I didn't do it as much as I should have," he said.
When Handerhan says he also wished he had "called in" more favors during his job search, that made Gagnon grin, and she turned to Handerhan. "Larry, you're like 27, right?! I think you'll have time to call in those favors!"
View Comments