'A Generous Thing for Friends'
Rachel Segall '91 carries a baby for Erik Mercer '91 and Sandro Sechi, helping to create a new way to think about family
Young Zeke Hurley needed only about 16 words to explain his mother's pregnancy to the teenager bagging groceries at a local food store. "You see my mom? She's pregnant for her gay friends. And it's not even her egg!"
This story was originally published in the Winter 2011 issue of Bates Magazine. A postscript at bottom offers an update.
Taking Zeke's lead, here are other facts of the story of how Rachel Segall '91 carried and gave birth to a baby girl for Erik Mercer '91 and his husband, Sandro Sechi.
The egg came from a donor. Mercer and Sechi provided sperm to fertilize the egg, but just whose gamete did the trick isn't known (more on that later).
The embryo then was implanted in Segall's womb. She is married to Tony Hurley '91, and they have three children, the aforementioned Zeke (9) and daughters Jordy (11) and Maddie (13), and live in Newton Highlands, Mass.
Erik Mercer and Sandro Sechi, who live in Brooklyn, were married last March in Massachusetts at Newton City Hall. The union, among other things, ensured that they would be the legal parents of the child upon birth.
Segall's pregnancy was covered by her insurance; all other costs were paid by Mercer and Sechi.
And on Aug. 14, 2010, in Boston, she gave birth to the baby, who is named for her: Rachel Maria Sechi Mercer.
And behind all these facts are the stories.
Rachel
At Bates, Rachel Segall admits that she fell for classmate Erik Mercer, his '80s-style quiff and all. "That was before I knew he was gay," she recalls.
"He was the kind of guy that a lot of girls would have a crush on because he was just so easy to talk with and fun to be with." Aside from losing Mercer to the "other team," as Seinfeld would say, Mercer's homosexuality made little difference to Rachel. Their friendship grew and deepened over time.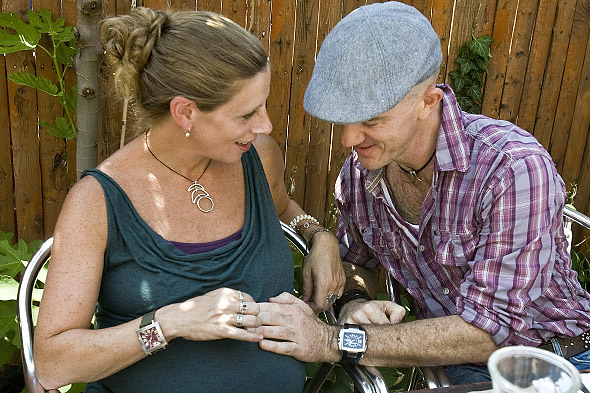 A few years ago, Segall saw a TV news story about how difficult and expensive it is for gay men and women to adopt or have biological children. Immediately, she called Mercer and made an offer that not many can pull off: "I told Erik that I would have a baby for him."
Erik
By the time Rachel made that call, Mercer had given up on being a father. He recalls telling his own father (both parents are Congregationalist clergy) over a glass of wine back home in Maine that he figured he'd be a good uncle, but never a father, and that he was OK with that.
"I've seen so much pain and suffering. I just didn't know if the world needed more people."
Mercer, a career social worker who does sentence advocacy for people facing the death penalty, had buttressed his beliefs with political and social reasons. "I've seen so much pain and suffering. I just didn't know if the world needed more people." But then, "I met Sandro."
Sandro
Last summer was dubbed the "summer of homophobia" in Italy after a jump in incidents of homosexual harassment. Add to the equation the ban on surrogacy, the prohibition against homosexual marriage, and the Roman Catholic Church's firm stance on homosexuality.
Given the context, Sechi was hardly surprised when the Italian media pounced on the story of a native son having a child with a surrogate. "This was the perfect story," says Sechi, who was born on Sardinia, studied Russian literature at Milan University, and is now a writer and language teacher.
The Italian media framed the story to play on the nation's ingrained religious notions of what is natural, hence the headline "Two Gay Fathers and Two Mothers for One Child" in La Repubblica (though this and other stories were, Sechi says, mostly supportive). "I saw our story on an Albanian news site along with stories of the bizarre, like a gigantic banana," Sechi laughs.
Tony
After a socially conservative upbringing in a Catholic family and Episcopalian boarding school, Hurley fell in love with Segall, a gregarious Jew from Boston. He lived in Rand; she in Cheney House. "We were opposites, and that was the attraction," he says. "She was exotic to me."
If there's a family in this story that might not feel great connections to all that has unfolded for one of its members, it would be Hurley's.
"My family could never have imagined one of their kids getting involved with a Jewish woman who is doing all these nutty liberal things like carrying a friend's baby," Hurley says. "I certainly never imagined this happening to me."
Which is why the note he received from his stepmother hit him hard. It said, in so many words, "You are doing a good deed for a friend." Hurley felt that she had graciously put aside the politics of same-sex marriage, surrogacy, and in-vitro fertilization to acknowledge "the generous thing we were doing for our friends."
In their circle, Hurley has been cast as the unsung hero in this story, and he quips that his main job was as "Giver of Shots." (Because this was a fresh embryo transfer, Segall received hormone shots to synchronize her menstrual cycle with the egg donor's, to ensure that her uterus would accept the embryo.)
Hurley describes himself as self-effacing; he's the type of guy who knows that being tagged "unsung hero" means he's actually being sung. "I mean, I'm not unsung because people kept telling me," he says with a chuckle. "I think people were just very conscious of the 'what about Tony?' angle to this story."
Rachel
Besides his announcement to the bagboy, Zeke Hurley provided another Reader's Digest moment as he and his sisters listened to his parents explain surrogacy, and how the egg would not belong to Segall.
"But what about the race?" Zeke asked. The family just stared at their youngest. "We were all like, 'What race is that?'" Segall recalls, laughing. "You know," Zeke said, having recently learned the concept of the sperm and egg from a book his dad had read to him. "The race where the things race from the man to the egg. How's that gonna happen?"
"I don't think she understands the way she touches people."
Good question, Zeke. In fact, three embryos were implanted in Rachel, two fertilized in the laboratory by Mercer's sperm and the other by Sechi's. (Doctors typically implant more than one fertilized egg into a woman's womb to increase the chances of a viable birth.) It's not known which embryo took hold, though Mercer says that if the baby has dark Mediterranean good looks, there will be no doubt.
Segall is able to sustain circle upon circle of deep friendships with both humility and apparently inexhaustible reserves of humanity. "I don't think she understands the way she touches people," says Mercer. "It is just so innate."
She is quick to deflect the difficulty of carrying and delivering a baby, saying that her pregnancies have all been easy. Yet it's clear she was the carrier of this baby in more ways than one, and it was Segall who was behind the gathering of all the principals last year, where the group discussion made it real for Mercer and Sechi.
It took place at her family's home on Lake Sunapee in New Hampshire. "We had margaritas, sat around their great room, and just talked," Mercer recalls. Segall's brother-in-law, an ob/gyn who would ultimately deliver the baby, was there, and as he went through the sequence of a gestational birth, Mercer felt for the first time that a child could really be in his future. "I could imagine taking that first step."
By August, as the delivery room loomed closer, Rachel knew, certainly, that Sandro and Erik should be present for the birth. Maybe, she thought, Erik's mom should be there too, since it was her first grandchild. Then she felt another answer. "I realized that most of all, I really needed Tony with me," she says.
Tony
You can tell both where the pressure points are in Hurley and Segall's marriage, and the fact that it emerged a bit stronger from this experience. She is capable of sustaining so many friendships so deeply that it sometimes leaves Hurley "bewildered. It's so beyond my comfort zone. Yet she expands my universe of what is possible.
"If there is something I can provide Rachel, it is that quiet calm for her. It is refreshing for her at times."
Sandro
Sechi jokes that he speaks Italian, Russian, Spanish, French, and English, yet he cannot find a word to explain how he feels about Rachel Segall. "So I was thinking, why don't I make a new word? RachelSegally!" And it was very RachelSegally when, in the delivery room as the baby's head was crowning, she looked at Erik and Sandro and said, "Are you guys OK?"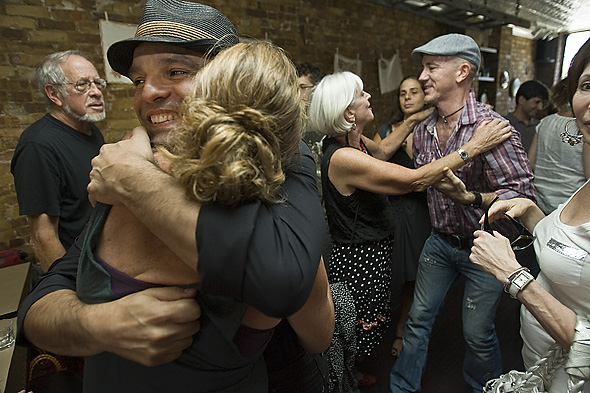 "Because of her, I am living far ahead of what I thought my life would be like when I lived in Italy," Sechi says. "Having a baby was beyond fantasy, something you cannot reach with your mind because you are in a society that says, 'How do you dare to be like that? How do you dare to call Erik your husband?'"
Erik
Homosexuals can rarely place themselves into one of the easy, polished narratives created by straight society. Such as how to fall in love and get married. Or how to have a baby and to parent. "Those narratives have never been real for me," Mercer says.
After his baby was born, people approached Mercer and gushed, "Isn't your heart just bursting with love?" No, he explained to more than a few shocked people, he wasn't yet madly in love. "I'm still getting to know this baby. That's the way attachment works. It's not just bam!"
It's a point Mercer wants to make, how there's a lot of human pain caused by being told you're supposed to have a certain feeling when you just don't. "I imagine it's a more common human experience than people let on," he says.
So yes, Mercer, admits, he's had those disconnected "what-am-I-doing" moments, when he'd be at someone's house "and there's a screaming kid and I'd think, 'Oh, f****.'"
He shared these feelings with Whitney Wright '90, a good friend and career social worker who, in the 1990s, teamed with Mercer on HIV-related work in New York City. A new mother herself, Wright said that it's very possible to reconcile those opposed emotions. "You know, Erik, I never wanted to be a mother," she said. "And I still don't want to be a mother. I want to be Rex's mother."
That helped. "I thought, 'OK, I can get my head around this,'" Mercer says. "This is more the way I will experience this."
The Egg Donor
She's anonymous, of course. Sechi and Mercer do have photos of her, as an adult and child, and know her medical history. They know she's pursuing a master's degree. Choosing among potential egg donors is actually rather bizarre, says Mercer, because one can select for various physical traits, like tall or blonde or whatever.
"She was struggling to figure it out."
Mercer and Sechi were sold when they learned the answer to why the donor was doing it, and whether she wanted to know if a child was born from her egg. "Most women said they were doing it to help humankind. Our donor said she was doing it for the money, to pay for graduate school. That made us feel that she was a straight shooter," Mercer says.
Her answer to the second question was unintentionally poignant. The woman wrote "yes," she wanted to know if a baby was born from her egg. "Then she crossed it out and wrote 'no,' then crossed that out and wrote 'yes,' then crossed that out and wrote 'no' and circled it three times. She was struggling to figure it out."
Only after Sechi and Mercer read all the answers did they turn the page to view the photograph. They couldn't help but laugh as they moved from their mental response to a purely physical one. "She was totally hot!"
Erik
Mercer knows the evil that humans can do, and as a social worker with advanced training in psychotherapy, has a pretty good idea of why they do it. A professor once told him that psychopathology is about knowing when love goes wrong. "When I meet someone in jail for doing something really horrible," Mercer says, "there's always in their history a place where love went wrong."
Mercer shares that idea to explain why he wanted a child of his own. Even though neglect, dysfunction, and addiction roil within the people he helps, Mercer says he still often finds evidence of the human spirit. What, then, could make more sense than having the opportunity, as he puts it, "to put all my heart into creating a safe, nurturing, and delightful environment for a little kid"?
He adds, "I think she has the potential, in a small way, to be someone who can show that there's an alternative way of thinking about family."
Rachel
There was another "RachelSegally" moment at the hospital. The baby had been born, and the new family was ready to leave the hospital. Mercer and Sechi would be in town for a few days, so there was no need for big goodbyes.
As everyone milled around, Segall unobtrusively picked up her bags and departed. She and Mercer both remember the moment — an eloquent acknowledgment that however intimate her role in this baby's creation and birth, it was now over. Now it was the fathers' turn.
Postscript
This story was originally published in the Winter 2011 issue of Bates Magazine. In 2013, Segall served as a surrogate for Mercer and Sechi's second child, Eleonora.
View Comments