For 10th year, Mount David Summit spotlights student work across disciplines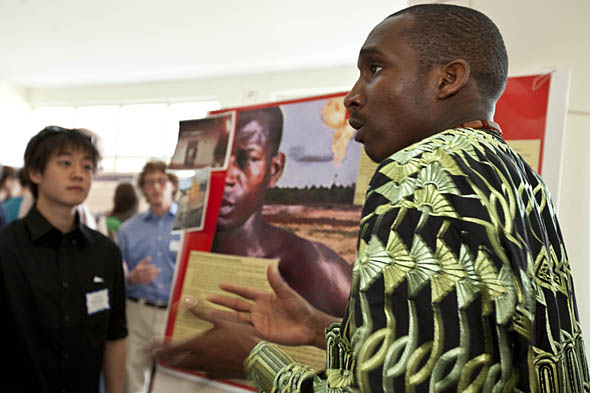 The 10th annual Mount David Summit, Bates College's celebration of student academic achievement, begins at 1:30 p.m. Friday, April 1, in Pettengill Hall, 4 Andrews Road (Alumni Walk).
The summit offers poster presentations of student research, short talks, panel discussions, a photography exhibition and film screenings. Following the daytime activities are performances by the Bates College Choir and the Bates College Modern Dance Company.
The event is open to the public at no cost. For more information, please visit www.bates.edu/mt-david-summit.xml or call 207-753-6952.
The first Mount David Summit took place at Bates College in 2002. Jill N. Reich, dean of the faculty and vice president for academic affairs, had the idea of dedicating a day to showcasing the excellence of student work at Bates.
Presenting such work is intrinsic to a student's intellectual journey. "As students begin to generate new knowledge, they need to communicate what they know, defend their ideas and share their insights," says Reich.
"The summit provides a moment when students, faculty, staff, families and community members can learn from our students," she adds. "The students become our teachers."
The summit has grown into one of the premier events in the Bates calendar. That first Mount David Summit featured the work of 50 students — but this year, more than 350 will take part, presenting work in concurrent sessions during the afternoon in Pettengill Hall.
Rounding out the day, a 7:30 p.m. Modern Dance Company performance in Schaeffer Theatre presents the work of student choreographers in collaboration with student composers and lighting designers. Tickets are $6 for the general public and $3 for students and seniors. For tickets or more information, please call 207-786-6161 or 207-786-8294, or visit www.batestickets.com.
This year's summit presentations include:
More than 100 posters in African studies, biochemistry, biology, chemistry, economics, English, environmental studies, geology, mathematics, neuroscience, physics, politics, psychology and sociology. Topics range from drug-resistant bacteria to dam removal on the Penobscot River, and from tax evasion in Pakistan to turtle conservation in Bali.
Posters and talks by psychology and neuroscience students exploring human behavior in realms such as post-traumatic stress disorder in military veterans, training teachers of special education, drug and nicotine addiction and withdrawal, the reliability of eyewitness testimony and behaviors around social networking.
Readings of work by creative-writing thesis students and student poets.
Talks by history thesis students on subjects ranging from the Punic Wars to race relations in Colonial New York to recent legal reforms in Japan.
Student films on teenage dress in Senegal and on college and community.
Short talks on their thesis research by majors in anthropology, biology, biochemistry, chemistry, geology, mathematics, politics, sociology, Spanish, and women and gender studies.
A roundtable discussion on public scholarship presented by students working in the community through the Harward Center for Community Partnerships at Bates.
Panels exploring the study-abroad experience. One group of students will present research conducted abroad, while other students and faculty will look at the impact on study abroad of social media like Skype and Facebook.
Discussions of work undertaken by students who have held internships at the Bates Museum of Art and other museums.
View Comments