Porst '11 receives Projects for Peace award to build first school in a remote Andean community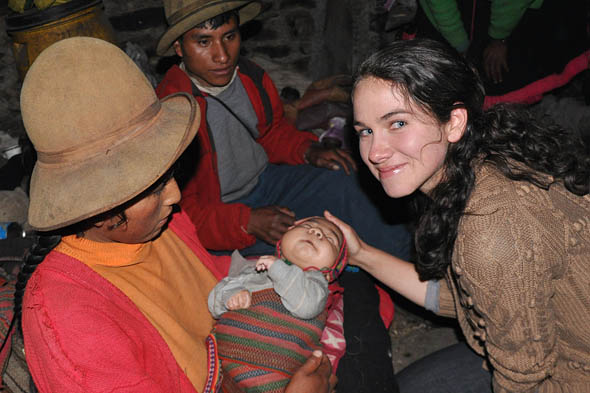 During a community dinner on the eve of her departure from the remote Peruvian community of Ch'allmachimpana, Hannah Porst asked residents of this mountain village how she could thank them for their hospitality.
There was some initial talk about providing soccer shoes — but what we really need, they told her, is a school.
"I can't make any promises," Porst, then a Bates College junior studying abroad, replied during that April 2010 dinner. "This is a huge undertaking."
But Porst, of Madison, Wis., couldn't let it go. And upon her return to the U.S., she explored the idea with advisers including family and, at Bates, William Hiss, executive director for international advancement. Hiss suggested she apply for a Davis Projects for Peace award.
Now Porst has received a $10,000 Projects for Peace grant — covering a third of the cost of her initiative and making it possible for the school to be built this summer.
Founded by philanthropist Kathryn W. Davis in 2007 on the occasion of her 100th birthday, Projects for Peace awards support initiatives worldwide that focus on conflict resolution, reconciliation, building understanding and breaking down barriers that cause conflict. The recipients have included Bates students each year since the program's inception.
The 25-student primary school in Ch'allmachimpana will serve the cause of peace, Porst explains, by providing an education that will make young people less vulnerable to exploitation if they leave their village for mainstream society. "We're making available aspects of modernity that lead to an improved quality of life," she says, "while helping the children retain roots in the traditional world."
Learn more about the school: www.challmaschool.org/
Ch'allmachimpana is a village in Q'eros, a region whose people are recognized as a "national living patrimony" because of the continuity of their ancient indigenous traditions. They are subsistence llama and alpaca herders, potato farmers and weavers living without dependable water supplies or electricity.
Modernity is encroaching on this ancient way of life as roads open the region to the rest of the world, and as young people leave for the city. As Porst explains, "There's just a tough life in Cuzco" — the nearest major city — "for a lot of kids who go there."
About the award, Porst says she feels "so honored and so happy for the people of Ch'allmachimpana that everything is coming together," she says. "It's unbelievable that this process started less than a year ago and it's already a reality."
In fact, classes are already in session in temporary quarters in the village. With residents having a decisive role in the curriculum, the school will teach the children to read and write in both Quechua, their native tongue, and Spanish, preparing them to interact with the modern world while sustaining their traditions.
The school will ultimately serve as a village center for education, nutrition, health care and economic opportunity.
The permanent school will be built during the summer. Its total cost includes $7,500 for building materials for the school building itself, $600 for a photovoltaic solar panel and $200 for a greenhouse.
Another part of the project, still without a price tag, is a water purification system: Water-borne parasites are a leading contributor to the local 47 percent mortality rate among children aged 5 and under.
Porst has raised $17,000 for the project, including the Projects for Peace award. The Mountain Fund, an NGO, is serving as a conduit for donations.
Porst graduates from Bates in May as a double major in Spanish and art, and will spend the following year in Peru, much of the time in Ch'allmachimpana. She first learned of the village from a documentary film made by one of her advisers during her semester in Peru.
"Immediately after I saw the documentary I said, 'I want to go there,' " Porst says."I was so touched by the people that I met onscreen."
Students from more than 90 campuses will receive Projects for Peace grants totaling more than $1 million in summer 2011 for projects in all regions of the world — projects that focus on conflict resolution, reconciliation, building understanding and breaking down barriers that cause conflict.
A complete list of the participating schools and projects, as well as a summary of all previous projects and a video interview with Davis from 2006, is available on the program's website.
View Comments