Stangle family makes leadership gift to Catalyst Fund
The Stangle family, synonymous with leadership and philanthropy at Bates, has made a significant new commitment of $750,000 to the college.
With this gift, Bruce Stangle '70 and his wife, Emily Siegel Stangle '72, join the multimillion dollar Catalyst Fund effort supporting major strategic initiatives at Bates.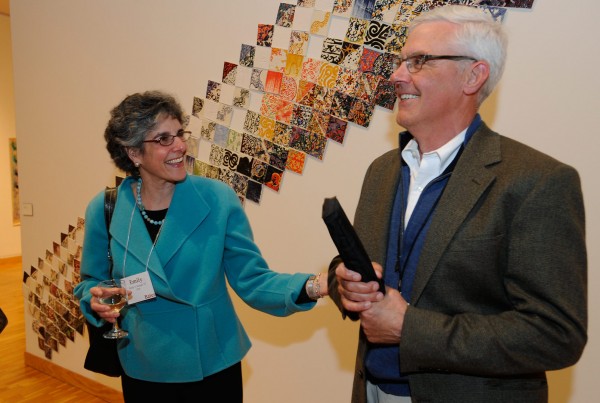 "Bates is a jewel of a school," said Bruce Stangle during a recent campus visit to speak in the Voices in Entrepreneurship Series. "For over 150 years it's been training leaders. The people who graduate from Bates make a real difference in the world, and that's an important mission that we want to support."
The Stangles' gift to the Catalyst Fund, he added, is a "public show of support for what President Spencer is trying to do. She has a very tough job, and we want to lend our shoulder and financial resources to help her and help Bates move forward."
The Catalyst Fund supports three college initiatives:
The "engaged liberal arts" means delivering a rigorous and highly personalized education that centers on deep and sustained interactions among students, faculty, and community. It also means engaging the forces — intellectual trends, demographic changes, and technology — that are transforming higher education and the world into which our students graduate. It means making a virtue of our scale; creating a diverse and motivated community of students, faculty, and staff; and embracing innovative and evidence-based approaches to teaching and learning.
Purposeful work is a college-wide initiative built on the premise that preparing students for lives of meaningful work lies at the heart of the liberal arts mission. When fully developed it will include: (1) a co-curricular program involving cycles of exploration, reflection, and skill-building; (2) practitioner-taught courses during short term, and (3) a highly-structured Bates-specific network of internships, with the hope to guarantee every Bates student a paid internship that is either employer- or Bates-sponsored.
A commitment to opportunity and excellence grows directly out of Bates' history and mission and responds to contemporary geographic, demographic, and economic realities. It means recruiting talented and motivated students from a broad range of backgrounds, providing them with the financial aid that will enable them to enroll, and supporting them for academic and personal success once here. It also means creating a campus community and climate that capitalize on diversity and inclusion as necessary and powerful dimensions of preparing our students to live and work in an increasingly interconnected world.
"The Stangles' gift is invaluable," said President Clayton Spencer. "It provides much-needed support for students and faculty alike, and is an important endorsement of our strategic direction. I am profoundly thankful to them."
Sarah R. Pearson '75, vice president for college advancement, said that this "generous gift helps us raise our sights for Bates and demonstrates the importance of the Catalyst Fund in providing new momentum in philanthropy."
"Incredible value to its graduates."
An English major at Bates who holds a Ph.D. in applied economics from the MIT Sloan School of Management, Stangle is the co-founder of Analysis Group, the nation's largest private economic consulting firm.
"I love Bates and believe that Bates delivers incredible value to its graduates," he added. "Also, I think that making our philanthropy public can provide spillover benefits for Bates by creating a demonstration effect. I'm confident that there are many others willing to give back to Bates for the education they received."
A Bates trustee emeritus, he was recognized in 2011 for his many contributions to the college with the creation of the Bruce Stangle Award for Distinguished Service. Over the years, he has helped countless Bates students and alumni navigate the business world and, among other outcomes, helped to launch the Boston Bates Business Network.
The Stangle family's philanthropy has included the Betty Doran Stangle Professorship in Applied Economics, named for Bruce's mother and currently held by Professor Margaret Maurer-Fazio; a leadership gift that named, in his father's memory, Frank's Lounge in the student residence at 280 College St.; and the Stangle Family Fund to support research and awards in economics and law, and provide scholarship support for students.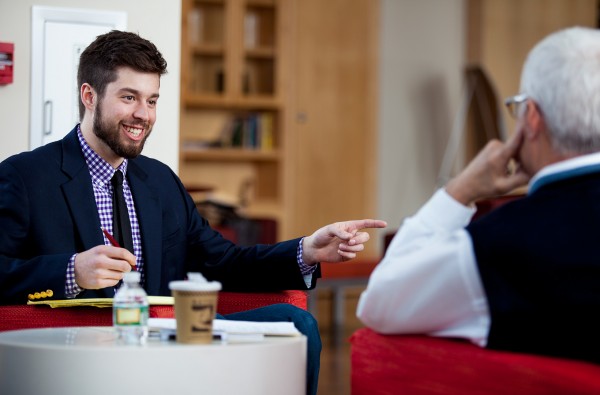 During his campus visit on March 5 for the Voices in Entrepreneurship Series — a program that he helped to organize — Stangle sat down with students one-on-one for a series of informational interviews, dispensing career advice and encouraging mentees to lean on the Bates network.
In the evening, he gave a talk on "Best in Class: Investing in People and Culture at a Top Consulting Firm."
Regularly named one of the best places to work by The Boston Globe and other media outlets, Analysis Group gets high praise for maintaining a work culture that prizes both collaboration and leadership, without putting the two at odds.
That culture, Stangle says, was imported straight from Bates.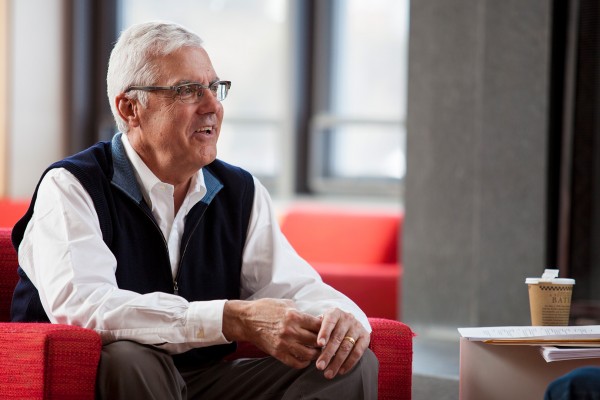 "Bates entrepreneurs know how to create good work environments because it matters to us how we motivate, reward and incentivize people," he said.
"The Bates culture produces people with the ability to lead, take personal responsibility and work as a team, and those personal characteristics are what my firm also tries to encourage."
He added that the Bates culture "made an imprint on me, as I know it has on so many other alumni. The values around hard work, inclusion, caring and excellence have been with me my entire life because of the experiences I had at Bates and continue to have with the wider Bates community."