Bates President Elaine Tuttle Hansen plans to step down after nine years in office for new leadership position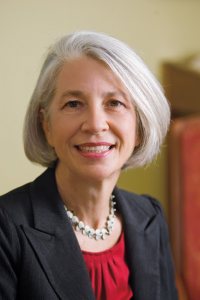 Hansen's Leadership Includes Strengthening of Student Diversity, Expanded and Improved Facilities, Largest Fundraising Campaign in Bates History and Innovation in College's Strategic Planning Process
Board of Trustees Appoints Interim President and Begins Immediate Search for Successor
Elaine Tuttle Hansen, the seventh President of Bates College, announced to the campus community today that she plans to step down from her post as president effective July 2011. She will depart after nine years of leadership in which the institution — already regarded as a national and international leader in liberal arts and sciences education — has moved into an ever-stronger position in academic stature and reputation.
Hansen will leave the College to assume a leadership position elsewhere to be announced within the next two weeks. Her announcement allows for the Bates College community to be informed before the close of the current semester.
In her message to the Bates community, Hansen said in part, "I am so proud of how Bates has met the challenges of being a liberal arts college in the world today. In our highly virtual and transient society, we have preserved the idea that living and learning in a stable, physical community represents unique and golden opportunities for the next generation of thinkers and leaders. With most of the goals of my administration accomplished and the time for our next comprehensive fundraising campaign on the horizon, it is the right moment for the trustees to find the next leader of this very important college."
---
---
In a separate message to the Bates community, Michael W. Bonney of Sudbury, Mass., a 1980 graduate of the College and current Chairman of its Board of Trustees, said, "Working energetically with the Board of Trustees as well as our outstanding faculty, staff, students and alumni, Elaine Hansen has achieved many key institutional goals in academic and student life, fundraising, faculty support and innovation, facilities planning, fiscal management and collaboration in college-wide strategic planning."
Bonney added, "I have especially appreciated Elaine's energy, warmth, professionalism and kindness. I know generations of future Bates students, faculty, staff and alumni will benefit from her significant contributions to the College."
Among Hansen's key accomplishments are stronger faculty salary support, new funding for curricular innovation, significant strides in diversity broadly defined within the student body, increasing student financial aid, enhancing the College's culture of philanthropy through increased funding for every key college constituency, completing a thorough analysis of the College facilities including a comprehensive plan now underway for facility upgrades, and the completion of a college-wide strategic planning process for curriculum, research and student life that engaged faculty, staff and students.
Hansen has also received wide recognition for her leadership of the College during these uncertain economic times. Trustee Michael Chu, Bates Class of 1980 and current Bates parent, and Chairman of the Trustee Investment Committee noted, "President Hansen managed the College with skill and determination through the most turbulent economic times in recent memory. My fellow trustees and I are grateful for her adroit leadership that ensures that the college has the financial resources to support its strong and exciting future."
Bates Trustee Scott Bierman, a member of the Bates Class of 1977 and current President of Beloit College said, "Elaine has brought an expansive, creative and principled approach to dispelling the myth that there is a trade-off between diversity and academic excellence. Colleges around the country now look to Bates for models of how to create successful academic environments for students from widely different backgrounds."
'I know generations of future Bates students, faculty, staff and alumni will benefit from her significant contributions to the College.'
Trustee Alison Bernstein, Bates parent, Spelman College's Cosby Endowed Chair of Humanities and Comparative Women's Studies, and formerly of the Ford Foundation, also praised Hansen's leadership by noting, "Over the last nine years, President Hansen has strengthened the Bates community through her energetic advocacy for a more diverse student body. In this way, she innovatively led the college by reaffirming its historic mission and promoting the transformational power of differences."
Valerie Smith, Bates Class of 1975, current Bates trustee, Woodrow Wilson Professor of Literature and Professor of English and African American Studies at Princeton University, also added, "Elaine Hansen's tenure as Bates' president has been characterized by visionary leadership, including her commitment to strengthening the faculty and major construction projects that have changed the face of the College."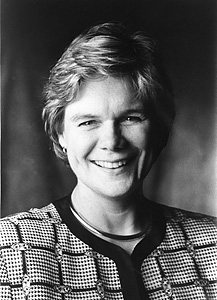 Bonney's message also announced the appointment of Nancy J. Cable, currently Bates' Vice President and Dean of Enrollment and External Affairs, as Interim President from July 1, 2011 through June 30, 2012, after which she will return to her position as Vice President and Dean. Cable, a member of  Phi Beta Kappa, earned a Ph.D. in the History of  Education from the University of Virginia and has previously served in senior leadership roles at Denison University, Davidson College and the University of Virginia.
Bonney noted, "Given Nancy's senior leadership experience in exceptional colleges and universities, coupled with her deep commitment to the academic mission of the College and clear support for the work of our faculty and staff, the Board voted unanimously to appoint her as Interim President and, in doing so, the trustees have expressed their complete confidence in Nancy's leadership capabilities.  We know that our Bates community will benefit from her experience, her skills and energy, and her willingness to serve the College as Interim President during this transition."
Jill N. Reich, Vice President for Academic Affairs and Dean of the Faculty, said, "Nancy Cable is an excellent choice to serve as the Interim President in the year ahead, and I know that Nancy and my successor, Pam Baker, will together provide the leadership Bates needs during this time."
Bonney said that the Board of Trustees has begun to form a presidential search committee, and will shortly begin consultations with faculty, students, staff and alumni to develop criteria and to begin the search process.
View Comments