University of Wisconsin professor visits Bates to discuss African political cartoons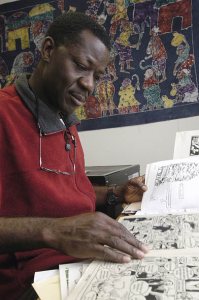 Tejumola Olaniyan, a professor of English at the University of Wisconsin-Madison, presents the lecture On Bigness: Wealth, Power and Body Size in African Political Cartoons at 4:15 p.m. Wednesday, May 4, in Bates College's Keck Classroom, Pettengill Hall (G52).
Presented in conjunction with the "Considering Africa" general education concentration at Bates and with the participation of the Africana Club, the event is sponsored by the anthropology department. For more information, please contact 207-786-6933.
Olaniyan, the Louise Durham Mead Professor of English at Wisconsin, is working on a book about political cartoonists in English-speaking African countries such as Ghana, Kenya, Nigeria, South Africa and Zimbabwe.
In a 2005 University of Wisconsin-Madison news article by Barbara Wolff, Olaniyan said that his subject is universally relevant. "My current work pays homage to the heroic people who put their visionary ideas that our society could be better than it is into committed practice, often at a great personal cost," he said.
Olaniyan's research centers around the African diaspora, postcolonial literary and cultural studies, and popular culture studies. His publications include the books Arrest the Music! Fela and His Rebel Art and Politics (Indiana University Press, 2004) and Scars of Conquest/Masks of Resistance: The Invention of Cultural Identities in African, African American and Caribbean Drama (Oxford University Press, 1995).
Olaniyan maintains the website Political Cartoonists and Cartooning in Africa.
View Comments