Benjamin Mays '20 birthplace museum dedication focus of media coverage
The Associated Press and other South Carolina media cover the April 26 dedication of a museum in Greenwood, S.C., that explores and celebrates the life of civil rights leader Benjamin E. Mays '20. The event's keynote was given by former U.N. Ambassador Andrew Young, LL.D. '75, and speakers included Bates President Elaine Tuttle Hansen.
Said Young, "It all started right over here," pointing to a humble wooden structure, Mays' birthplace, part of the Benjamin E. Mays Historic Preservation Site.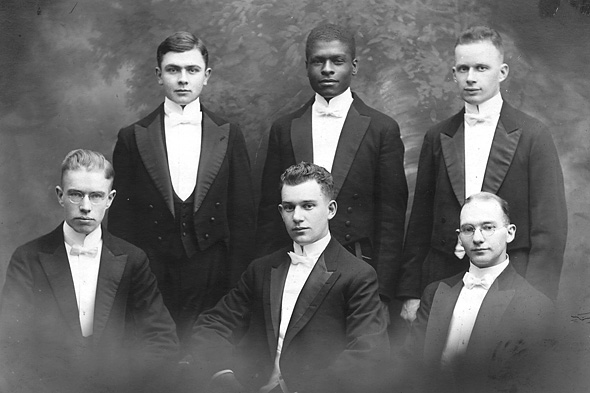 Restating a theme that Young had invoked at Bates during his 1995 Martin Luther King Jr. Day keynote address, Young stated that "if it hadn't been for Benjamin Mays, there probably wouldn't have been a Martin Luther King." Mays has often been called "the father of the civil rights movement."
President Hansen shared Mays' history at Bates, including his reason for pursuing a Northern education. It was so he could compete academically with white students, to prove that what he had heard all his life, that whites were superior to blacks, was false.
In Born to Rebel, Mays wrote that his stellar academic career at Bates helped him "dismiss from my mind for all time the myth of the inherent inferiority of all Negroes and to accept with dignity my own worth as a free man."
That is Mays' legacy at Bates, Hansen told the audience:  "Our college promises an intellectual rigorous education with great emancipatory power." She noted that "the Mays legacy is alive at Bates in our very mission statement…. The first line now reads, 'Since 1855, Bates College has been dedicated to the emancipating potential of the liberal arts.'"
Located about 75 miles of Columbia, the preservation site  features Mays' birth home, which was relocated from a pasture in the Greenwood County community of Epworth in 2004, as well as a 19th-century one-room schoolhouse and a museum and interpretive center.
View Comments