GAME Day offers Bobcat career-seekers winning approaches
At 10 o'clock on a rainy Sunday morning the campus is quiet. Even the construction equipment around the Hedge and Roger Williams renovation sits idle.
But inside Alumni Gym, it's game time.
But rather than wearing team uniforms (or the kind of Short Term attire that wouldn't get you served at 7-Eleven), the 70 or so student athletes taking seats in the gym are in business-casual wear. Joined by their coaches, they've turned out for GAME Day, a program of good advice, networking and mentoring from Bates alumni athletes.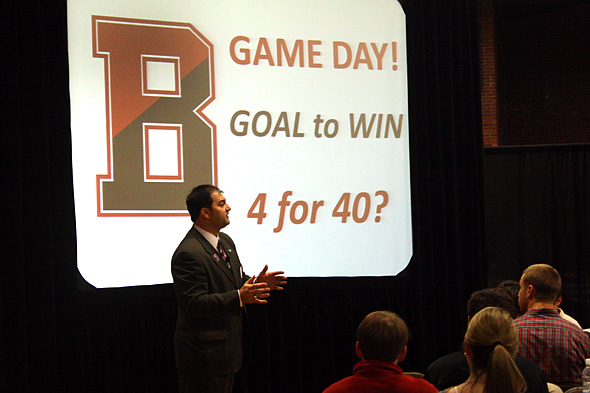 "GAME" stands for "Gaining Athletic Mentors' Experience," and it's a cooperative program among the Bates Career Development Center, the Friends of Bates Athletics and the Department of Athletics.
---
---
In its first year of a major restructuring, BCDC has deployed new programs and teamed with Bates offices to rebrand other career programs like GAME Day. So besides the banishment of sportswear and flip-flops (and the improved, conference-like setup), something else is in the air this morning. It's not sweat (or pollen), but a sense of accountability.
"We're trying to instill the idea that's still true and meaningful in the work world: You never get a second chance to make a first impression," says BCDC director Karen McRoberts.
Career programs are not "I'll-try-to-make-it" events
In a variety of ways, from strict RSVPs to specific event instructions (for example, the GAME Day notice included nearly 100 words about attire), BCDC makes clear that its career programs are not "I'll-try-to-make-it" events.
"Accountability and, literally, showing up are parts of the overall package of how students brand themselves for their professional lives," McRoberts adds.
At the same time, BCDC seeks to "meet the students where they are, physically and emotionally," McRoberts says. "GAME Day offers an existing framework to build upon, to offer insight and guidance to a large and important group of talented Bates students."
Keynote speaker Peter Wyman '86, Ocean Spray's vice president for North American sales, invokes the accountability theme.
"Raise your hands, he says. "Who was out last night?" A few hands go up, and more after Wyman raises his. "I was out — I got dragged to the Goose last night for the Bruins game," he says as the students respond with a knowing chuckle. "Being here shows commitment!"
GAME Day keynote speaker Peter Wyman '86 talks about GAME Day:
http://vimeo.com/23957695
Introducing Wyman is longtime Maine educator and former Bates football center Jeff Sturgis '69, who notes that while the gathering is sports-focused — an opportunity to understand how sports lessons carry over into the real world — the theme is universal to all Bates students.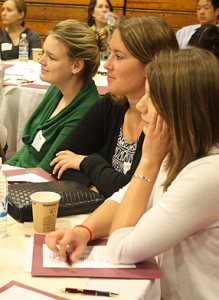 "The connections and networks you begin at Bates, whether through a sport, or the Deansmen or the Robinson Players, will stay with you and serve you for the rest of your life," Sturgis says. "So if someone or something strikes a chord today, we encourage you to create that connection."
Wyman speaks on the topic "Four for 40": the idea that decisions and experiences in college will shape the next 40 years of life.
"What do I feel passionate about?"
In terms of career planning, Wyman tells the gathering that "I want you to understand the duality of your life right now. Please, enjoy your Bates experience. I know you feel pressure in your lives. But have in the back of your mind one question: 'What do I feel passionate about?' Because the answer to that question will affect your next 40 years."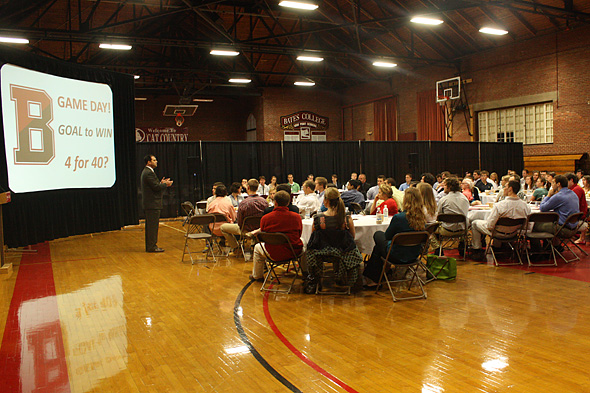 Wyman also tells them to embrace their sports-honed optimism and positive outlook. "An athlete's mental skills — being competitive, optimistic, accountable, hard-working, willing to lead and positive — are highly transferable to the workplace," he said.
Approaching the job search like a competition
The message was not lost on students like varsity rower Hannah Richardson '11 of Washington, D.C.  "What stuck with me is that students should approach the job search process as they would a competition: with persistence and more effort than the other person," she said after the event.
She added, "I have a better understanding of how to apply my athletic background in the professional world."
After Wyman's talk, students tossed questions to the nine GAME Day panelists — in careers as diverse as environmental consulting, sports marketing, medicine, investment banking, fashion and the food industry — that prompted loads of good advice.
View Comments