Thirty-one (count 'em!) winning career tips from GAME Day at Bates
GAME Day 2011 was a program offering mentoring, advise and networking to student athletes from a panel of nine accomplished Bates alumni athletes — in careers as diverse as environmental consulting, sports marketing, medicine, investment banking, fashion and the food industry.
Here are 31 nuggets from the GAME Day panelists:
Avoid the Fellowship of the Miserable. "Fellowship of the Miserable" is Rick Pitino's famous phrase describing the negativity of Boston sports fans. In his GAME Day keynote, Peter Wyman '86, vice president of North American sales for Ocean Spray Inc., urged students to instead embrace the athlete's positivity. "An athlete's mental skills — being competitive, optimistic, accountable, hard-working, willing to lead and positive — are highly transferable to the workplace," he said.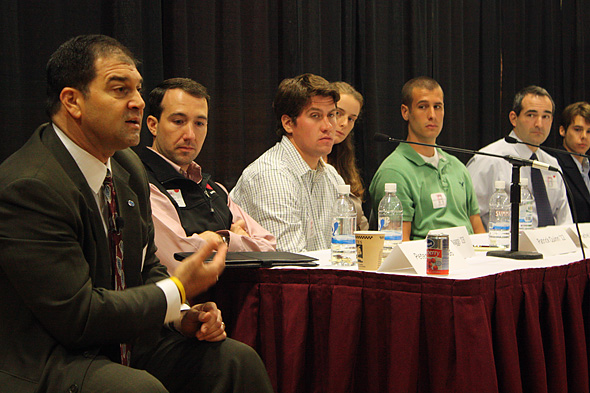 It's Nice to Be NESCAC. Alumni of New England Small College Athletic Conference schools are your network. "NESCAC alums have great respect for the academic and athletic rigors of our schools," said Brian Machunski '08, a rhetoric major and football athlete now with Triumvirate Environmental Consulting. "The leadership team at my firm is passionate about recruiting from NESCAC schools because the graduates do very well."
Major Network. Join one of the business-focused Bates Networks, which have chapters in Boston, New York, Chicago, Washington, D.C., and Portland, Maine. "They are great opportunities for your alums to get more actively involved in the Bates alumni community," said Pat Boyaggi '03, a steering committee member of the Boston Bates Business Network.
It's the Academics, Stupid. "Don't forget to be upfront and clear that you have worked hard in both academics and athletics, and succeeded at both," said Patrick Quinn '12 of Milford, Mass., an economics major and football athlete who will intern with Wyman at Ocean Spray Inc. this summer.
Take Command. "While nature has given some people gifts you might not have, you are in total command of your attitude, your approach and how hard you choose to work," Wyman said. "Inventory your skills: You are results-driven. You are focused. You are motivated. You perform under pressure. You collaborate, communicate, compete, analyze and adapt."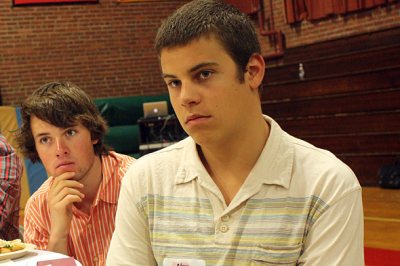 Get a Job. In finding your passion, don't forget to actually get a job. "Even if you don't love your first job, it is far easier to look for a job when you have a job," said Boyaggi, a history major and football and track athlete now with Leader Bank. "Get into the work world to get used to life that's not college."
Scoreboard! Scoreboard! College is a great place to make mistakes but the workplace expects results, and mistakes have a price. "I don't want to pressure you," Wyman said. "But I do want to raise your consciousness. Especially in business, there is a scoreboard. There is a game. There is competition."
Pay Attention. "I saw a sign in Carnegie one day while going to a lab: 'Bates grad looking for a Bates grad' for a research position," said Ben Lowenstein '92, a biology major and squash athlete who is now a cardiologist. "That's how I was hired by Rick Jack '75 for my first job, doing biomedical work at Harvard, which was my bridge to medical school."
Diverse about Diversity. "Diversity is multi-platform," Wyman said. "It's about socio-economics. It's about age. Gender. Ethnicity. Geography. As Bates graduates, you should be able to create community and do business among all these differences."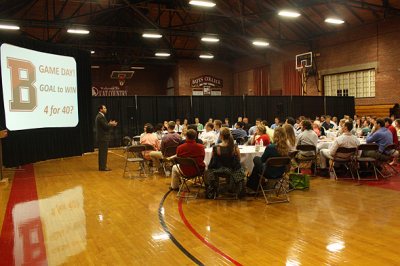 Write On. "The best thing about Bates is the writing that you do," Wyman said. "Writing well helps you develop insights that lead to action."
Human Resources. "Bates may not have the highest endowment," Boyaggi said. "But we have the best people — it's undeniable. That's our greatest asset. I promise you there will be Bates people willing to help you during your job search.
Get Some Face Time. "Text messaging and e-mail have harmed your ability to seek a job," Wyman said. "You are used to handling personal conflict through technology, by texting what you believe. You are not used to handling what happens in a job interview. When you interview, it is you they see."
Passion Play. Always be thinking about what you love to do. "I grew up on a dairy farm in Bridgewater, Mass.," Wyman said. "I majored in political science and interned with one of Maine's U.S. Senators. But it wasn't my passion. I recognized that my passion was for the food industry, from my experiences growing up."
Turn to Internships. "I did three years of internships at Octagon that led to my full-time position," said Ben Morrill '07, a rhetoric major and alpine skiing athlete now with Octagon sports and entertainment marketing. Rachel Harmeling '08 adds, "The smartest thing I did was do Bates internships. Bates connections were very important to the start of my career."
What's in a Word? "Internship is just a word," Wyman said. "What we're talking about here is getting work and business experience. You can get as much and as valuable experience from a traditional summer job with a local franchise. If you use the skills and attitudes of a Bates student, and you outwork the other person — working smarter, showing initiative, never being idle — you will learn tremendously."
You Had Me at Hello. "Seeking a job starts with a conversation," Wyman said. "And conversations start with 'Hello.' Don't ever stop having conversations. Don't stop networking. Don't stop saying, 'Hello.' If there's someone you admire, have the self-confidence to reach out."
Stay in the Game. "In my interviews, I made it clear that I wanted to continue to keep doing something that felt competitive," said Nick Schmiemann '11 of Weymouth, Mass., an economics major and basketball athlete who joins RBC Capital Markets in February 2012. (He landed his investment job through Rob Cramer '79, an RBC managing director.)
Stay in Bounds. "The worst thing you can do in a job interview is pretend to know something that you don't," Harmeling said. "If you don't know something, admit it."
The Big T. "In your interview, talk about your thesis experience as a way to show commitment, meeting deadlines and being accountable," said Machunski.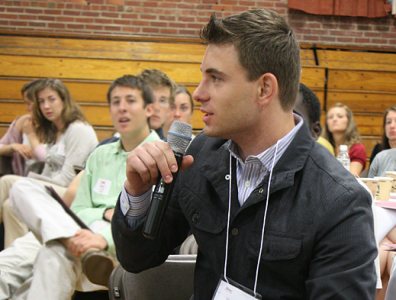 Be Yourself. "No one expects you to have a lot of work experience," said Boyaggi. "But you should be able to leverage what you do know into your interview and in your work." And that means knowing yourself. "If you can't communicate your interests and who you are, you will not get a job," Machunski said.
Brand Management. Think of yourself as a brand that is capable of delivering a certain experience, Wyman said. "To do that, you have to be clear about what you are passionate about."
Easy Doesn't Do It. Boyaggi admitted that he had "visions of grandeur" after getting an M.B.A. from the Kellogg Graduate School of Management. During his difficult job search, he fell back on "what it was like to get beat on a play, and how the only thing to do, and you had to do it, was get back up, dust yourself off, and try again. If you have that mindset, you will succeed."
I Love You Tomorrow. Connections made today will stay with students tomorrow. "I'm still being mentored by alums I met in my first job," said Harmeling, an art major and lacrosse and squash athlete now with Coach Inc. "Make as many connections as you can," Machunski added. "I know that if I'm looking for career advice two years from now, I can turn to BCDC director Karen McRoberts, to whom I reached out last fall."
When in Rome. "Research the culture of any company you approach," Wyman said. "If someone interviews with Ocean Spray and doesn't know that we're a cooperative of 650 farming families, well, I sort of write that person off."
Point Spread. Boyaggi took to using a spreadsheet to keep track of the literally hundreds of phone calls, results and followups during his difficult job search after earning an M.B.A.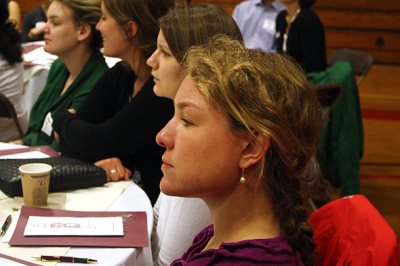 Mind Your Major. "Don't use the lens of your major to filter your job choices," said Machunski. "I was a rhetoric major, and I'm now working for an environmental services firm. Read job descriptions, and if it interests you, apply." An art major, Harmeling initially went into investment banking because she pursued that interest through internships.
Get Up. Stand Up. Play Up. Always remember that as an athlete, you want the opportunity to "play up" — advance to the next, more difficult level. Have that mindset in the work world.
Have a Plan. Don't put the onus on the Bates Career Development Center, Wyman said. "If you do that, you will fail. You need to make a plan and execute the plan. You can't just say, "I'm going to work on it this week."
The Pause That Refreshes. Business school can wait until you can bring real-world business experience to your fellow students and program, Boyaggi said.
Get Better. After Machunski deftly delivered a few observations, Wyman, having known Machunski since his Bates days, glanced down the long table and said, "I interviewed Brian a few year ago. I am so impressed how he has developed in three short years as a business professional. That's what this is all about: development."
Dress for Success. When Wyman's daughter headed out for an interview with Ann Taylor Loft, he asked her what she was wearing. "Ann Taylor Loft," she said. "Smart girl," Wyman said.
View Comments