Faculty promotions, 2011: Katalin Vecsey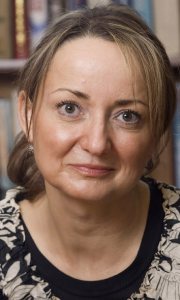 Promoted to senior lecturer in theater in May 2011, Katalin Vecsey teaches courses in voice and speech, and voice and gender. With Dana Professor of Theater Martin Andrucki, Vecsey co-leads the Short Term course "Central European Theater and Film," which brings Bates students to Budapest and Prague.
Now in her 16th year at Bates, Vecsey has adapted numerous plays, poems, short stories and other texts for stage performance by her voice and speech students. She serves as vocal director for mainstage and student-directed theater productions, has directed 10 other productions, and advises student performance groups. She is also an independent voice consultant with a specialty in working with male-to-female transsexuals.
Vecsey is a native of Hungary. In addition to writing many conference papers and journal articles, she wrote, directed and presented the instructional piece Voice Workout Video for Professional Voice Users (In Hungarian) in 2000. She received her doctorate in developmental and educational psychology at Eötvös Lóránd University, Budapest, and the equivalent of master's and bachelor's degrees in speech and language pathology and special education at Bárczi Gusztáv College, also in Budapest. She is frequently invited back to Bárczi Gusztáv College to teach master classes.
View Comments