Campus Construction Update, July 6, 2011: Hedge and Roger Williams halls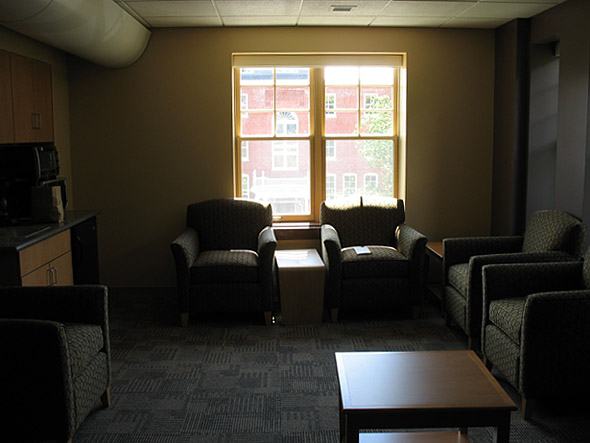 On June 27, right on schedule, faculty members in philosophy, religious studies and environmental studies moved into their new offices in the renovated Hedge Hall.
About 10 faculty and staff, out of 20 total occupants, were on campus to take possession of their new quarters, says project manager Paul Farnsworth.
"They love it. They're using words like 'space,' 'color,' 'interesting architecture,' 'well-designed,' " he says.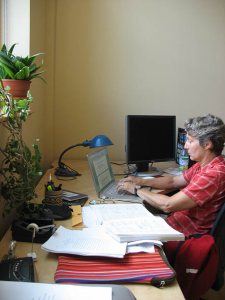 All that being said, though, work goes on at Hedge. Bates has resumed responsibility for the day-to-day operations of the building, but the general contractor is still hands-on.
The major chore is fixing "punch-list" items — the detailed tweaks, repairs, finish-ups and do-overs discovered during final inspections by contractor Wright-Ryan Construction and architect JSA. That final phase should be wrapped up in a few weeks.
At least, Farnsworth says, the punch-list work is pretty much finished for the office spaces. Next week, he adds, Jackie's Cleaning & Maintenance of Lisbon, Maine, will give the building a good going-over.
And soon it will be time for the foreign-language faculty and study-abroad staff to move into Roger Williams Hall. The remaining renovation work "is going fast now," says Farnsworth.
"We're getting ready to bring tote boxes over to Hathorn" — current home of the language folks — "so people can start packing." Moving-in day is scheduled for July 25.
At the Bill, the architects have started their punch-list inspections — "punching out," as they say, the second and third floors in both the old and new sections.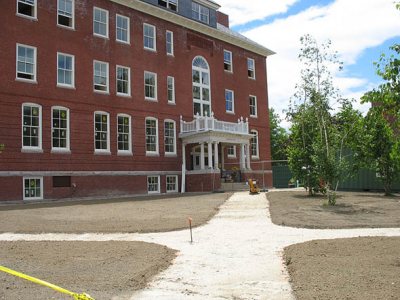 As for ongoing work, it's all about surfaces as painters paint and flooring installers, um, floor. There's still plenty of flooring to lay, but much of the remaining paintwork is finishing touches. You may notice big sheets of plastic hanging inside the stair tower: Those are protecting the glass walls from paint splashes.
Not to neglect the ceilings in all this talk about walls and floors, ceiling tiles are being installed left and right. And, looking back at the stair tower, handrails are being welded into place along the stairways.
On the outside, sheet-metal experts are finishing up their work, including the placement of charcoal-gray ContinentalBronze cladding onto the soffits on the Bill's new office block. This "preweathered" copper product, with the black slate roofing, now dominates the eastern face of the building. Ultimately the copper will oxidize to the familiar blue-green patina of exposed copper.
Otherwise the most conspicuous exterior progress has been on the ground, as landscapers have laid a layer of loam around the building's northwest corner, making apparent where pathways will go. The corner nearest New Commons will get the next load of topsoil. And soon we can expect to see some green, green grass on loam.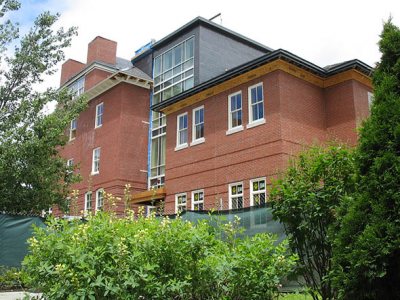 View Comments