Dean Emeritus James Carignan '61, man of 'high energy, principled action and unwavering commitment,' dies at 72
Click on thumbnails, above, to view the slide show.
Dean Emeritus of the College James W. Carignan '61, praised as an educator, innovator and civic leader whose legacy is "permanently etched upon the fabric of Bates," died Aug. 14 at age 72 following a long battle with heart and renal disease.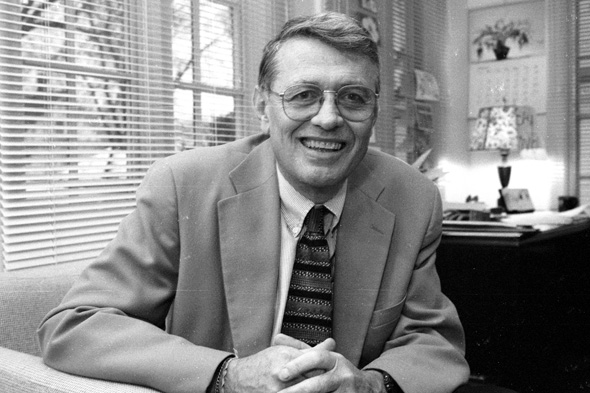 ---
---
Jim Carignan's title for 33 years was dean of the college but his contributions also radiated outward, and he especially led Bates to a closer friendship with its Lewiston-Auburn neighbors.
After earning a Ph.D. at the University of Rochester and teaching history at Kent State University and Kenyon College, he returned to Bates in 1970, attracted by Bates president Hedley Reynolds' promise to expand the Bates faculty and improve the college's academic reputation.
In an oral history for the Muskie Archives in 2001, Carignan described grappling with whether to leave the professorial life at Kenyon for a Bates administrative appointment during great institutional change. "There was a fresh wind in the air, and it was an intriguing wind," he said.
"Do I catch that new wind?"
He recalled asking himself, "Do I take this opportunity to be in a different kind of position, with a certain kind of authority and with a new wind? Do I catch that new wind and try to really form an institution in a way that would be really, really supportive of the intellectual life?"
After spending his early years on traditional deanship duties, he expanded his work in the 1980s. He guided the growth of the Muskie Archives, Bates' repository of the papers of statesman and Maine son Edmund Muskie '36.
He established the college's Center for Service Learning, now the Harward Center for Community Partnerships, to create opportunities for Bates people to team with area partners through community-based learning and traditional volunteerism.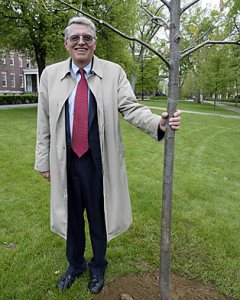 He served on the Lewiston City Council, the State Board of Education and more than 25 other boards locally and at the state level, mostly in education and community development. He solved labor disputes as a mediator for the state of Maine.
"Jim believed strongly that colleges like Bates had a responsibility to educate students in good citizenship," Carl Benton Straub, professor emeritus of religion and the Clark A. Griffith Professor Emeritus of Environmental Studies, told the Sun Journal. "Therefore, he himself provided a good example of that through his own grassroots way of participating in public service."
"It is good to be here."
At his retirement in 2003, then-President Elaine Tuttle Hansen praised Carignan's commitment to diversity, for "extolling with eloquence the essential elements of diversity as assuring a rich and sustaining educational experience for all who study and instruct here."
He helped to establish the college's distinctive Martin Luther King Jr. birthday observance, featuring a full day of special programming, and taught courses as a member of the history department including "Blacks in Bondage: Slavery in America," "Black Americans in the 20th Century" and "A History of American Radicalism."
Hansen also lauded his "indomitable spirit, nourished and strengthened by a loving family. Dean Carignan's legacy as educator, innovator and civic leader is permanently etched upon the fabric of Bates College for the generations to come."
In an eight-year period from 1985 to 1993, Carignan survived being shot by an unknown assailant and two heart transplants. Though slowed physically, he always returned to campus with undimmed exuberance for the potential for positive change all around him. Responding to a colleague's greeting after his return in 1986, he said, "It is good to be here," then restated the sentiment with emphasis: "I mean, it is good to be here."
His survivors include his wife, Sally Larson Carignan '62, and his children, Steven, Mark, Paul and Sarah Carignan Belanger '95, and their families.
View Comments