Rapper Macklemore and his DJ/producer, Ryan Lewis, to perform outdoor show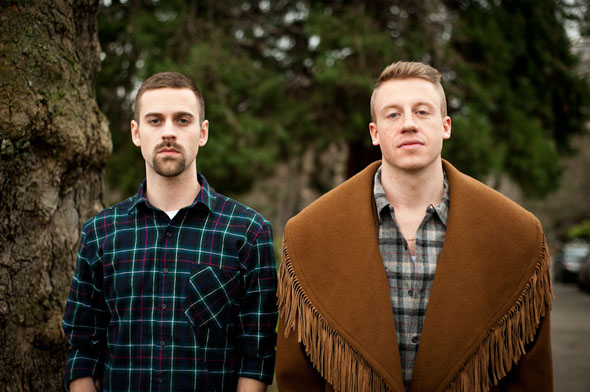 Fresh from their triumphant national touring debut as headliners, Seattle rapper Macklemore and his DJ/producer, Ryan Lewis, visit Bates College for an open-air performance on the Library Quad, accessed from Campus Avenue between Chase Hall and the Edmund S. Muskie Archives, at 8 p.m.Friday, Sept. 16.
Open to the public at no cost, this concert is sponsored by the Chase Hall Committee and WRBC. For more information, please call 207-795-7496 after Sept. 5.
Macklemore, the stage name for hip hop recording artist Benjamin Haggerty, is known for passionate, high-energy performances. During their spring 2011 U.S. tour, Macklemore and Lewis sold out most of their shows, including those in New York City, Chicago, San Francisco, Los Angeles and a three-night run at the Showbox at the Market, in Macklemore's home town of Seattle, where more than 3,500 tickets sold out in less than 48 hours.
Fans find Macklemore refreshingly honest, even poetic. "Wings," an ode to the perfect pair of basketball shoes, confronts consumerism and the childhood pressure to be "cool." "My Oh My," a tribute to Seattle Mariners broadcaster Dave Niehaus, received extensive airplay after the local announcer's death.
Macklemore's well-received freshman release, 2005's "Language of My World" (Integral Music Group), featured production by Rhymesayer's Budo and won praise for its fresh perspective and a striking balance of insight and levity. After a period of artistic stagnation and frustration due to substance abuse, Macklemore committed himself to sobriety and a new dedication to his music.
The catalyst to this change was establishing the partnership with Lewis, an accomplished artist in design, photography and production who also acts as Macklemore's touring DJ. They self-released the EPs Vs. in 2009 and Vs. Redux in 2010, the latter reaching No. 7 on the iTunes Hip Hop charts.
View Comments