'Persistence' was the secret for international students delayed by Irene
One in four of the international students coming to Bates experienced some sort of delay due to Hurricane Irene, estimated James Reese, the associate dean of students who works with international students.
A particularly egregious case was a student from Sri Lanka who originally expected to arrive on Monday, Aug. 29. The first travel alternative the airline offered wouldn't have gotten him here till Sept. 6.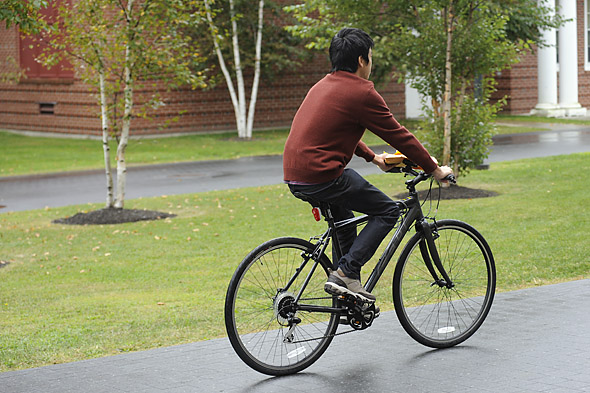 But Reese knew that airline schedules would be deranged during a tropical storm, and he urged the frustrated and anxious young man to keep trying for a better arrangement. The dean told him to get a good night's sleep and then get back on the phone and try again. "The secret is just persistence," says Reese, a frequent traveler himself to Sri Lanka, where he visits his in-laws.
The student did finally manage an itinerary that got him here around midnight Saturday — after a 56-hour journey that included an 18-hour layover in the other LA, Los Angeles. Reese picked him and another international traveler up at the Portland International Jetport, and expected to do the same for two more students, one from Pakistan and the other from Vietnam, in the wee small hours of Sunday. "Rebookings tend to be the last planes of the day," he explained. "That's where the empty seats are."
The delays gave him a few short nights of sleep, but Reese didn't seem to mind. "I love those moments when a student arrives," he said.
"We get into the office about 1:30 in the morning and I tell them to call their parents. You can hear that energy on the other end of the line — that's one of the most wonderful moments, the joy of hearing their child's voice from a safe place."