Slide show: 21 pivotal first moments for the Class of 2017
Members of the Class of 2017 arrived for their outdoor AESOP trips on Monday, Aug. 26, and began classes on Wednesday, Sept. 4. In between, they…well, take a look for yourself! — Jay Burns, Bates Magazine editor
---
1. Monday, Aug. 26, 9:04 a.m.
AESOP trip leaders do triple duty. (1) They lead trips. (2) They help students move their stuff into residences. (3) And for frazzled families arriving from far and near, AESOPers offer a chill, friendly greeting. Here, Gunnar Manchester '15 of Rehoboth, Mass., and Emile Kaldany '16 of Washington, D.C., help out. (Phyllis Graber Jensen/Bates College)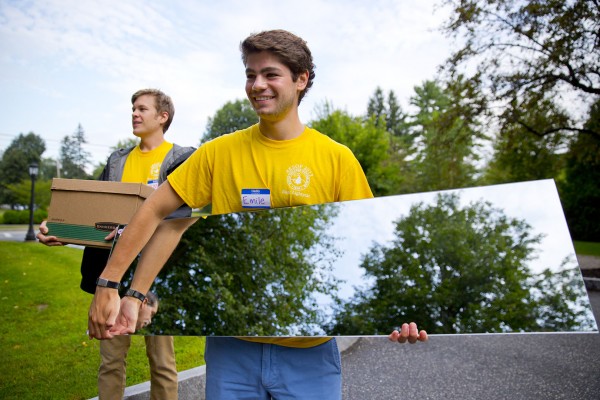 ---
2. Monday, Aug. 26, 9:40 a.m.
Charlotte Koudijs Taverna '86 helps her son, Willem '17, move into Rand Hall. Thirty-five students in the Class of 2017 have a parent who is a Bates alumnus or alumna. The youngest alumni parents are George Stewart '87 of Concord, Mass., and Erik '87 and Susanne Morrison Jarnryd '87 of Concord, Mass., while the 2017 cohort's senior member is Dirk Visser '74 of Wezembeek-Oppem, Belgium. We think the socks in the crate below, meanwhile, come from TJ Maxx. (Phyllis Graber Jensen/Bates College)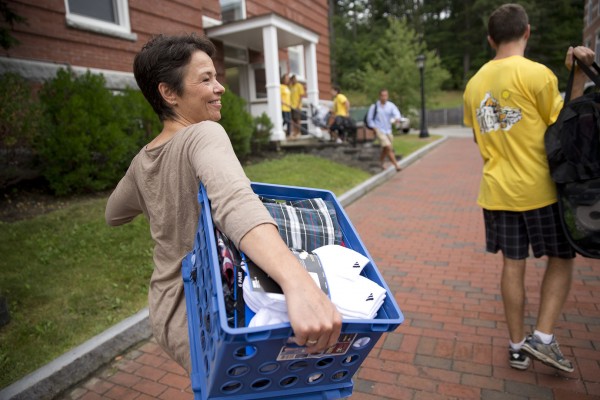 ---
3. Monday, Aug. 26, 9:56 a.m.
Parents spend years getting our children to make their own bed. Then the first thing we do when arriving at Bates? Help our children make their beds. Here, Akira Townes '17 of Timonium, Md., and her mother, Ardinia, make her bed in Parker Hall. (Phyllis Graber Jensen/Bates College.)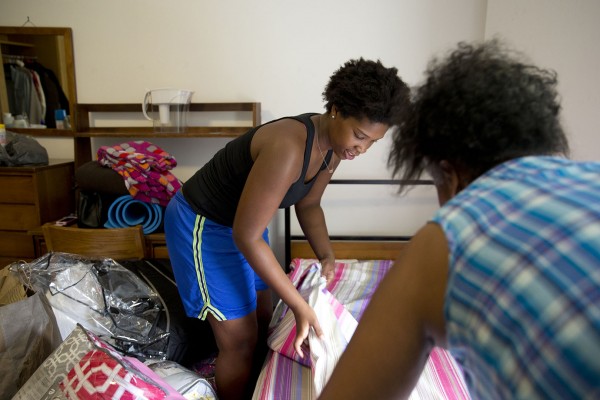 ---
4. Monday, Aug. 26, 4:07 p.m.
Yep, this is the Bates face that first-year students saw as they were "ambushed" at the Keigwin Amphitheater by student leaders of this year's outdoor trips. The face belongs to Sean Enos '14 of Lynnfield, Mass., and he and his fellow leaders are about to lob water balloons at unsuspecting first years. (Mike Bradley/Bates College)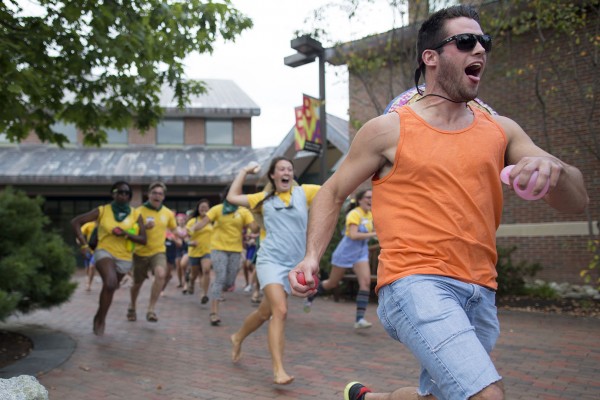 ---
5. Monday, Aug. 26, 4:10 p.m.
The watery ambush sets the tone — expect unexpected fun — as AESOP coordinators, backed by their costumed comrades, explain what's next to the assembled first-years. (Mike Bradley/Bates College)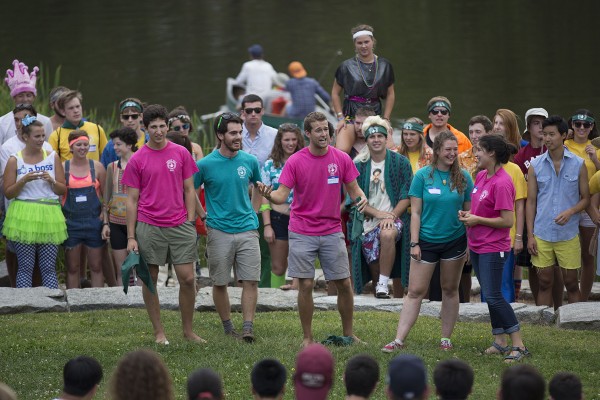 ---
6. Tuesday, Aug. 27, 2:17 p.m.
Before the first tackle is made, ball booted or mile run, first-year and upperclass athletes do fitness testing. Here, football linebacker Sam Freeman '16 of Newton, Mass., does the heavy lifting as head coach Mark Harriman watches and talks with defensive lineman Nate Friesth '17 of Munford, Tenn. (Marc Glass/Bates College)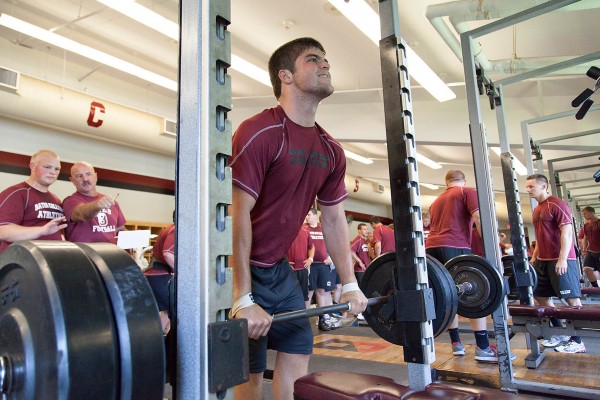 ---
7. Tuesday, Aug. 27, 6:53 p.m.
No matter where the Class of 2017 went on this year's 48 outdoor trips around Maine and New Hampshire, they all saw the same great sunset on their first night together. Trip leader Sam Myers '16 of Riverton, Wyo., watches the sunset at a campground just northeast of Maine's Mount Desert Island. (Phyllis Graber Jensen/Bates College)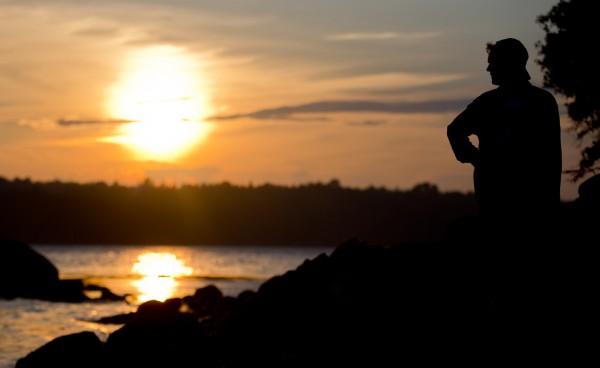 ---
8. Wednesday, Aug. 28, 10:29 a.m.
People say college is a place where it's safe to make mistakes. Sometimes that's true. But here trip co-leader Bobby Lankin '15 of West Hartford, Conn., has no room for error as he watches thunderstorms approach his troupe, one of two "Baxter Bushwackers" trips, on the Hamlin Ridge trail in Baxter State Park. A few minutes later, Lankin and co-leader Sophie Pellegrini of Potomac, Md., decide to turn back to avoid getting caught above the tree line during the storm. (Mike Bradley/Bates College)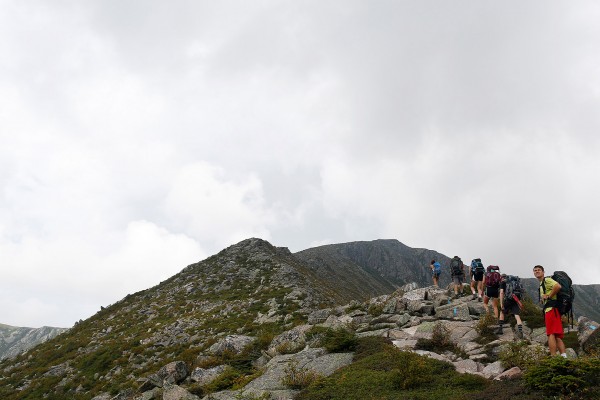 ---
9. Wednesday, Aug. 28, 2:51 p.m.
Two first-years contemplate doorknob installation on their trip to work on a Habitat for Humanity project in Lamoine for a young family of four, including a daughter with a severe neurological disorder. "You're bonding over this great project that is helping to build new lives for people, not only new houses. I think it's just kind of perfect," says trip leader Abby Knudsen '16 of New York City. Pictured are Gynweth Williams '17 of Newbury, Vt., and Misha Copeland '17 of Spicewood, Texas. (Phyllis Graber Jensen/Bates College)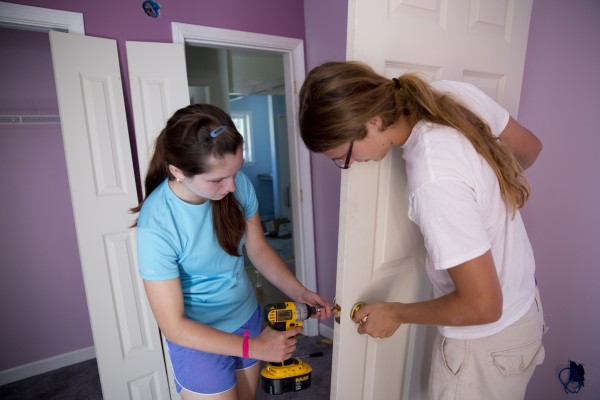 ---
10. Wednesday, Aug. 28, 12:06 p.m.
Charlie don't surf. But Joe Lawton '17 of New York City does — now — and here he rides his very first wave, cheered by trip leader Peter Cowan '14 of Bethel, Maine. (Marc Glass/Bates College)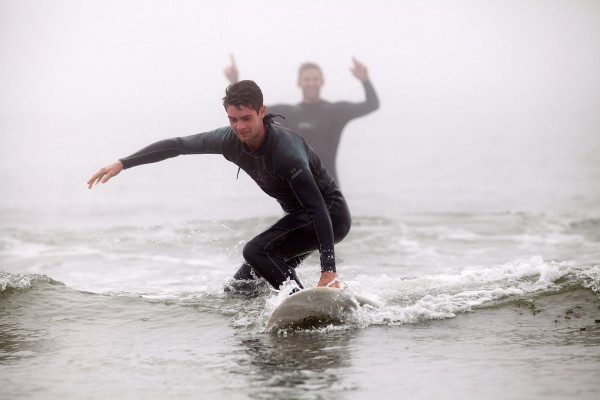 ---
11. Wednesday, Aug. 28, 1:54 p.m.
The fog rolls in off the 59-degree ocean at Popham Beach as three students, with surfing clearly on their minds, head out. Pictured are Sadie James '17 of Avon, Maine; Maddy Ekey '17 of Bozeman, Mont.; and Sarah Holmes '17 of Cumberland Center, Maine. (Marc Glass/Bates College)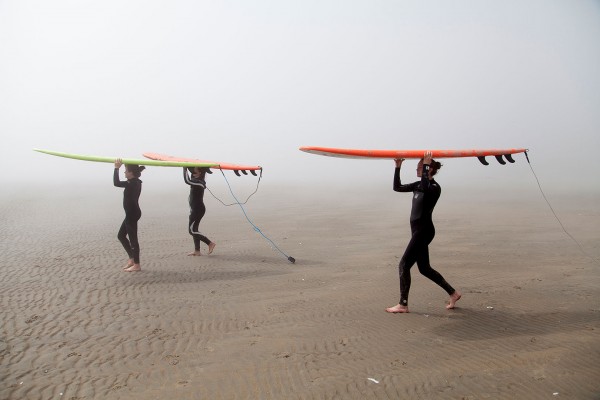 ---
12. Thursday, Aug. 29, 2:42 p.m.
The aforementioned Baxter Bushwackers break into the clear a day after their close call with a thunderstorm, reaching the summit of Mount Katahdin. Grace Huang '17 of Flagstaff, Ariz., is at left; Bobby Lankin at right. (Mike Bradley/Bates College)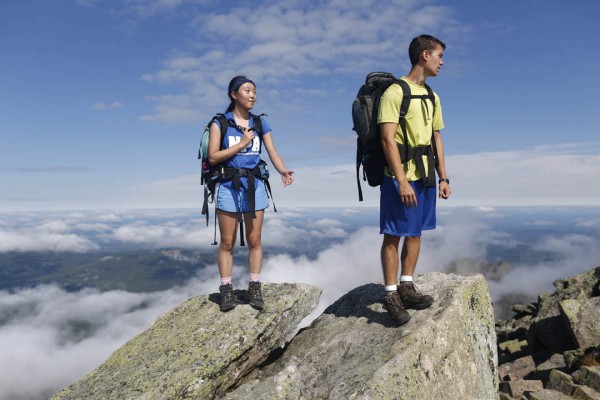 ---
13. Friday, Aug. 30, 2:16 p.m.
Back on campus, the Baxter Bushwackers exchange phone numbers. For reasons of safety and security, each dorm room still has a telephone. But if you call a dorm phone and leave a voice message for a student, don't expect a return call. The light might blink for months. Just sayin'. (Mike Bradley/Bates College)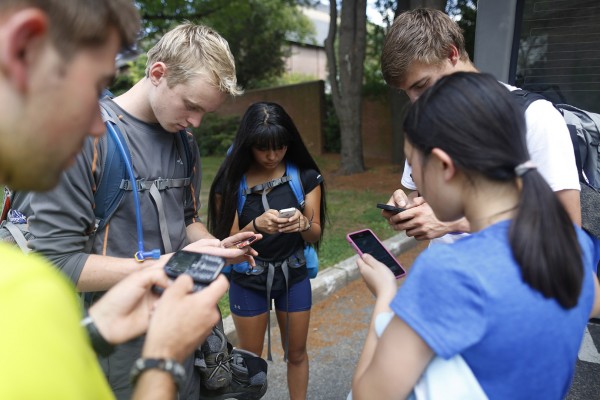 ---
14. Saturday, Aug. 31, 4:35 p.m.
At the final gathering before parents depart campus, Sarah Harrison tears up as she looks at her son, Raymond '17. She, her husband, Bill, and Raymond were listening to President Spencer describe leaving her own children at college. This is what Sarah says she was thinking: "He's our only child, and I think President Spencer captured exactly how I was feeling as a parent. I'm so proud. I want this for him so much. It's what we've been working for, hoping for, dreaming for his whole life. But it's really hard to let him go." (Phyllis Graber Jensen/Bates College)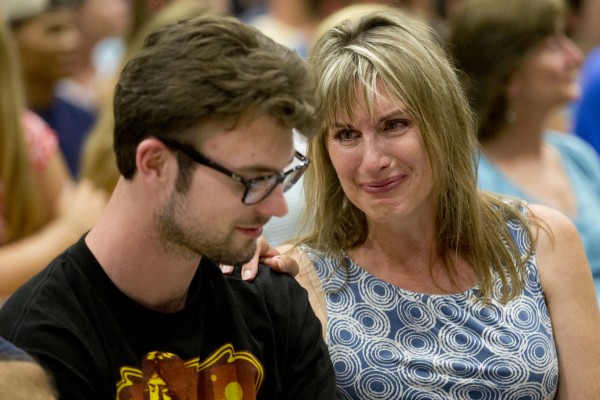 ---
15. Sunday, Sept. 1, 7:43 p.m.
In the spring, getting seniors to go wild for their Senior Week photo can be a frustrating task. But first-years still aim to please. Here, the 502 members of the Class of 2017 (don't worry, we counted them all) show their zeal for a class photo in the Gomes Chapel. Above the students are seven banners representing major religions plus an eighth showing the planet Earth, symbolizing the world's humanity. (Phyllis Graber Jensen/Bates College)
---
16. Tuesday, Sept. 3, 4 p.m.
Heading to Convocation, Associate Professor of English Sanford Freedman has his gown over his shoulder and hood in hand, symbols of his engagement with the life of the mind. He stops to talk with landscape architect Bill Bergevin, himself outfitted in garb reflecting his own engagement with the life of campus flora. (Phyllis Graber Jensen/Bates College)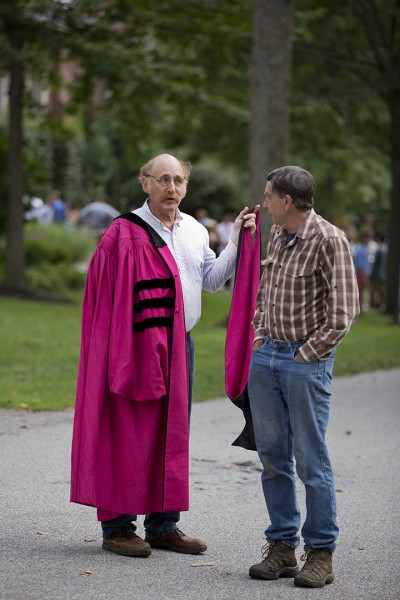 ---
17. Tuesday, Sept. 3, 4:53 p.m.
The hand that's taking notes about President Spencer's Convocation address is not a reporter's but a first-year's. The note-taking student calls out Spencer's suggestion to "live your life from the inside out," meaning get to know yourself. And "get your hand dirty" — try different things and don't assume life is a straight line. (Phyllis Graber Jensen/Bates College)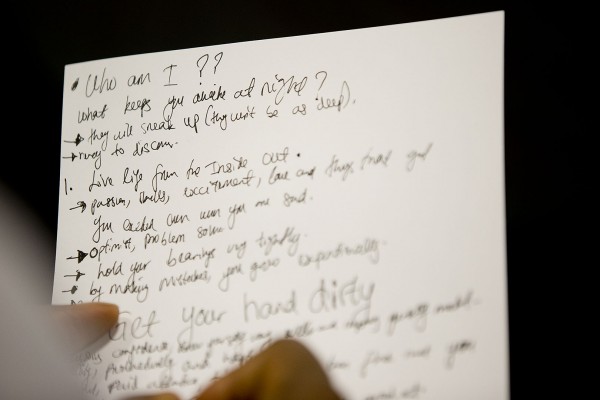 ---
18. Tuesday, Sept. 3, 5:46 p.m.
Convocation asks the community to look ahead together. Afterward, at a memorial service, the community takes a look back together. As members of the football team watch, head coach Mark Harriman pours water from Lake Andrews on a newly planted tree honoring Bates people who died in the previous year. The list includes Troy Pappas '16, a freshman on Harriman's team last year, who died on Oct. 5, 2012, from injuries suffered in a fall down a stairwell in Parker Hall. (Mike Bradley/Bates College)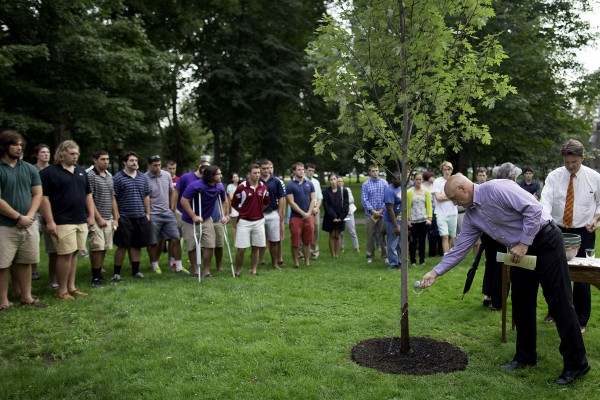 ---
19. Tuesday, Sept. 3, 9:12 p.m.
Men's soccer was the first Bobcat team to hit the field this fall, and here Jonathan Lin '15 (left) of Natick, Mass., and Ethan Kass '14 of New York City celebrate Lin's goal during the team's 2-0 victory over Maine Maritime. (Mike Bradley/Bates College)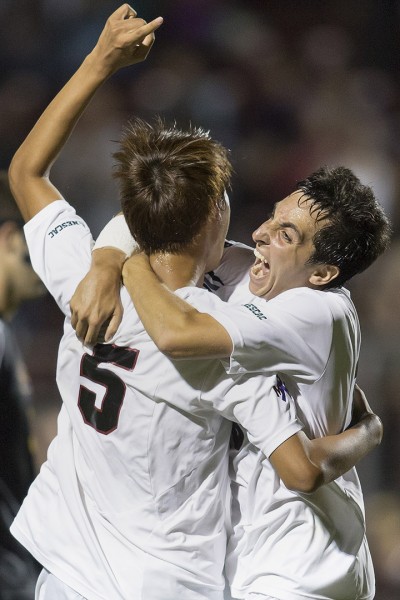 ---
20. Wednesday, Sept. 4, 2:51 p.m.
Suddenly it was time to hit the library, where the computer workstations on the main floor have been dramatically rearranged to reflect what these students do with ease: carry on multiple conversations, work alone or in groups and get the work done. (Phyllis Graber Jensen/Bates College)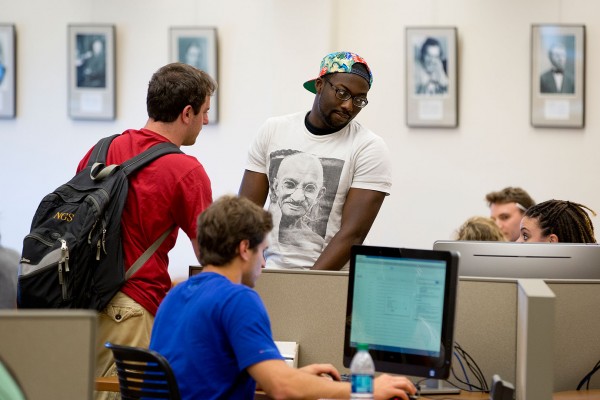 ---
21. Friday, Sept. 6, 9:40 p.m.
They used to light bonfires on Mount David to celebrate this and that. Fireworks over campus (silhouetting Hathorn's bell tower) do the trick, too, in this case celebrating the opening of the new academic year. This photo was taken by Associate Professor of Mathematics Shepley "Chip" Ross.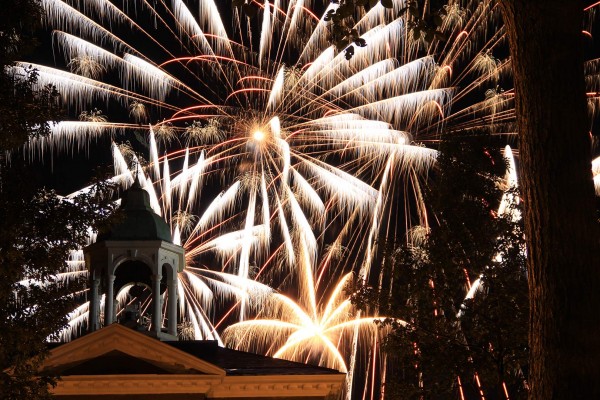 View Comments