$11.5 million Catalyst Fund will support 'transformational change' at Bates College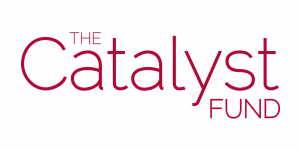 A gift of $11.5 million from current and past members of the Bates College Board of Trustees will empower the college to strengthen core academic programs and "to position Bates to embrace transformational change," in the words of Bates President Clayton Spencer.
Called the Catalyst Fund, the gift was announced Friday afternoon at a special campus gathering in Chase Hall by Michael Bonney '80, chair of the Board of Trustees and chief executive officer of Cubist Pharmaceuticals.
The Catalyst Fund, Bonney told Bates faculty, staff and trustees who filled Chase Lounge, represents "new financial resources that Bates can spend, over and above our annual operating budget, in the next five years to move forward on key college initiatives — not tomorrow, not next year, but now."
He said the Catalyst Fund is proof that donor families "understand and embrace the institutional priorities that have emerged in the last year. Their remarkable, collective generosity comes…from a singular excitement and enthusiasm about the direction that Bates is taking."
---
Video: Catalyst Fund announcement
---
Bonney praised the donors of the Catalyst Fund for their "eagerness, almost an impatience, to get going."
In her remarks at Friday's event, President Spencer said that "we have urgency, we have ideas, and we have ambition."
But, she told the audience, "you won't be surprised to hear that it takes resources to achieve ambitious goals. It takes resources to bring strength to strength and to position Bates to embrace transformational change."
Trustee Darrell Crate '89 concluded the announcement with a champagne toast, noting that the goal of the Catalyst Fund is "relevant, pragmatic and inspired."
In his toast, he said, "Here's to Bates, to the Catalyst Fund and to what is a materially stronger future for our college."
The $11.5 million Catalyst Fund will be spent on programs in three areas: the Engaged Liberal Arts, Purposeful Work, and Excellence and Opportunity.
The Engaged Liberal Arts
The Engaged Liberal Arts, Spencer said, "means delivering the best possible version of the personalized, residential model of liberal arts education."
"Students learn along the way that while information may be a click away, mastery and meaning are not."
In this model, "professors who are active scholars teach students to interpret, experiment, imagine, analyze, explore and explain. Students learn along the way that while information may be a click away, mastery and meaning are not." At the same time, she added, "we will embrace innovative pedagogies and strategically use new faculty appointments to shape a forward-looking curriculum that prepares students for the changing ways we experience the world.
"Innovation takes many forms," Spencer said. "The availability of massive amounts of primary content online, advances in brain science and the ability to measure the learning process are revolutionizing the experience of teaching and learning. And technology, writ large and small, is a cultural force that is altering the way we live our lives."
In the face of such forces, Spencer said, "Bates will be a leader in recognizing ways that technology can bring innovation to teaching and research."
Spencer highlighted the work of Associate Professor of Classical and Medieval Studies Margaret Imber, who is  leading a project that supports faculty as "they make the critical investment of time and energy so they can engage the future right now," Spencer said.
In collaboration with Michael Hanrahan, assistant director of curricular and research computing, Imber recently led a symposium that brought leaders in the digital humanities to campus to work with Bates faculty "and to share the extraordinary developments available to them," Spencer said.
"For our faculty, embracing technology requires an investment of time, which costs money, and a great willingness — which our professors possess — to master and deploy technology in ways that most help our students."
Another force affecting higher education is the looming retirements of faculty born during the baby boom. In fact, she said, half of the Bates faculty are eligible to retire over the next 10 years.
"Our central task as a college is to shape a forward-looking curriculum and hire the faculty to teach it," Spencer said. "Similarly, we approach new developments in knowledge and pedagogy with zest and openness, as well as with a critical eye."
Purposeful Work
"The goal of the Purposeful Work initiative is to embrace the reality that building a sustainable structure to help our students explore, understand and strengthen their relationship to work — in college and beyond — lies at the heart of the liberal arts mission," Spencer said.
College graduates face the challenge of a highly competitive world where entering the work force is difficult, she said, to say nothing about finding work that connects with their interests and draws upon their best skills.
"All students…will have access to a wide range of work-relevant knowledge, connections and possibilities."
Accordingly, Bates will develop programming geared to the arc of its students' four years that will help them to develop and discern their interests. Students will be able to link that process to an expanded suite of internships and other experiences that will increase their self-awareness, sharpen their skills and make them more marketable as graduates.
To support these goals, "Bates will offer practitioner-taught courses and multi-year mentoring communities; strengthen job shadowing and apprenticeship opportunities; and create a robust internship program drawing on the interests and talents of alumni and parents," Spencer said.
The Purposeful Work initiative, said Spencer, adds an important element to the college's commitment to equity. It ensures that "all students, not only those with inherited networks of advancement, will have access to a wide range of work-relevant knowledge, connections and possibilities."
Excellence and Opportunity
The commitment to Excellence and Opportunity is central to Bates' mission and history. "It means attracting and enrolling the very best students from a broad range of backgrounds and marshaling the resources to provide generous financial aid to support their education," said Spencer. "And our current financial aid program reflects our commitment to these values."
Forty-seven percent of Bates students receive financial aid, and the average Bates Grant is more than $35,000. Counter to national trends in student debt, Bates financial aid is largely composed of outright grants, and students with loans graduate with an average debt load of approximately $17,000, compared to the national average of approximately $27,000.
"Any college, particularly a college like Bates that has the advantage of having a strong tradition and strong resources, has an ethical obligation to make this experience available to people who can't afford the very high cost it takes to mount a highly personalized residential liberal arts education," Spencer said.
View Comments