Bates a Fulbright 'top producer' again, and the secret of our success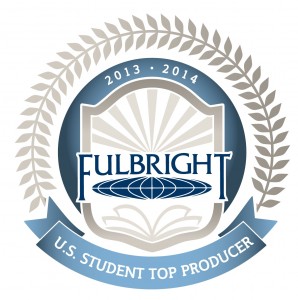 At times, students enter Robert Strong's office in Coram Library in disbelief — they don't think they have what it takes to win a Fulbright U.S Student grant.
Then they meet with Strong, the college's graduate fellowship adviser, and leave more hopeful — and with better idea how a Bates education prepares them to succeed in the competitive world of grants and fellowships.
As noted in the Oct. 28 edition of The Chronicle of Higher Education, Bates is again a "top producer" of Fulbright U.S. Student grants, ranking among the top 10 U.S. bachelor's degree colleges.
Bates' numbers are on the rise, too: five student Fulbrights in 2011, seven in 2012 and 12 this year.
Matthew Auer, Bates vice president for academic affairs and dean of the faculty, says that the end result — student success in competitions for prestigious graduate fellowships such as the Fulbright — "requires lots of advance work."
And teamwork. "You need a dedicated graduate fellowship adviser and attentive consulting faculty who help discover strong student candidates early in their college careers.
"When you have talented teacher-scholars mentoring very bright, internationally oriented students, you get great results in the fellowship arena," Auer says.
The Fulbright Student Program offers different grants for research, study, travel and teaching. This fall, Fulbrights are supporting more than 1,800 students, artists and young professionals in more than 100 different fields of study in more than 140 countries.
When someone hears that a Bates student has received a Fulbright, the first thing to know, Strong says, is that "the entire mission of the program is intercultural exchange and global understanding."
The grant that students from undergraduate colleges tend to favor is the English Teaching Assistantship, which places a Fulbrighter in a classroom abroad to help teach English to non-native speakers.
Because the ETA application seeks teaching experience, some students believe that means taking education courses. That's a good way, to be sure. The Bates education curriculum, with its community-engaged orientation, is very strong.
It's not the only way, however.
The way Strong sees it, "if they are a Bates student, I know they have teaching experience."
Being a sports team captain is a teaching experience, he says. So is being a club leader, or a volunteer at Tree Street Youth or the Adult Education Center in Lewiston.
"If they've been a debater, they've taught sophomores and first-year students how to speak and how to make arguments — students are extremely talented teachers in those roles. And then there are all the ways students participate in peer tutoring in speaking, writing, mathematics and science."
Almost without exception, he says, "any Bates student interested in the ETA walks into my office with an immense amount of teaching experience without ever having thought about it.
When it comes to having intercultural awareness, another Fulbright must-have, a secret to Bates' success is the college's location, Strong says.
Students gain an impressive and relevant suite of experiences in Lewiston, where immigrants and new U.S. citizens from Somalia and other African countries have settled in the last decade.
"The experiences that Bates students can have with the immigrant community are just as productive, intense and enriching" as the experiences a student might have studying abroad, Strong says.
---
Robert Strong explains what organizations seek when awarding post-graduate fellowships:
---
Student engagement with the local Somali community typically occurs through the Harward Center for Community Partnerships, and it constitutes a multi-layered experience that is impressive on a Fulbright application.
"A student who engages with the immigrant community is stepping right into the experience of people who are struggling, and succeeding, in a new culture in challenging and rewarding ways. "
In the Fulbright U.S. Student Program, Strong sees the Bates mission writ large. The program, he says, understands that "getting our future scholars, professionals and businesspeople out into the world not only makes the world stronger, but makes our most promising students and graduates much better in whatever they move forward in life to do."
Strong says, "I love the program."
What's not to love?
View Comments