Hire smart people and lean on the Bates network, says Entrepreneurship speaker Bruce Stangle '70
Bruce Stangle '70 held office hours of a different sort when he visited campus a few weeks ago.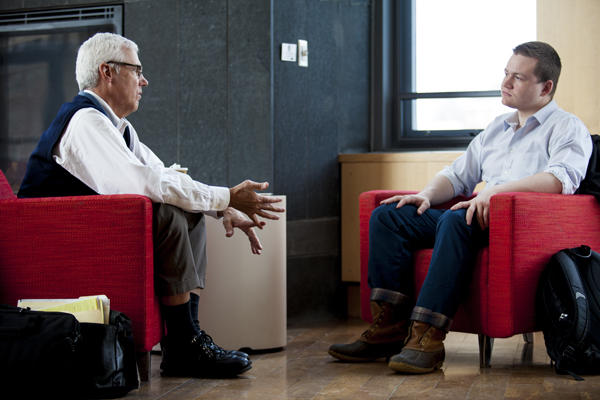 During an all-afternoon session in the Fireside Lounge in Commons, students met one-on-one with Stangle, the co-founder, in 1981, of Analysis Group, a firm offering economic, financial, and business strategy consulting to law firms, corporations and government agencies.
Stangle's visit on March 5 was an installment in the Voices in Entrepreneurship speaker series, a program that brings Bates alumni and parent entrepreneurs to campus for lectures as well as meetings and informational interviews with students.
The ongoing entrepreneurship series is sponsored by the college's Purposeful Work initiative and the Bates Career Development Center.
Next up in the entrepreneurship series is an April 28 talk by Jennifer Guckel Porter '88, a Bates trustee who is founder and managing partner of The Boda Group. She will speak on "Redefining Entrepreneurship: Finding Your Way on Your Own Terms."
On May 5, Ben Shaw '00 of Vets First Choice joins his father, David Shaw, of Black Point Group, for a discussion about "Adventures in Business and Social Entrepreneurship."
"It was much less about the question than the collaborative process."
Back on March 5, Stangle's visitors in the Fireplace Lounge included Harry Sudock '17, an economics major from Hastings-on-Hudson, N.Y., who came prepared to grill the Stangle on markets and investor behavior.
"You actually did some homework," said Stangle, who turned the tables when he asked how Sudock would invest a million dollars.
Sudock says, "We were able to just chat about investing. It was much less about the question than the collaborative process.
"It's great to get to sit across the table from somebody who knows a lot more about investing and business than I do."
Others came seeking advice for their own entrepreneurial ventures, like Matt Perejda '14 of Newry, Maine, and Suraj Karmacharya '14 of Kathmandu, Nepal.
Last fall, Perejda launched the Bobcat Den Delivery Service on campus, while his classmate is the creative business director for Himalayan Spirit 8848, an ethical fashion company. Both wanted to know what it takes to bring a small company to the next level.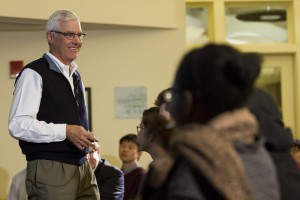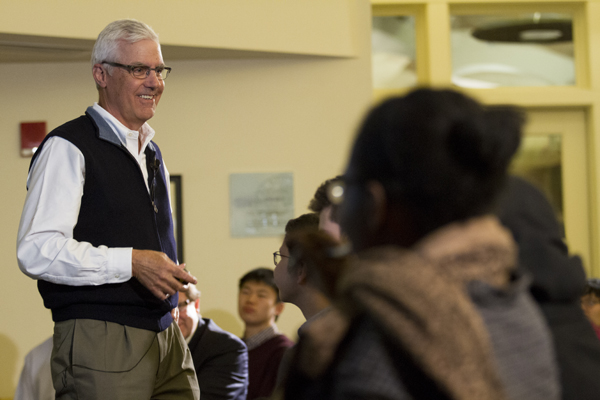 Stangle emphasized the need to find the right people — hiring team members who buy into what you're doing and then empowering them to make decisions.
In an interview, Stangle cited a New York Times column on how Google does its hiring.
"They're much more interested in what you can do rather than your GPA. They focus on team skills, cognitive ability and intellectual humility," he said.
Google wants people who can take responsibility for solving a problem, but also pivot, step back and embrace the better ideas of others.
"That's one of the things that the Bates culture produces," Stangle said, "people who are effective leaders and good teammates."
"The Bates network is incredibly powerful. Give back to it. It's a lifelong journey."
A Bates trustee emeritus, Stangle is a leading Bates donor as well as an active mentor. In the evening of his visit, he addressed students in Frank's Lounge, donated by Stangle and named for his father, in the student residence at 280 College Street.
Delivering a wide-ranging look at his life and work, Stangle peppered his talk with insights about networking, management and how to build a satisfying career and business. (Analysis Group has regularly been named a top place to work by The Boston Globe.)
Three major takeaways for Bates students? Complete a senior thesis, hire smart people and lean on the Bates network.
Stangle reminded students that their future success is based on the relationships they nurture. "The Bates network is incredibly powerful. Give back to it. It's a lifelong journey."
The first speaker in the Voices in Entrepreneurship series was another beneficiary of Stangle's mentoring, Daniel Vannoni '05, founder and entrepreneur with Gecko Ventures and CEO and co-founder of Novopyxis.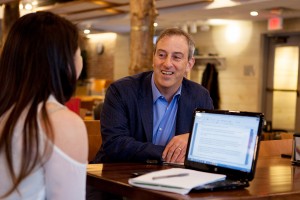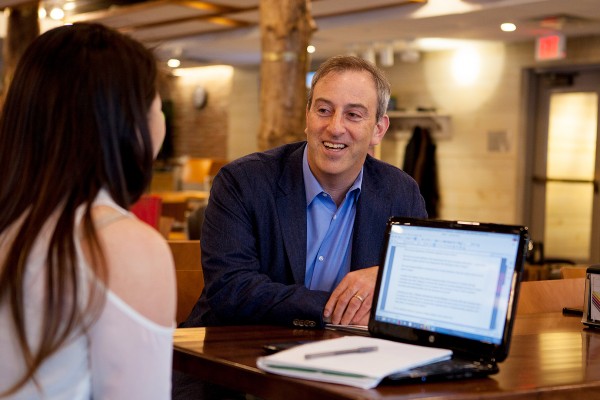 Following Stangle was, on March 19, Joshua Macht '91, executive vice president and publisher of the Harvard Business Review Group, stressed the need for an entrepreneurial mindset within large companies.
He used Kodak and Apple to illustrate the difference between "sustaining" and "disruptive" innovation. While Kodak sought to perfect a product like film or a camera, Apple offered a "good enough" product – like the camera in Apple's iPhone — that disrupted and transformed the market.
Macht ended his presentation with a brainstorming exercise for the several dozen students in attendance at the Benjamin Mays Center.
What would happen if Apple acquired Bates College? What would be different one year later? An app for every class and the addition of a computer science department were among the ideas that emerged.
---
* Purposeful work is a college-wide initiative built on the premise that preparing students for lives of meaningful work lies at the heart of the liberal arts mission. When fully developed it will include: (1) a co-curricular program involving cycles of exploration, reflection, and skill-building; (2) practitioner-taught courses during short term, and (3) a highly-structured Bates-specific network of internships, with the hope to guarantee every Bates student a paid internship that is either employer- or Bates-sponsored. go back ^
View Comments